Dakar 2016 winners used Goodyear tyres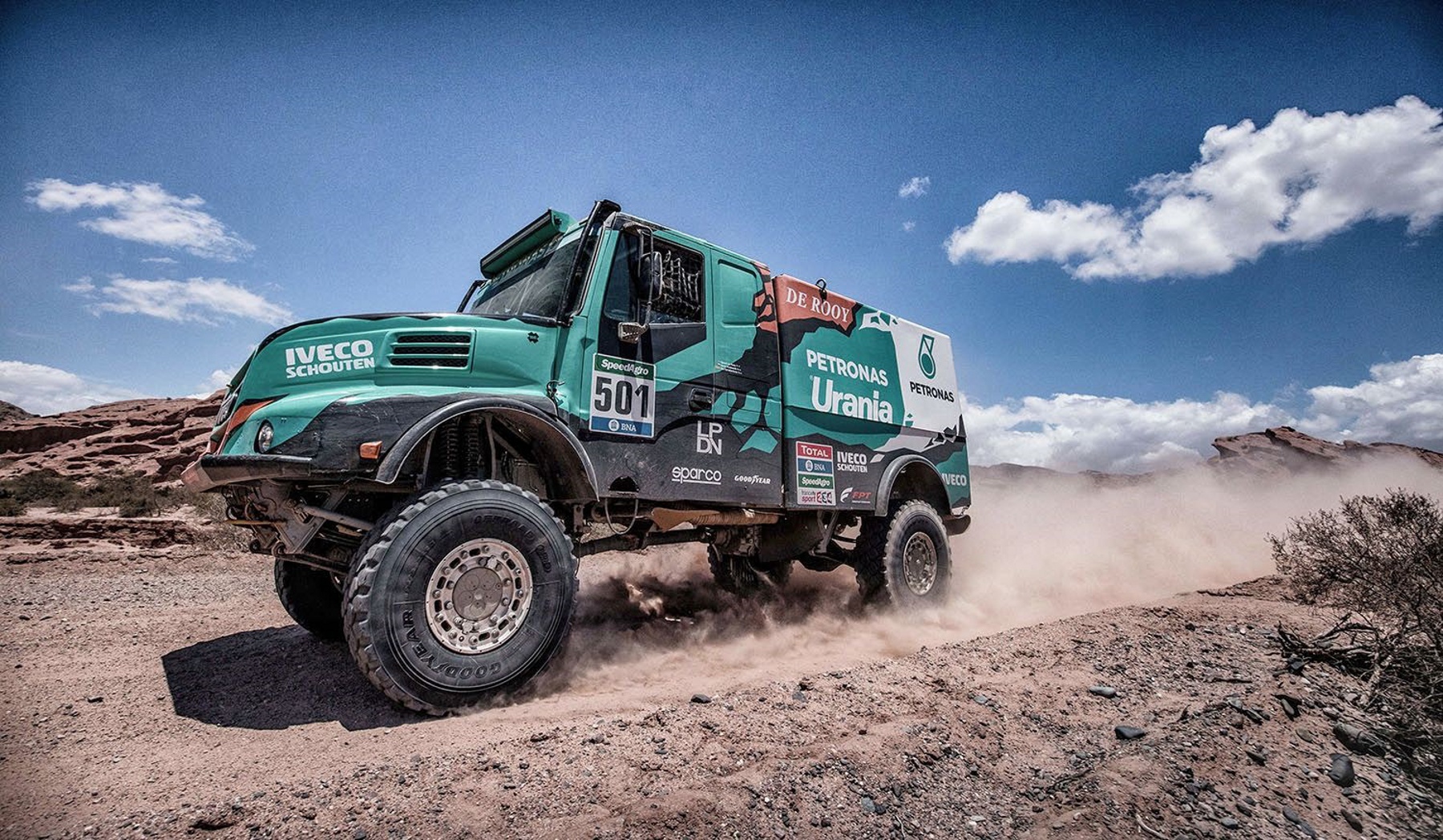 The De Rooy truck team recently won the Dakar 2016 rally truck category, driving on standard Goodyear ORD off-the-road truck tyres. The event, which concluded on Saturday 16 January 2016 covered approximately 9000 kilometres in 13 days on the toughest terrain that Argentina and Bolivia can offer, the Dakar – or the 'Odyssey' as it is known – is acknowledged as the world's toughest race.
After seeing off the challenge from more than 50 trucks from around the world, Powerstar Iveco truck #501 took the honours in Rosario at the end of the gruelling challenge. The truck used Goodyear ORD off-the-road truck tyres in size 375/90R22.5, which were produced in Luxembourg. The vehicle was crewed by driver Gerard De Rooy from the Netherlands with co-driver Moises Torrallardona from Spain and mechanic Darek Rodewald from Poland. Not only did the De Rooy team win the Dakar truck class, its Goodyear ORD equipped high-speed support truck driven by Ton Van Genugten finished the race 5th in the overall standings. For Gerard De Rooy it´s the second win of the truck class at the Dakar following his success in 2012 but it´s the first time Goodyear truck tyres are fitted on the winner´s race truck.
"Goodyear provided great technical support and counselling in advance of the Dakar, especially when it comes to tyre pressure recommendations. The conditions on the Dakar are without doubt as tough as you can get. They comprise the worst of everything; including sand, rocks and mud; so tyres are one of the most important factors. The Goodyear ORD 375/90R22.5 off-the-road truck tyres have been fantastic and a key element in us winning the event," said Gerard De Rooy.
"We congratulate Gerard De Rooy and team on their fantastic success, winning the overall truck classification of the Dakar 2016. This has been a challenging, extreme real life test for our Goodyear ORD off-the-road truck tyres. By winning the truck class and the 5th place of the fast assistance truck Gerard De Rooy and his team have proved that these tyres deliver high performance even in extreme off-the-road applications," said Benjamin Willot, director marketing Commercial Tyres at Goodyear Europe, Middle East and Africa.
The Netherlands-based De Rooy team entered three trucks. These comprised of the main race truck, driven by Gerard De Rooy, the truck of the De Rooy team member Ales Loprais and the high-speed support truck driven by Ton van Genugten.