Goodyear truck tyres ready for 'the Odyssey'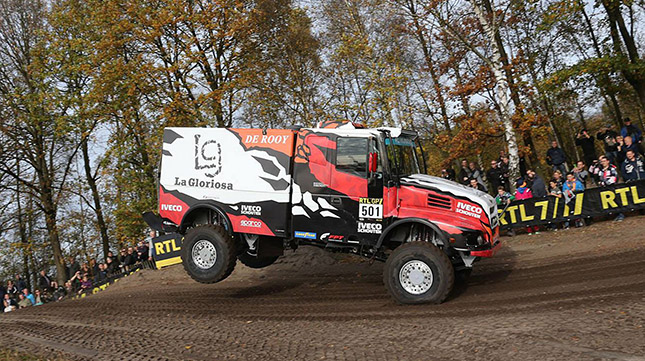 Following extensive testing in Spain and Morocco, the 2012 Dakar race-winning De Rooy team has chosen Goodyear ORD off-the-road truck tyres for the three Iveco trucks it has entered into 'the Odyssey', the 2016 Dakar race. The tyres to be used are size 375/90R22.5 Goodyear ORD tyres. This size is unique to Goodyear and replaces the 14.00R20 fitment the De Rooy team previously used. The size 375/90R22.5 tyre retains the same overall diameter and width as the 14.00R20 but the larger rim diameter provides greater brake clearance, thereby improving heat resistance.
"We are delighted that the De Rooy team has chosen our Goodyear ORD off-the-road truck tyres in size 375/90R22.5 for the Dakar 2016," said Benjamin Willot, director of marketing for commercial tyres within Goodyear's Europe, Middle East and Africa region. "The intensive testing carried out showed that our truck tyres offer the team excellent performance in terms of traction, durability and robustness. These key elements are essential to be able to finish the demanding Dakar race in a winning position. For us, participation in one of the toughest off-road races with the De Rooy team is a great opportunity to demonstrate the performance of our ORD off-the-road truck tyres under the harshest of conditions. In addition, we generate valuable data and insight for the development of future truck tyres from this project. We look forward to January and wish the team every success in the Dakar."
The three De Rooy trucks include the main race truck, which will be driven by Gerard De Rooy, the truck driven by team member Ales Loprais and the high-speed support truck driven by Ton van Genugten. The choice of Goodyear ORD tyres was made after testing at the Baja rally in Spain in July 2015 and at the Oilibya Rally in Morocco in October 2015. During these test races, engineers from the Goodyear Innovation Center Luxembourg worked in conjunction with the team to achieve the best setup to optimise tyre performance in the various conditions that competitors will face.
"The testing we have carried out with Goodyear has proved what outstanding performance the Goodyear ORD off-the-road truck tyre offers and we are confident this is the best tyre for us for the Dakar race," commented De Rooy Rally team manager Henk van Leuven. "The tyres are a key factor in our challenge to regain the top step of the podium in January and we are confident that with the Goodyear tyres we will achieve this goal."
The 2016 Dakar race takes place in Argentina and Bolivia from 3 to 16 January. More than 660 competitors from over 50 countries and more than 400 motorcycles, quad bikes, cars and trucks are expected to participate in next year's race.