Falken sponsoring Major League Baseball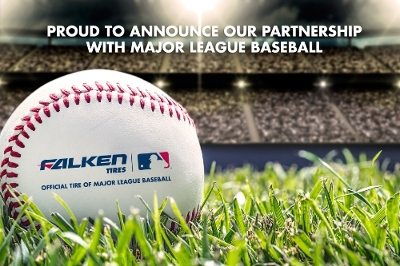 USA-based Sumitomo Rubber Industries subsidiary Falken Tire Corporation has entered into a multi-year marketing agreement with Major League Baseball (MLB). This partnership is Falken Tire Corporation's first deal with a professional sports league; for the past 30 years it has focused on motorsports marketing.
Beginning in the 2016 MLB season, the Falken brand will be represented on virtual signage behind the home plate and within in-game advertisements shown during nationally broadcasted MLB games. Falken will also participate in fan giveaways, in-game promotions and have access to MLB marks and logos for broadcast, print and digital use during these events. In addition, the tyre maker will have global marketing rights for the 2015 MLB Postseason.
"We look forward to collaborating with Major League Baseball as we expand our brand awareness and sports marketing portfolio," said Richard Smallwood, president & CEO of Falken Tire Corporation. "Pairing with one of the most popular sports in the world is a great opportunity for Falken Tires to grow and expand into new markets."
Noah Garden, MLB executive vice-president, business, added: "We look forward to working with Falken Tires to reach Major League Baseball's fan base as the company expands its marketing and promotional activity beyond motorsports for the first time. We are pleased to welcome Falken Tires to the MLB family and proud to have been chosen to help the brand grow its business."
According to Falken Tires, the agreement forms part of a larger expansion of its marketing efforts across the US as Falken Tires looks to heighten brand awareness and increase market share.
"Falken Tires has long enjoyed a devoted international fan base in motorsports," concluded Smallwood. "This brand alliance with Major League Baseball will help introduce Falken Tires to millions of new customers. We're excited about our new partnership and look forward to aligning our fan bases as we introduce innovative products and our brand to additional audiences."