Spa 24 Hours Pirelli's 'biggest event of the year'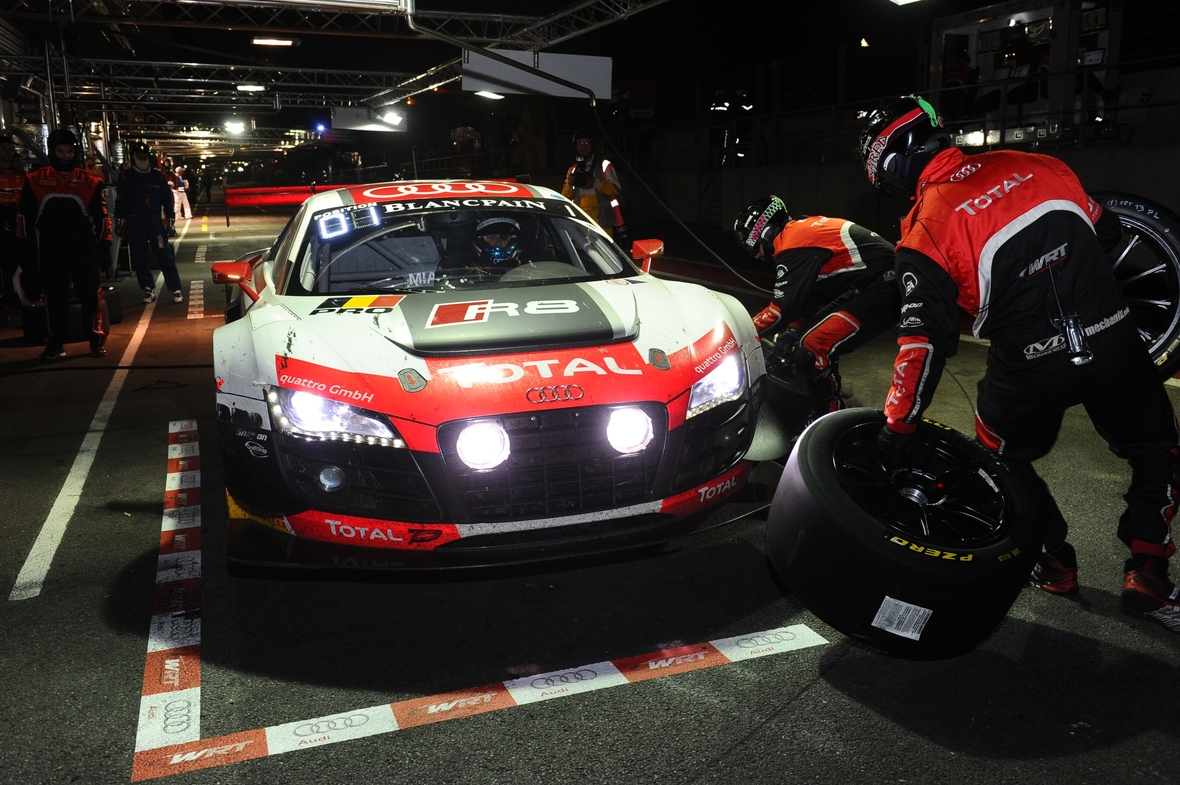 With 9000 tyres transported by 21 trucks, and involving 90 Pirelli personnel on the ground as well as many more away from the circuit, Pirelli will face its biggest logistical engagement in motorsport this weekend at the Spa 24 Hours. The Blancpain GT Series highlight will see Pirelli fly in motorsport staff from Italy, expertise from countries as far afield as the United States, Brazil, Argentina and Australia – all territories where the manufacturer has a key presence in major GT or stock car championships. Pirelli is the exclusive supplier to the Blancpain series.
The biggest challenge is presented by the epic 7.004-kilometre Spa circuit itself, with rapid corners and fast compressions such as Eau Rouge. One of the key characteristics of Spa is variable weather, which means that the wet weather tyres are also likely to be used over the course of the weekend.
Pirelli will supply the P Zero DHC tyre for dry conditions and Cinturato WH for wet conditions. These tyres have to work equally well throughout the huge variety of weather conditions that are typical of Spa, and on a wide range of different vehicle architectures that include both front and rear mounted engines, with different drivetrain layouts.
More than 10 different brands are represented on the Blancpain GT Series, ranging in size from the Bentley Continental GT3 to the BMW Z4, presenting a radically diverse set of vehicle dynamics. In spite of this, there is just one single P Zero compound for dry conditions, and one for wet conditions.
This brings the tyres used on the Blancpain GT Series even closer to those used on supercars for the road. Most of the car makes represented at the Spa 24 Hours use Pirelli P Zero tyres as original equipment on their road models, leading to a high degree of technology transfer. The lessons learned from competition at Spa have a direct benefit on the products that Pirelli creates for road-going supercars. The race is one of the most obvious indicators of Pirelli's use of motorsport in cementing its position as a UHP tyre global leader.
Although it is a race circuit, Spa offers several types of conditions that are seen on normal roads: a variety of asphalt, big changes in elevation and plenty of time spent at full throttle. Spa has a famous microclimate: it's perfectly possible for it to be raining on one part of the circuit, but completely dry on another part – making it a great test track for tyres.
Coping with these changing conditions is an important part of the tyre strategy, in order to minimise the effects of getting caught out. In general, the cars use one set of tyres per stint (which depending on the car is around 23 laps, or just over an hour). However, in the past, some crews, prioritising endurance over pure speed, have double-stinted the tyres. The time gained in the pits by doing this has to be offset against the time lost through degradation: all part of the complex strategy calculations.
The tyres themselves have to cope with huge lateral and longitudinal forces, as well as some sharp compressions. A total of 60 drivers will take the start, including Alex Zanardi (driving a BMW) and former grand prix driver and Le Mans class winner Gianmaria Bruni, in a Ferrari. Former DTM champion as well as Le Mans winners Andre Lotterer and Marcel Fassler will also be driving for Audi.
Pirelli's motorsport director Paul Hembery commented: "The Spa 24 Hours is a true highlight of our sporting calendar and one of the most relevant applications of motorsport to our road car market, with race versions of the cars that we supply with original equipment competing for the overall win. As a venue, Spa needs no introduction: it's an awesome challenge for every driver and with 60 cars expected to start, the battles are always extremely close, despite the wide variety of machinery. From a logistics point of view, Spa is actually our most complicated event: we're supplying three times the number of cars that we do in Formula One, for a race that lasts 12 times longer! The road and weather conditions always vary a lot during the 24 hours, which is part of what makes it such a fascinating spectacle."
The Spa 24 Hours take place from 25-26 July, starting at 1630 on Saturday. Qualifying takes place on Thursday evening, with super pole on Friday afternoon. First held in 1924, more than 60,000 people are expected to watch the race at the weekend.