3-stop strategies prove fastest as Rosberg pushes Hamilton to title-decider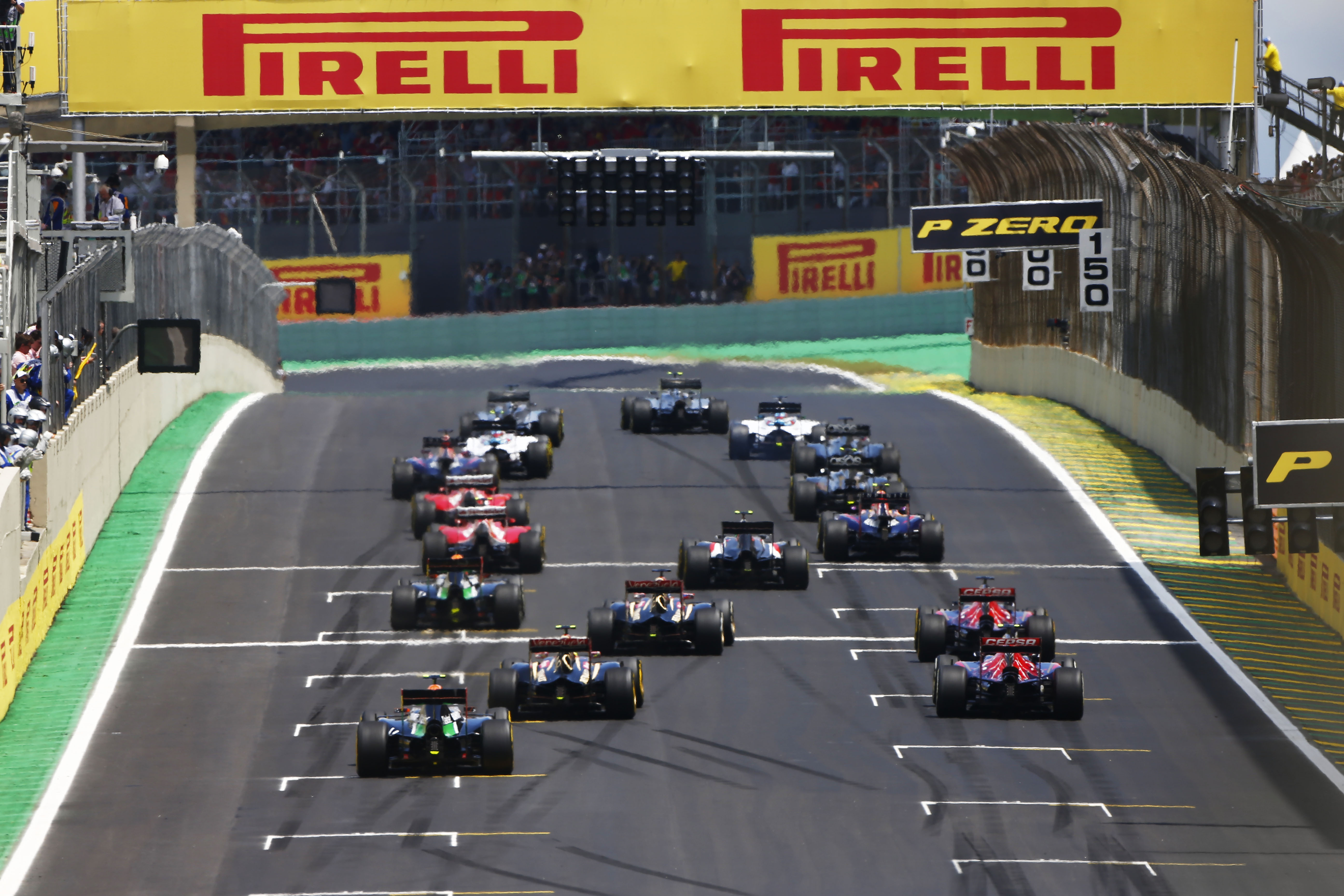 Once again, the Mercedes team closed out the top two steps of the podium at Interlagos, using three stops – as did almost every driver – to dominate in the penultimate race of 2014. The only surprise was that Nico Rosberg ended Lewis Hamilton's five GP winning streak to make the Briton finish at least second to ensure championship victory in Abu Dhabi's controversial double-points grand prix.
Both Mercedes drivers started on the soft tyre to make good their front row grid advantage, before seeing out the race comfortably on the medium P Zeros. Tyre supplier, Pirelli correctly predicted this as the fastest strategy for the 71 lap race, and a high degree of tyre wear meant that all but Ferrari's Kimi Raikkonen, who finished seventh, stopped three times. Rosberg took Pirelli's advice – softs to mediums after a short opening spell, then stops at laps 21 and 46 – almost to the letter, using softs for the first seven laps, then stopping twice more on laps 26 and 50.
Most drivers started on the soft tyre, which was up to a second per lap faster around Interlagos than the medium compound. Force India's Nico Hulkenberg adopted an alternative three-stop strategy, using the medium tyre from the start until his final stint on the soft. The extra speed at the end of the race helped him to finish eighth, making up four places from his grid position. Daniil Kvyat (Toro Rosso) used a similar strategy to finish just outside the points from the penultimate place on the grid. Raikkonen finished seventh having only stopped twice. The drivers' championship will now be decided at the final race of the season in Abu Dhabi, with double points on offer.
Pirelli's motorsport director Paul Hembery said: "We saw a mesmerising battle between the two Mercedes drivers, during which they had to balance their desire to beat each other with the need to get the most out of the tyres in these very high temperatures. Ambient and track temperatures were certainly higher than everybody anticipated, which caused some degree of blistering and graining, particularly at the start of the race with heavy fuel, soft tyres and the hottest temperatures of the day.
"This did not however affect tyre performance. The new surface created a number of challenges for everyone all weekend, including the teams, the drivers and ourselves. Most drivers went for a three-stop strategy, which we predicted to be the fastest around Interlagos. However, Kimi Raikkonen made a two-stop strategy work as well, at one of the most demanding races of the year."