Six 4×4 tyres put to the test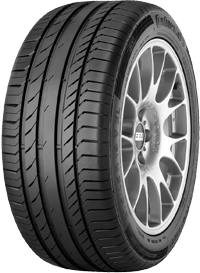 Another comparative tyre test from a German magazine – this time Autozeitung Allrad (issue 2/2014) has put half a dozen 4×4 tyres through their paces. A Mercedes-Benz ML350 was used to test the 255/50 R19 W/Y tyres. Autozeitung Allroad rated four of the six tyres highly.
Test winner was the Continental SportContact 5 SUV. The Continental tyre was "highly recommended" and praised for being a very good all-rounder. Particular strengths observed by the testers were braking in all road surface conditions, traction on gravel and rolling resistance. On the minus side, the testers said that the SportContact 5 SUV was "not the fastest" on dry road surfaces.
Other "highly recommended" tyres in the test were the Dunlop SP Quattro Maxx, Pirelli Scorpion Verde and Vredestein Ultrac Vorti. The test yielded a disappointing result for the Bridgestone Dueler H/P Sport; the testers from Autozeitung Allrad noted that although the tyre was expensive, its wet braking and driving characteristics on wet roads were weaknesses. The Dueler H/P Sport finished fifth out of six tyres; the wooden spoon was reserved for the Atturo AZ800; this tyre trailed behind the Bridgestone tyre with less than half as many points in total. Its positive qualities – affordability and traction on grass and sand – were countered particularly by its performance on wet, but also dry surfaces, and its traction in mud.
The Results:
Atturo AZ800 W F/E 75
Result: "Trailing behind as the last of the six tested tyres" – Strengths: Traction on grass and sand, affordable price – Weaknesses: Particularly on wet, but also on dry surfaces, traction in mud
Bridgestone Dueler H/P Sport Y E/B 72
Result: "Second last from the six tested tyres" – Strengths: In aquaplaning situations – Weaknesses: Wet braking and driving characteristics on wet roads, expensive
Continental SportContact 5 SUV Y C/A 73
Result : "Highly recommended" – Strengths: A very good all-rounder, braking in all road surface conditions, traction on gravel, rolling resistance – Weaknesses: "not the fastest" on dry road surfaces
Dunlop SP Quattro Maxx Y C/A 69
Result: "Highly recommended" – Strengths: A very good all-rounder, in aquaplaning situations, wet braking, dry handling – Weaknesses: Doesn't match the best for rolling resistance
Pirelli Scorpion Verde Y C/B 72
Result: "Highly recommended" – Strengths: Very good roadholding off-road, traction on gravel, in aquaplaning situations, rolling resistance – Weaknesses: Traction in mud, doesn't match the best for roadholding on dry road surfaces
Vredestein Ultrac Vorti Y E/B 70
Result: "Highly recommended" – Strengths: In aquaplaning situations, but also very good roadholding on dry surfaces, dry handling – Weaknesses: Traction in mud and on grass