BKT hires agency to coordinate Monster Jam involvement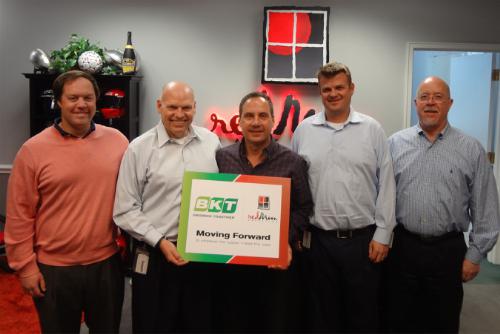 Balkrishna Industries, or BKT, has selected US marketing and communication company Red Moon Marketing as its official experiential agency of record. In this role, Red Moon Marketing will manage and coordinate all promotional activities related to BKT's function as Monster Jam tyre manufacturer and supplier.
According to BKT, the primary objective of the synergy between the two companies is to "guarantee a widespread and constant presence on site during Monster Jam events as well as timely and effective organisation." Red Moon Marketing will serve as the central point of coordination between Monster Jam promoter Feld Motor Sports and BKT, handling all initiatives connected to the Monster Jam competitions, from managing public relations to organising the events and sponsorship activities outside the arenas.
"This new partnership will certainly increase BKT's brand awareness in North America," stated Carl Casalbore, President of BKT Tires USA. "Red Moon Marketing and BKT share the same driving force and initiative, which will turn into a successful and profitable cooperation. To achieve these results, Red Moon Marketing will act with the perspective of a medium-to-long-term brand strategy that is consistent with the manifold marketing activities underway in the rest of the world.
"Monster Jam is a central project for BKT aiming at increasing brand awareness through a sport able to captivate and thrill millions of Americans – and not only Americans," Casalbore continued. "We want to appeal to people, and Monster Jam is actually the perfect entertainment channel to communicate the value of the BKT brand and the quality of our products."
Jim Bailey, president of Red Moon Marketing, commented, "Over the next few years, BKT's sponsorship of Monster Jam will reinforce across the North American market its position as the world's leading manufacturer of off road tires. Red Moon is honoured to be part of this effort and look forward to a successful partnership for years to come."