Giti Tire wins TyreSafe Tyre Manufacturer Award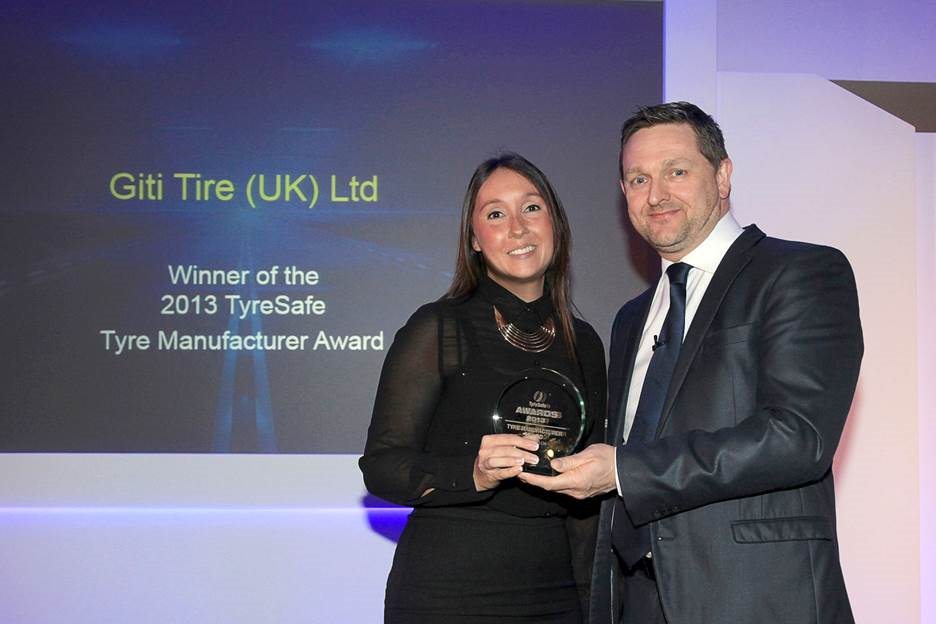 Giti Tire has been recognised for its contribution to this October's Tyre Safety Month, having been presented with the TyreSafe Manufacturer Award. The manufacturer undertook several initiatives through its network of 220 GT Radial Performance Centres (GTPCs) during 2013, culminating in October's Tyre Safety Month. Each GTPC received joint-branded customer information packs with posters, leaflets and Mr McIntyre animations. Giti also published a tyre safety infographic on its GT Radial website, and worked with local police and schools to engage the public about the importance of tyre safety and demonstrate the fundamentals of safe and efficient motoring.
The winners of each TyreSafe Award category had to clearly demonstrate an overview of all tyre safety activities, a list of clear objectives for both the trade and public, a summary of results and achievements and a supporting statement.
TyreSafe chairman, Stuart Jackson said: "We've achieved great success in raising awareness about tyre safety issues but the scale of this has only been possible thanks to the support and amazing work of our members and partners. We'd like to congratulate Giti Tire on their fantastic efforts and well deserved Tyre Manufacturer Award win."
Jenny Leeson, marketing manager UK at Giti Tire, producer of GT Radial tyres, added: "Tyre safety is very much the core message of all our marketing campaigns, and to be recognised for the time, investment and results we achieve is a fantastic accomplishment.
"Rest assured we will continue to support and drive all tyre safety activity, it is a message that all good manufacturers and garage owners promote daily, and TyreSafe is doing a wonderful job in taking this to a far wider market."
GT Radial is distributed exclusively in the UK by Micheldever, whose Protyre outlets were presented with the Tyre Retailer TyreSafe Award.