India: Apollo launches enduro range for premium motorcycles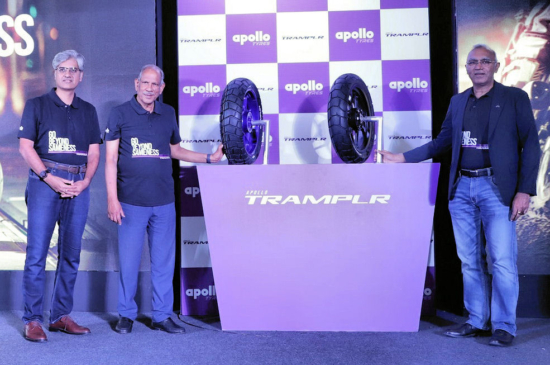 When visiting the EICMA show in 2019, we saw the first models in a planned range of Vredestein motorcycle tyres for European markets. Apollo Tyres later paused the rollout of these products, explaining that domestic demand for two-wheeler tyres was simply too high for the Indian tyre maker to additionally supply export markets. But with a stated strategic focus upon the "premium motorcycling space" and a more than 20 per cent market share of India's premium two-wheeler segment, it is highly feasible that Apollo will leverage its strength here and restart efforts in Europe. The company's latest premium domestic products give us an idea of what we can expect.
Introducing the Apollo Tramplr range of enduro off-road and enduro street tyres for India's premium motorcycle market, which covers bikes with 150 to 500 cc engines, Apollo Tyre shares its expectation that Tramplr will cater to multiple motorcycle segments, including sport touring, adventure touring, cruisers and street sports. These bikes constitute around 20 per cent of India's overall motorcycle market.
Apollo Tramplr comes in two patterns, Apollo Tramplr XR, which is a 70:30 enduro off-road tyre for adventure touring, and Apollo Tramplr ST, an 80:20 enduro street tyre for dual sports capabilities. It developed both at the Apollo Tyres Global R&D Centre, Asia in the city of Chennai and produces them at its state-of-the-art facility in Vadodara, Gujarat.
Tramplr XR
The tyre maker states that Apollo Tramplr XR offers "great on-road handling" and is thus "excellent for adventure touring as well as, for on-road comfort." Large tread blocks and steel radial technology improve structural resistance, giving the tyre "perfect stability at high speed," a characteristic that makes Tramplr XR "an exceptional tyre for all-terrain riding." Stone ejectors, open cross grooves and specialised compound enhance its off-roading capability.
Tramplr ST
Apollo Tramplr ST is designed to "let the rider conquer every corner of the city." The tyre's tread pattern features a siped tread pattern for better wet grip for city riding as well as for off-roading in all-weather conditions. Large central blocks and a wide footprint area give Tramplr ST "superior" grip and low rolling noise that "keeps the bike stable at high-speed and keep the fun going while riding."
Better late than never
The first Apollo two-wheeler tyres debuted in the Indian market as recently as 2016, and Apollo Tyres concedes that it was a "late entrant" into this segment. Despite being present for just six years, the company now holds a ten per cent overall market share in this segment. As previously mentioned, its share is more than double this at the premium end of the market.