Vredestein on two wheels – EICMA launch for new motorcycle range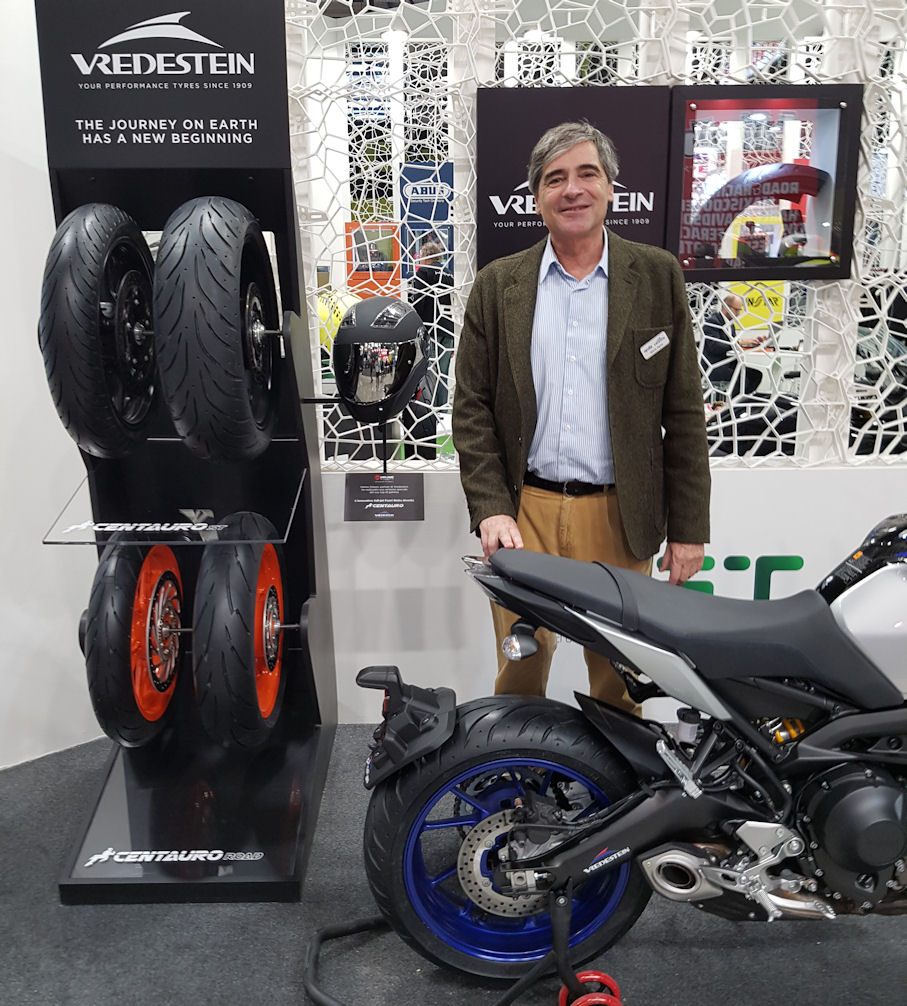 The long-awaited Vredestein motorcycle tyres for European riders are now here. Visitors to the EICMA show in Italy this week are amongst the first to see the new range, which includes the Centauro ST and Centauro Road. A Vredestein tyre for the scooter segment, the Staccata, is now also available throughout Europe. Details regarding UK distribution for the Vredestein motorcycle tyre range will be announced shortly.
Centauro ST
The Centauro ST radial for sport touring bikes features a multi-radius profile. Vredestein says this configuration ensures safety and stability in all load conditions as well as uniformity of wear throughout the tyre's lifetime. The tyre maker adds that the use of a zero-degree steel belt construction "provides high-quality dynamic behaviour in all conditions, including at maximum speed and maximum lean angle".
Testing took place on public roads and closed tracks in Europe and India in a wide range of climatic conditions. The test team utilised various types of motorcycles, including sports touring, naked, sport, crossover and classic, and evaluated how the Centauro ST works with the most modern electronic vehicle control systems available, such as ABS pro, cornering ABS, traction control and riding mode.
The Vredestein Centauro ST will be available in the first quarter of 2020 in the front wheel size 120/70 ZR 17 (58W) TL and the rear wheel size 180/55 ZR 17 (73W), the latter in both a standard one-ply version and a two-ply configuration for heavier motorcycles and/or motorcycles carrying luggage.
Centauro Road
Vredestein's other new motorcycle line is the Centauro Road. As with the ST, this sports radial tyre features a zero-degree steel belt. Vredestein considers the Centauro Road "best in class in terms of mileage and sheer driving pleasure" and the "ideal companion" for bikes such as the BMW G310R, Bajaj-Dominar 400 or KTM 390/125. The Centauro Road will be available in the first quarter of 2020 in the front wheel size 110/70 ZR17 M/C 54W TL and rear wheel size 150/60 ZR17 M/C 66W TL.
Staccata
The Staccata scooter line-up was developed with design input from Giugiaro and is already available in Italy. It is now being launched into other European markets. The range of 14 sizes on offer covers at least 70 per cent of demand in Europe.
The Staccata's structure provides good damping, which in turn benefits ride comfort and safety. Vredestein says the tyre also has an "excellent capacity for absorbing road surface irregularities". The tread compound used is said to "guarantee superior performance in all weather conditions" as well as "excellent mileage".