Michelin the 'most valuable and strongest tyre brand' 2022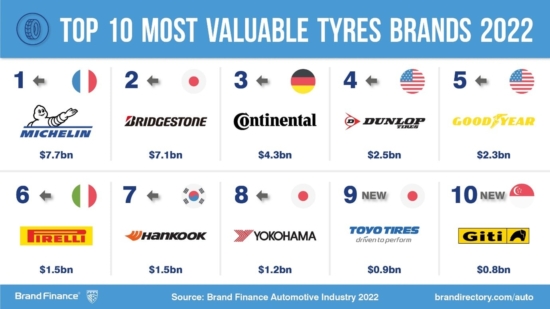 Michelin has once again topped the tyre table within Brand Finance's ranking of the world's strongest and most valuable brands. Michelin achieved a brand value of US$7.7 billion and a brand strength index score of 85.8 out of 100.
After a challenging 2020, 2021 appears to have been a much better year for the tyre sector, with "almost every brand in the Brand Finance Tyres 15 2022" published at the end of February ranking more valuable now than they were pre-pandemic. For example, Michelin's chart-topping performance saw the value of its brand increase by almost a billion dollars, up from $6.848 billion on the 2021 table.
Here's how Brand Finance explained Michelin's success: "Michelin saw a 15.6 per cent year-on-year increase in consolidated sales in the first nine months of 2021 and exceeded expectations in the third quarter of the year thanks to a rebound in demand for tyres for agricultural machinery. The brand also announced an extension of its partnership with the MotoGP World Championship, remaining the exclusive tyre supplier for the competition until 2026."
In contrast with the trend identified in last year's study, Michelin extended its lead over second-placed Bridgestone. Alex Haigh, Valuation Director at Brand Finance, explained: "Michelin has performed well over the course of the pandemic and has put a little bit of distance between itself and 2nd placed Bridgestone. Michelin's long history of innovation and reputation for quality has continued to pay dividends through one of the most disruptive economic periods on record."
Nevertheless, Bridgestone remain second on the list with a brand valued at $7.099 billion. Continental's next in third place, with its brand rising $1.090 billion to $4.253 billion.
Giti leapfrogs Linglong Tire
The entire top eight remained in the same positions they did last year, but there were some interesting moves further down the list. Nowhere is this clearer than the edges of the top 10 where three well-known brands battle it out for the last remaining top 10 position. For several years, Brand Finance's data has tipped Linglong Tire for the top, with Linglong flying as high as ninth in 2020 and being valued at $703 million in 2021.
However, Giti has leapfrogged Linglong in the 2022 table. And what's more, at $772 million, Giti's brand is rated as 10 per cent more valuable than Linglong's was when it was last in the top 10. 12th position is occupied by Sailun.
Michelin double the value of #1 parts supplier
Perhaps surprisingly for those that refer to tyres as a distress purchase, the leading tyre brands are considerably more valuable than automotive parts suppliers. Denso tops Brand Finance's top 10 most valuable auto components brands 2022 with a value score of $4.2 billion dollars – suggesting Michelin has roughly twice the brand value of Denso.
Meanwhile, lower down the auto parts chart, Faurecia is ranked eighth, with a brand value of $2 billion and down from seventh last year. Meanwhile Hella, in which Faurecia recently acquitted a controlling majority stake (including Hella's ADAS and diagnostics specialists, Hella Guttmann Solutions) is ranking18th, down from 14th last year. While both companies' brand values lost ground during the pandemic, the combined power of the two brands propels the post-merger entity towards the top five automotive suppliers in the world.
UK sees top growth
Elsewhere in Brand Finance's rankings, according to a geographical breakdown, brands from the United States and China continue to dominate the Brand Finance Global 500. Over two-thirds of the total brand value in the ranking is attributable to the two countries, with the US accounting for 49% (US$3.9 trillion) and China for 19% (US$1.6 trillion).
However, the UK also performs well, with the combined value of brands from Britain rising by 47 per cent to US$257.1 billion – the fastest level of growth among the top 10 countries this year, indicating that Brexit uncertainty has largely been overcome. Shell's decision to move its headquarters is one of the key reasons behind the impressive growth, as it now ranks as the nation's most valuable brand at US$49.9 billion, but the UK has also seen three other new entrants in this year's ranking – AstraZeneca, JD Sports, and Burberry.