Bridgestone partnering in ELT raw material projects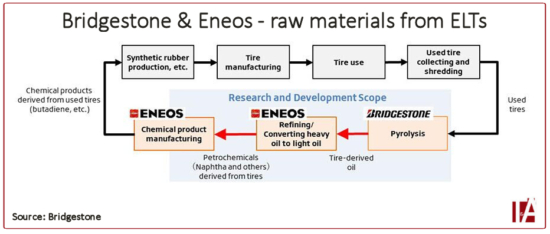 Bridgestone Corporation has commenced a joint programme with four other parties to develop chemical recycling technologies that can deliver high yields of isoprene from end-of-life tyres (ELTs). Earlier today it also announced the launch of a joint research and development project with one of these entities, Eneos Corporation, to extract raw materials from ELTs using pyrolysis with the aim of further using these materials to make new tyres.
The five-party R&D programme sees Bridgestone team up with Japan's National Institute of Advanced Industrial Science and Technology (AIST), Tohoku University, petroleum firm Eneos Corporation and engineering company JGC Holdings Corporation. The partners will combine their expertise and technologies to develop and establish technologies that use a "specialised catalyst" to deliver commercially viable quantities of isoprene from ELTs.
AIST, Tohoku University, and Eneos will be responsible for developing the chemical recycling technologies and related evaluation technologies while JGC Holdings is tasked with designing pilot plants. As the project leader, Bridgestone will play a central role in the project, guiding demonstrations for the technology's wider rollout by utilising its rubber R&D resources and expertise in the tyre and rubber industry.
Developing pyrolysis technologies with Eneos
Parallel to the above project, Bridgestone and Eneos Corporation aim to utilise chemical technologies to convert ELTs into raw materials. Bridgestone will draw upon its advanced rubber and polymer material design technologies and pair these with Eneos' crude oil refining technologies and foundational basic chemical product manufacturing technologies.
Specifically, the companies will seek to attract wider interest in pyrolysis by demonstrating its use to extract chemical products such as butadiene from ELTs. Bridgestone says that "large-scale demonstrations will be advanced toward 2030 with the goal of achieving mass production and swift commercialisation."
Significant step forward
"The Bridgestone Group places sustainability at the core of management and business and is practicing co-creation with a variety of partners to accomplish its vision of providing social value and customer value as a sustainable solutions company," states Shuichi Ishibashi, global chief executive officer of Bridgestone Corporation. "I am excited to be able to embark on this co-creation project with Eneos, a leading company in the petroleum and petrochemical industry.
"This project represents a significant step forward in our quest to increase resource circulation and promote carbon neutrality in the tyre and rubber industry," Ishibashi continues. "Through this R&D project, we aim to develop our recycle business that will 'renew' used tyres to raw materials. I am confident that the social implementation of technologies for this purpose will help us realise our Sustainability Business Framework. Going forward, we will continue to promote various co-creation projects to contribute to the realisation of a sustainable society."
Green Innovation funding
Both projects are promoted by Japan's national research and development agency NEDO to develop chemical technologies related to ELTs. As such, they benefit from NEDO's Green Innovation Fund, which was set up to contribute towards Japan's goal of achieving carbon neutrality by 2050.