Tyre particulate study heaps praise on Michelin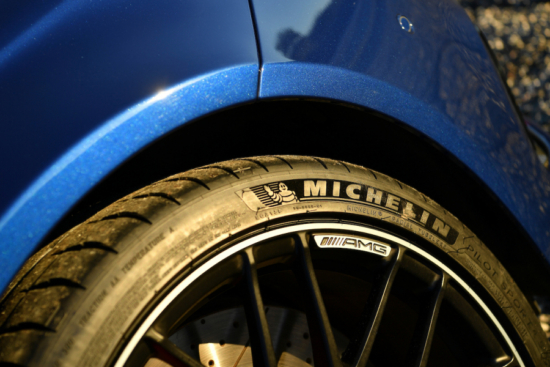 Comparative tests typically evaluate the way tyres perform in day-to-day use – how they handle and stop in various weather conditions, comfort and value for money, as well as their contribution towards efficient driving. The wider environmental impact of tyre use doesn't get much of a look-in. German motoring association ADAC is rectifying this by examining the contribution of various tyres to the problem of microplastic emissions. To do this, it looked at the tyre sizes from its 2019 to 2021 summer and winter tyre tests – almost 100 products in total.
ADAC determined tyre abrasion levels by measuring how much weight each tyre lost from new to 15,000 kilometres on a mixture of urban, country and motorway roads. It reported the results as an average weight loss per 1,000 kilometres. Here are some of the association's key findings:
• On average, a set of four tyres loses around 120g of rubber per 1,000 kilometres through abrasion.
• While abrasion tends to be slightly less for summer tyres than for comparably sized winter tyres, ADAC noted no fundamental difference in abrasion levels for summer, winter and all-season tyres.
• Abrasion is lower for tyre sizes fitted to smaller cars.
• Tyre models combining low abrasion with good driving safety exist in all sizes.
• Some manufacturers have been more successful than others in recognising the importance of minimising abrasion and developing tyres with this in mind. Michelin tops this list.
Summer tyres 185/65 R15
This is a strong selling tyre size in the small car segment, and abrasion here was by far the lowest of the six tested sizes, averaging only 89g per 1,000 kilometres. ADAC attributes this primarily to the typically less powerful engines of small cars along with lower vehicle weight.
ADAC says the abrasion of the Michelin CrossClimate + (57g/1,000 km), a tyre it described as "an all-season tyre in disguise" when Michelin offered it for the 2019 summer test, is "outstandingly low." It adds that this tyre and the Vredestein Sportrac 5 (70g/1,000 km) demonstrate that "an environmentally friendly tyre can also be safe."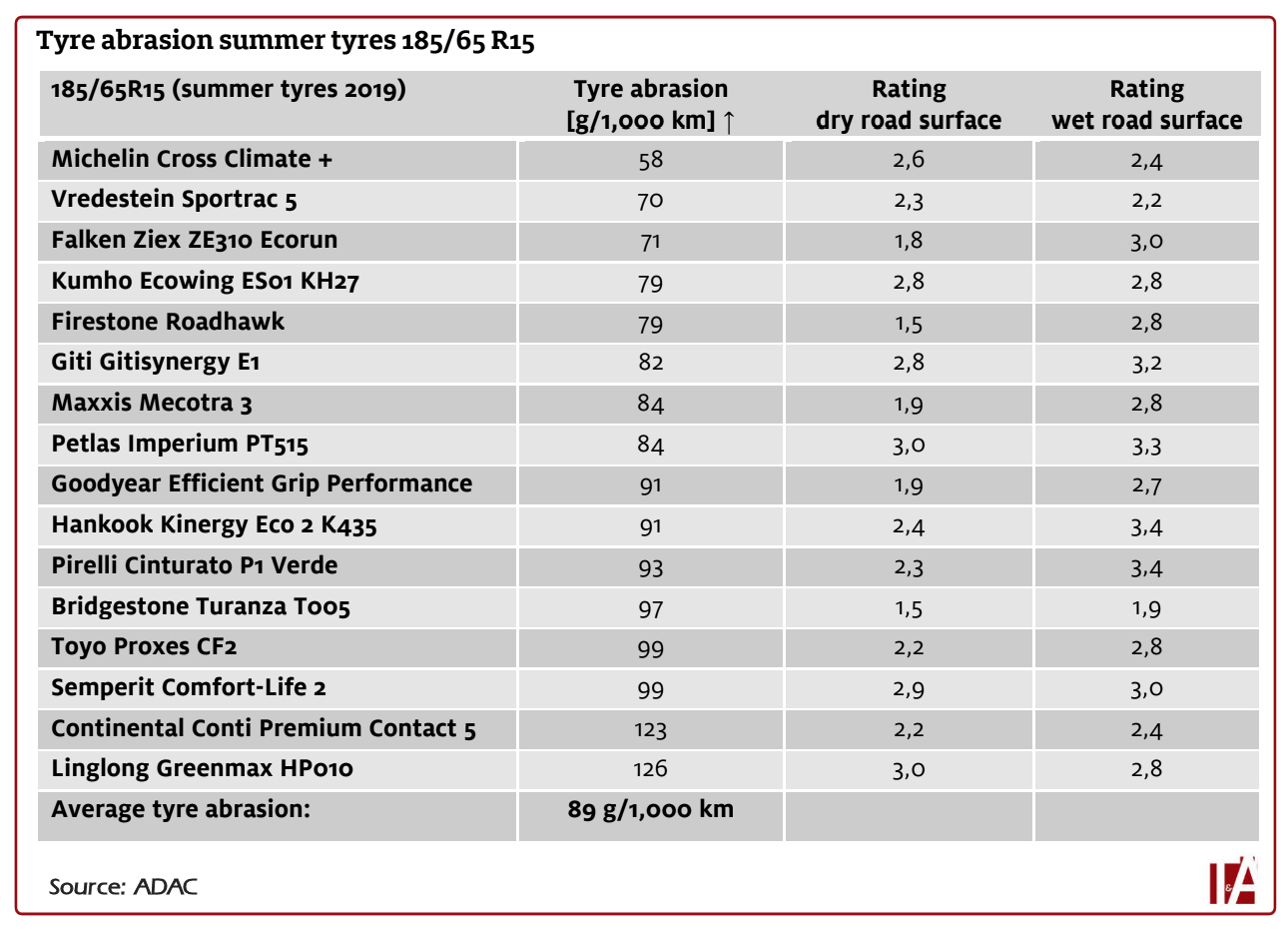 Summer tyres 225/40 R18
This performance-oriented summer tyre size for compact cars is almost exclusively designed with handling and stopping characteristics in mind, and environmental considerations aren't at the forefront. Nevertheless, ADAC notes that the Michelin Pilot Sport 4 "demonstrates that safe driving features are also possible with (reasonably) low tyre abrasion."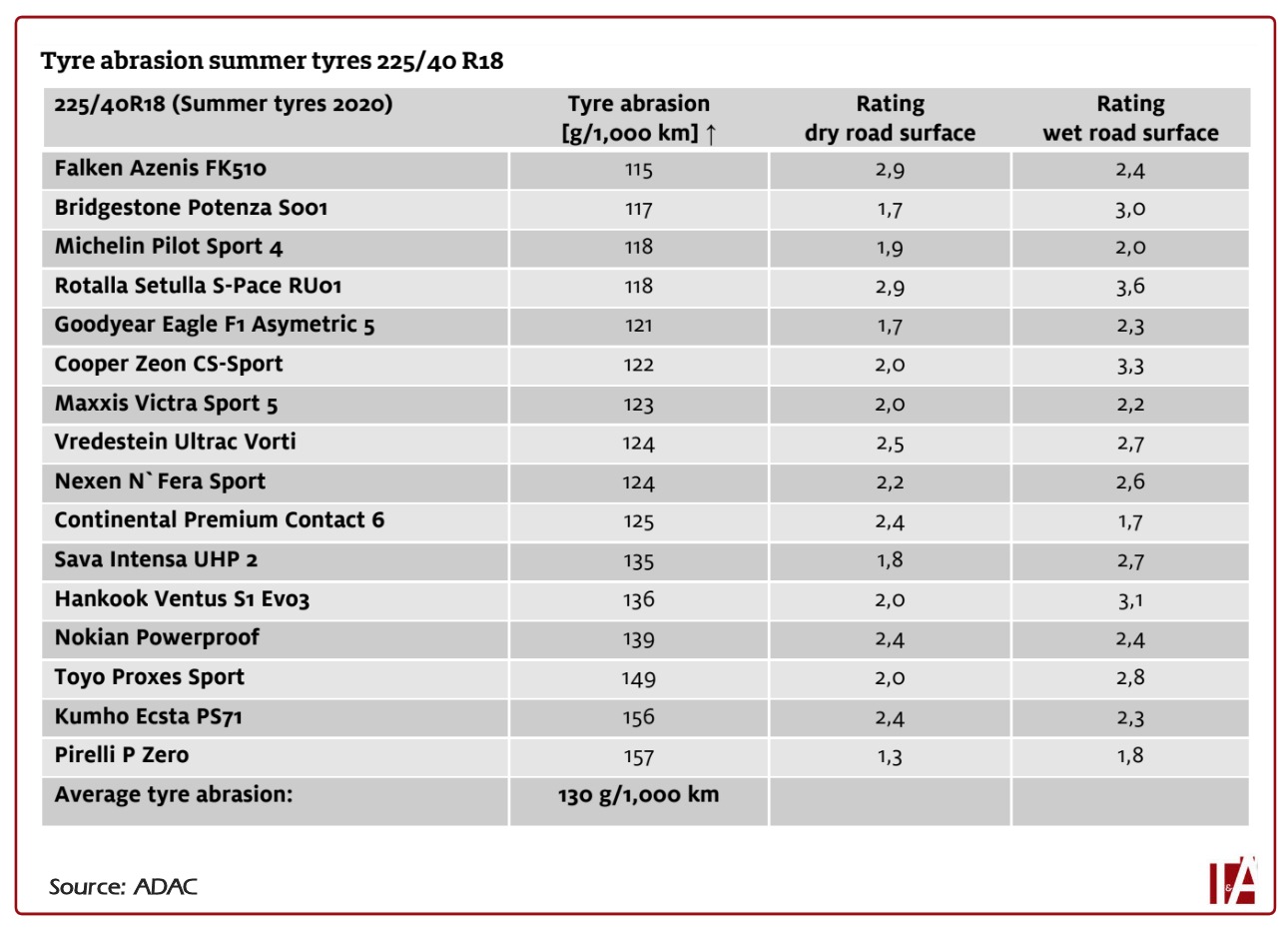 Summer tyres 205/55 R16
Tyre size 205/55 R16 is one of the best-selling dimensions in both the German and UK markets. The large number of vehicles driving on these tyres means the size contributes significantly to overall tyre abrasion levels. ADAC says it is thus encouraging that some tyres in this compact class size produce less than 100g/1,000 km of tyre abrasion. In particular, the Goodyear Efficient Grip Performance 2 and the Kumho Ecsta HS51 deliver low abrasion and also show good to satisfactory safety levels.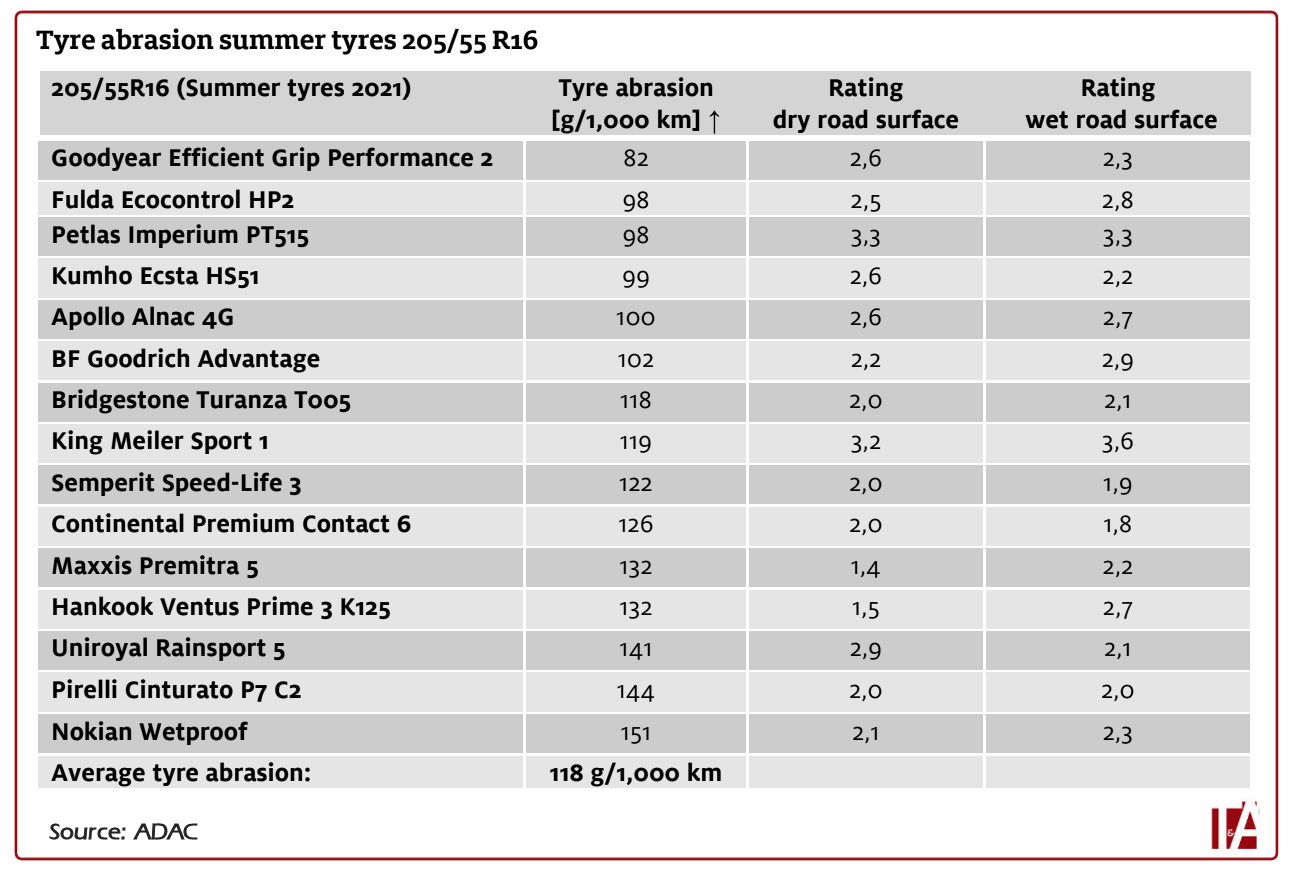 Winter tyres 185/65 R15
Results for winter tyres in the 185/65 R15 compact car size reflect those seen for their summer counterparts. Here too, Michelin is "far ahead of the competition" in terms of abrasion. The French brand is only surpassed in this size by the Kleber Krisalp HP3, a tyre also made by – you guessed it – Michelin. ADAC says the Kleber achieved a "remarkable" result, as the trade-off between low tyre abrasion and good driving safety on snow represents a particularly difficult issue. "Kleber demonstrates impressively what can be possible today with the most modern tyre technologies," comments the motoring association.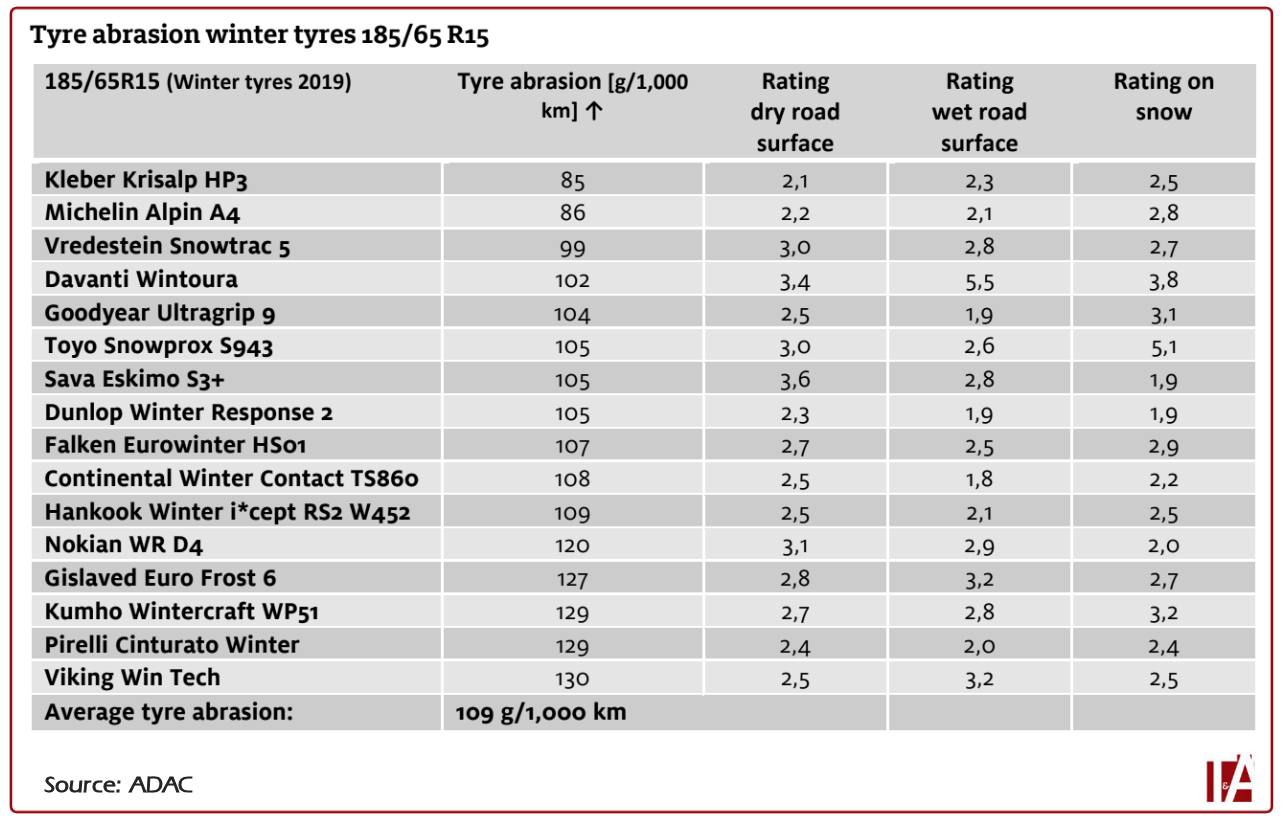 Winter tyres 205/55 R16
A budget brand tops the abrasion performance for the best-selling winter tyre size 205/55 R16. With 86g/1,000 km, the Tristar Snowpower HP achieves an impressive result. But the ADAC notes that due to poor performance on wet roads, it cannot recommend the tyre despite its low abrasion. Hence Michelin becomes the default hero in this size as well, with the Alpin 6 resolving the abrasion/safety trade-off more effectively. "With only 87g/1,000 km the Michelin produces only slightly more abrasion than the Tristar but shows consistently positive results in the driving safety criteria."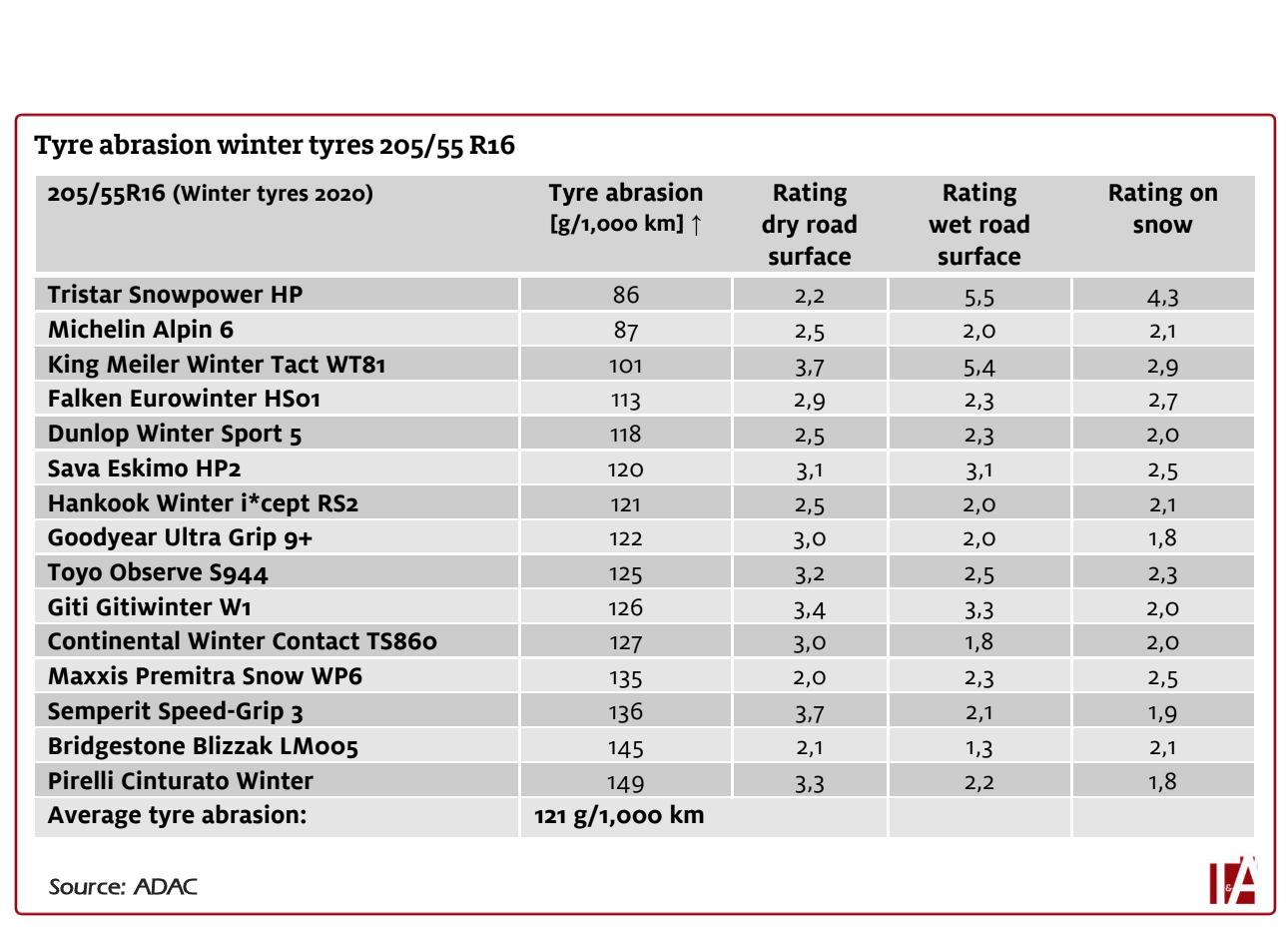 Winter tyres 195/65 R15
ADAC was surprised by results in the winter 195/65 R15 evaluation. This tyre size is not just suitable for many compact cars, but also for vans such as the VW Touran or Renault Kangoo. The motoring association found tyre abrasion to be consistently above average when testing this particular size and believes this must be due to the tyre construction. Compared to the 205/55 R16 size, average abrasion is about 10 per cent higher. With an average of 139g/1,000 km, the 195 winter tyre size produces the highest abrasion in comparison.
The best performers were the Michelin-made BF Goodrich G-Force Winter 2 (100g/1,000 km), followed by the Michelin Alpin 6 (105g/1,000 km) and the Vredestein Wintrac (109g/1,000 km). All three tyres show both good to satisfactory driving features on snow and wet roads as well.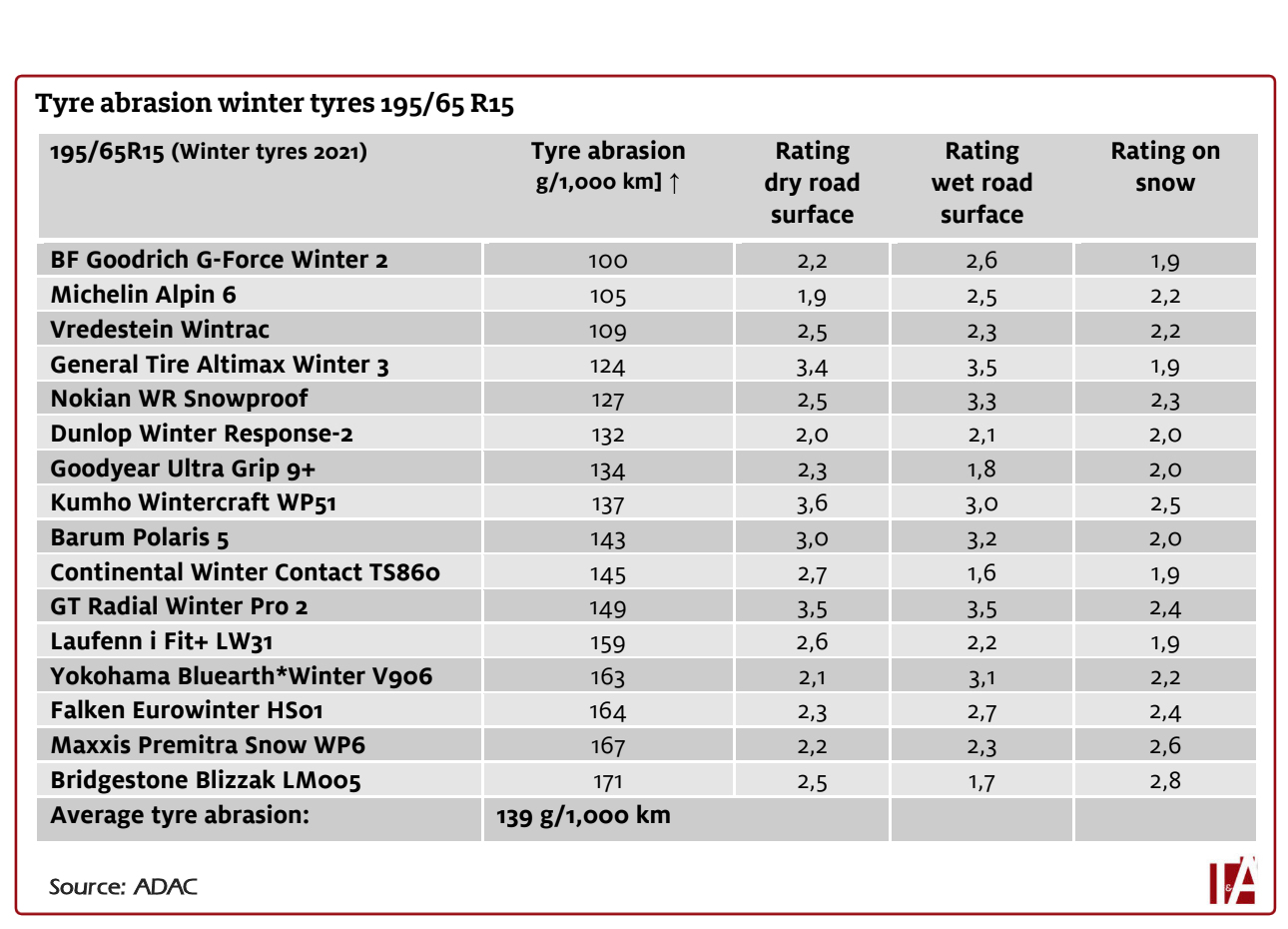 Tyre abrasion by manufacturer
To determine average tyre abrasion according to manufacturer, ADAC again looked at the six selected tyre sizes and calculated an average value for all tyre manufacturers present in at least three of the six tests. It paid particular attention to manufacturers that were only represented in three or four sizes to ensure they weren't only tested in particularly advantageous or disadvantageous tyre sizes.
"On the basis of the collected data, it can be assumed that the survey of the average tyre abrasion per tyre manufacturer is indeed representative," states ADAC. The motoring association adds that the evaluation suggests "not all tyre manufacturers have yet integrated the highest possible driving safety and low environmental impact into the tyre development process."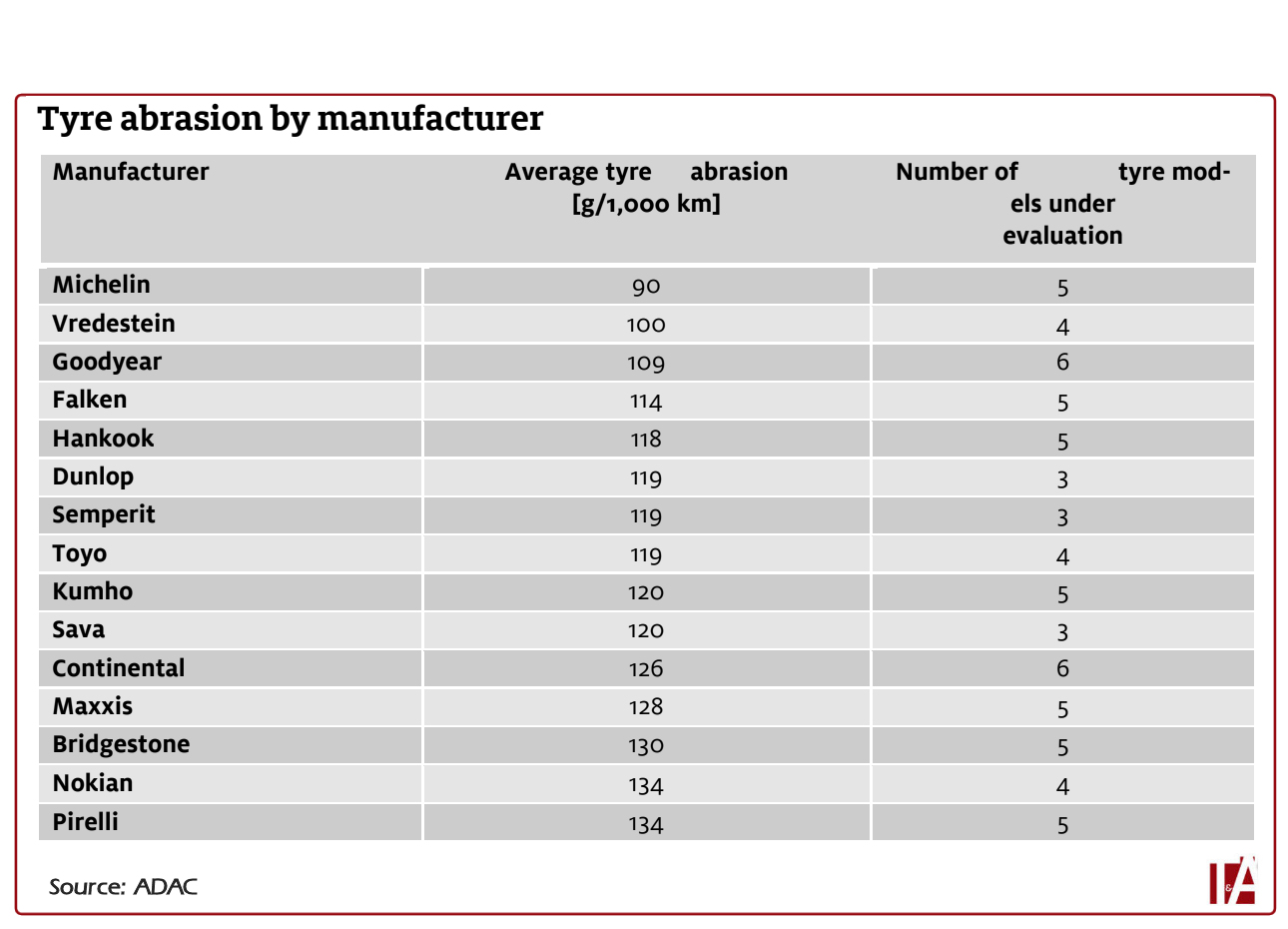 An enormous lead for Michelin
ADAC opines that Michelin is "one of the few tyre manufacturers" to have recognised this need and specifically geared its tyre development accordingly. "Other premium manufacturers such as Pirelli or Bridgestone, on the other hand, still seem to focus almost exclusively on the driving features of a tyre. As a result, the environmental impact of tyre abrasion is up to 50 per cent higher for these manufacturers than for Michelin, whose tyre technology currently gives them an enormous lead over the competition."
In response to ADAC's remarks, Michelin says it develops products to "offer optimal performance for the entire life of the tyres, right down to the legal tread depth." The tyre maker also estimates that motorists could potentially save 6.6 million tonnes of CO2 annually – if all cars in Europe were on tyres comparable to its products.