Tyre tests – Motorcycle slicks for racing & track days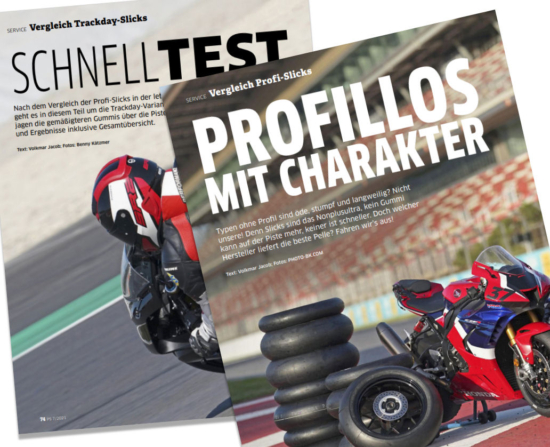 Two motorcycle tyre tests from PS. The German sports bike magazine took a look at slick pairs for professional riders in its 6/2021 issue, and followed this up by looking at four brands of track day tyres in its 7/2021 edition. The PS testers declared Dunlop and Continental the respective winners.
Both comparative evaluations took place at the Circuit de Barcelona-Catalunya in Spain, with former Moto2 rider Arne Tode serving as co-tester. Honda Fireblade SP bikes performed the test duties.
Professional racing slicks
Seven pairs of front/rear tyres contested the professional racing slick test. Each pair was tested for handling, precision, stability, grip, behaviour at the limit, righting response and feedback, as well as for lap time.
Victory went to the Dunlop KR106 front tyre (120/70 R17) and KR108 rear fitment (195/65 R17), a pairing that PS says "simply works sensationally." The testers praised the Dunlop tyres' outstanding properties, including "enormous rear wheel grip and overall high stability." They also described the tyres as being very easy to manage.
The Bridgestone Battlax Racing V02 (front 120/60 R17, rear 200/65 R17) was runner-up. PS called this a tyre that provides a "high fun factor", a conclusion the testers admittedly only reached with a second set of tyres after an initial set "failed to convince" due to its cornering behaviour and because of low grip. PS said it would examine the tyres together with Bridgestone and report the results at a later date.
Third place went to the Pirelli Diablo Superbike in the 'SC3' compound specification, mounted on the test machine in sizes 120/70 R17 at the front and 200/60 R17 at the rear. PS reports that the Pirelli tyre provided an "immense interlocking of the front rubber when braking and in an inclined position" and was "very precise when turning" with excellent feedback. The tyre also proved very stable except for a minimal buckling of the rear tyre when accelerating sharply.
Another pair of Dunlop tyres occupied fourth place, the KR109 and KR108 in the big size dimensions 125/80 R17 and 200/70 R17.
Michelin Power Performance in fifth place with the soft compound version for both the front (120/70 R17) and rear (200/55 R17) tyres.
Sixth place went to the Metzeler Racetec RR Slick, with a K1 compound front tyre (120/70 R17) and K2 compound rear tyre (200/60 R17).
Michelin was back in seventh place with its Power Performance in identical dimensions to before, but this time with a '24' rear tyre compound.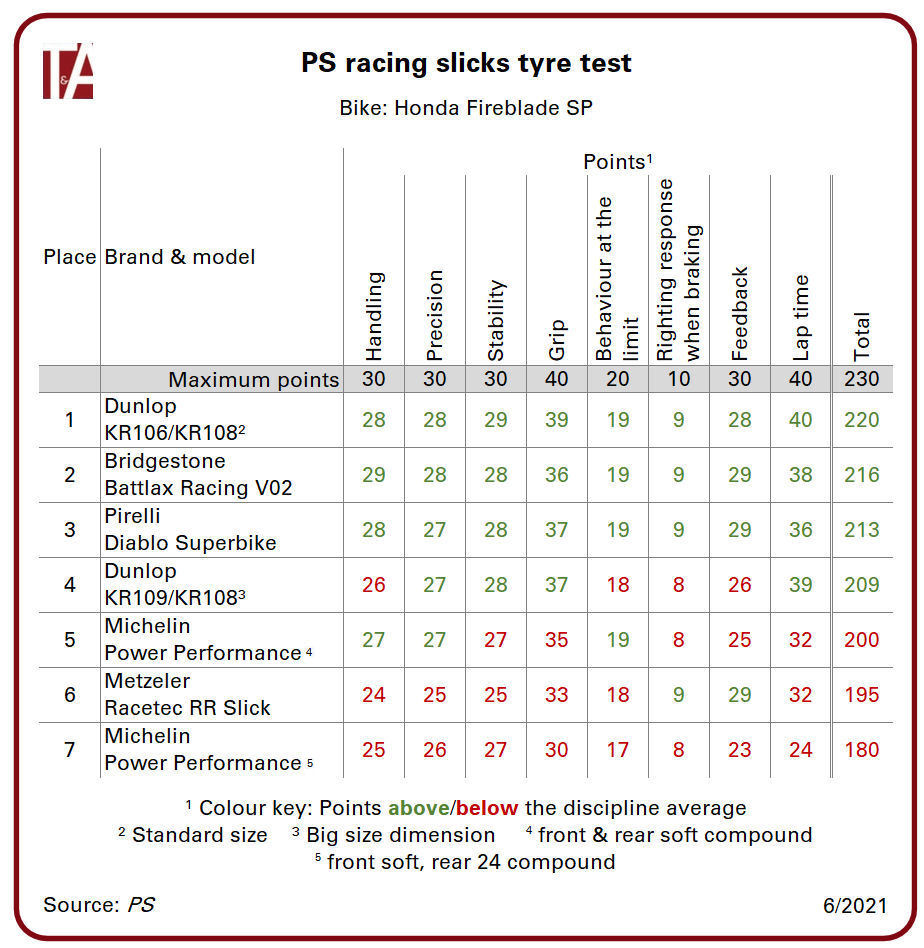 Track day slicks
In addition to testing the aforementioned seven tyre pairings from five manufacturers, PS subjected four models of track day slicks to the same test regime.
Track day slicks are tyres that cover a "significantly wider ambient and asphalt temperature range." They don't require the bike's chassis to be specifically set-up and are typically only available in a single compound option, although two of the test candidates are exceptions to the rule in regards to this last point: The Continental Track is available in soft and medium compounds, and the Dunlop GP Racer D212 Slick in medium and endurance compounds. The quartet is completed by the Metzeler Racetec TD Slick and Michelin Power Slick 2.
With 183 points to its name, test winner the Continental Track not only provided the "best handling and highest precision" of the four track day brands, it even outperformed one of the candidates in the professional slick test.
"In terms of time, the track day slicks are closer to the professional (racing) rubber than expected and even catch up with their midfield. In addition, the gaps in terms of both times and points within their group are quite small. Due to their uncomplicated handling and the generally lower wear and tear, they are a real alternative for hobbyists and bargain hunters," comments PS.
The Metzeler and Michelin tyres share second place, with 180 points apiece. Both came close to matching the Continental Track's lap time.
With just 171 points, the Dunlop GP Racer D212 Slick finished in fourth and final place. The testers found the Dunlop tyre "slightly unwieldy" when going through corners, which made it a challenge for the rider to stick to the intended line. But all in all, they considered the Dunlop tyre an orderly track day slick with only slight losses in performance when pushed to the limit.