Michelin preparing to drive on the Moon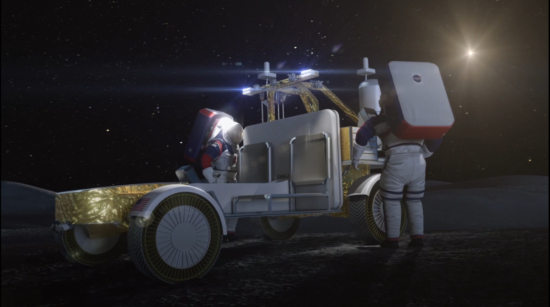 One giant leap for Michelin. The French tyre maker has taken on the challenge to develop an airless tyre to equip the future Lunar Terrain Vehicle (LTV). It is working on this project in conjunction with the team formed by Northrop Grumman within the framework of a tender from NASA last November. The aim for the Michelin R&D teams is to make a tyre capable of resisting the extreme conditions at the lunar pole in order to explore the lunar surface and allow a sustainable presence on the Moon in 2025, and ultimately on Mars.
NASA's Artemis programme plans to send one man and one woman to the Moon in 2025. The two astronauts will travel around in a new LTV, looking for a site suitable for setting up a base. The space agency is interested in building a base camp at the lunar pole as this area possesses a large amount of water ice.
A model of the future LTV was revealed to the public for the first time at the Consumer Electronic Show (CES) in Las Vegas. Following its public debut, Northrop Grumman is displaying the lunar vehicle, fitted with models of Michelin's prototype airless lunar tyres, at its head office in Virginia, USA.
An opportunity to acquire new knowledge
Michelin's current work builds upon prior out of this world projects. It partnered with NASA in the 2000s to develop the Lunar Wheel for exploration vehicles. This flexible and robust wheel without compressed air will serve as the basis for developing the prototype planned for 2025. Michelin also supplied tyres for the Space Shuttle.
The tyre maker states that "participating in this adventure and accompanying these exploration works are in line with Michelin's purpose and with its passion for mobility." It views the project as an opportunity to acquire new knowledge of mobility solutions and to further stimulate its capacities for innovation. In addition to drawing upon experience gained during prior collaborations with NASA, Michelin's design of an airless tyre solution suited to the LTV will rely on its expertise in high-technology materials and on the know-how acquired in the development of airless solutions for extreme applications.