Hankook Technodome gains trio of safety certifications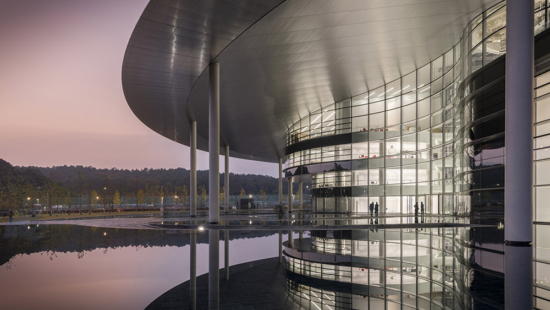 With the attainment of three additional 'Certifications of Exemplary Laboratories in Safety Management', five laboratories within Hankook Tire's R&D centre in Korea are now officially certified for excellent safety management.
The government of South Korea's Ministry of Science and ICT grants certification to laboratories that pass an assessment performed by professionals in the relevant field of expertise. Hankook Technodome previously acquired 'Certifications of Exemplary Laboratories in Safety Management' for its Flat-trac CT+ Laboratory and Chemical Analysis Laboratory. The Ministry of Science and ICT has now also certified its Tire Noise Measuring Lab, Friction Energy Test Lab, and Viscoelasticity Test Lab.
Tire Noise Measurement Laboratory
The Tire Noise Measurement Laboratory is equipped with semi-anechoic chambers for measuring and analysing tyre noise under various conditions. Hankook says it is currently conducting research into noise reduction technology that it can employ in the original equipment tyres it produces for leading car manufacturers.
Friction Energy Test Lab
The Friction Energy Test Lab analyses tyre wear that occurs from friction created between the tyre's tread and the road surface. Through extensive studies, Hankook Tire is improving technology for predicting and reducing tyre wear.
Viscoelasticity Test Lab
The Viscoelasticity Test Lab conducts research into rubber viscosity and elasticity of rubber. It helps predict tyre performance, including fuel economy, braking power, tyre wear and performance at low temperatures.
"Safety matters to Hankook Tire not only in terms of tyres but also in terms of working environment. This is why we put efforts into measures for preventing human, physical, and R&D losses at our laboratories." says Bonhee Ku, executive vice-president and chief technology officer of Hankook Tire. "As Hankook Technodome plays a key role in strengthening the company's R&D capabilities and is a symbol of our commitment to making the highest-quality tyres, we will continue to strengthen its safety management capabilities and research environment."
Opened in 2016, Hankook Technodome occupies a floorspace of 96,328 square metres over six storeys, accompanied by an eight-storey residence building. Hankook Tire says it performs research and development there that enables delivery of "world-class technology and product quality" that will help the tyre maker to "continue expanding partnerships with premium car makers and showcase its technological leadership and brand value."