Goodyear bringing low emission truck tyres to "more places" with Fuelmax Endurance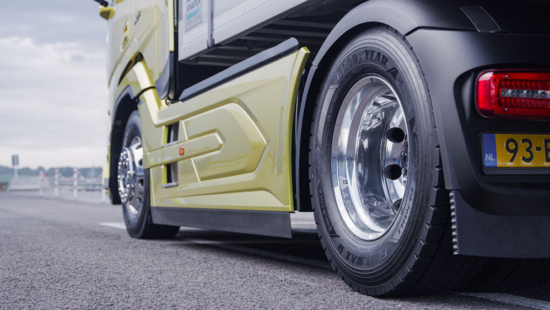 Kermit the Frog may have been amongst the first to ponder the difficulties of being green, but it's a dilemma now shared by a transportation industry operating in an environment that places sustainability high on the agenda. Tyres have a role to play when it comes to achieving Europe's lofty targets, and Goodyear points out that the fuel and CO2 efficiency gain achievable with low emission tyres and accurate tyre pressure management is equal to the gain by using more efficient engine technology. The tyre maker has a new truck range that it promises will deliver fuel efficiency on all manner of roads; it launched the Goodyear Fuelmax Endurance via an online presentation this morning.
Grégory Boucharlat comments that these new products are a breakthrough. Goodyear's vice-president commercial Europe elaborates that this is the case as Fuelmax Endurance brings low emission tyres "to more places than ever before." Goodyear is aiming the range at inter-regional transportation and logistics companies operating both on highways and secondary roads.
"Vehicle manufacturers, fleet managers and operators are under increasing pressure to meet sustainability targets whilst operating on low margins," shares Boucharlat. "Regulators, investors and end-customers are demanding 'clean' products being transported in the most sustainable way. To support a real move towards a climate-neutral future in a highly complex environment like transportation, green and efficient operations need to go hand-in-hand, without adding complexity.
"With the new Fuelmax Endurance, we bring the fuel efficiency known in highway operations to secondary and state routes. It's efficient and hard-wearing, offering low emissions and excellent grip as well as long-lasting performance and mileage. With this new product line, we wanted to bridge the gap between sustainability and reality in the daily operations."
A real gamechanger
Boucharlat was joined at the launch event by Maciej Szymanski, Goodyear's marketing director commercial Europe, who described Fuelmax Endurance as "the most versatile, fuel-efficient tyre we have ever made." All three sizes in the launch line-up (a further three dimensions are currently under development) have an EU label rating of 'B' for both fuel efficiency and wet grip. Based upon Vecto calculations that compare the new products with the Kmax Gen-2, Goodyear estimates that fitting tyres with a 'B' fuel efficiency grade instead of 'C' tyres lowers emission levels by two per cent on average.
"The Fuelmax Endurance range is a real gamechanger within the tyre and transportation industry as it is efficient and versatile offering both low emissions and excellent mileage plus traction," comments Szymanski. "A reduction of two per cent in CO2 reduction translates into a saving of about one tonne CO2 emissions and 400 litres of fuel per truck, per year. In case a 100 vehicles fleet switches from a C-label to a fuel-efficient B-label tyre like Fuelmax Endurance, this would represent a potential saving of 100 tonnes of CO2 emissions and 40,000 litres of fuel, per year. You can imagine the potential when we start multiplying the numbers of vehicles and fleets."
Key development focus areas
When developing the range, Goodyear reports that its engineers focused on bridging three conflicting areas in the development spectrum, specifically securing fuel efficiency and low emissions versus mileage, traction and versatility.
As a starting point, they based the development of the new product line around proven Goodyear technologies. The engineering team then investigated ways of extending these established fuel efficiency capabilities to a greater range of routes while safeguarding traction, grip and mileage.
The Fuelmax S Endurance steer tyre combines Goodyear's proven IntelliMax Rib Technology in a five or six rib design with "ingenuity in the rib distribution and groove geometry." Goodyear explains that the stiffeners in the shoulder grooves connect when the tyre rolls, increasing the robustness of tyre and limiting wear in more demanding off-highway journeys where stop-start driving, kerb impact, increased turning and manoeuvring and more braking put additional demands on tyres.
The increased tread depth on selected steer sizes results in more wearable rubber compared with the Fuelmax Gen-2, providing better grip later in the service life. A low energy-loss tread compound offsets heat generation caused by load forces on the steer position. A number of steer tyres also feature an optimised sidewall compound further contributing to lower emissions and fuel efficiency as it decreases flexion and deformation of the sidewall in off-highway operations.
In addition to an "innovative tread compound," Goodyear uses a dedicated curing process for the Fuelmax D Endurance drive axle tyre in order to further optimise rolling resistance. The drive tyre's directional tread design includes a high number of deep sipes, deep centre grooves and more biting edges to improve traction and evacuate water more effectively.
Both steer and drive tyres are 3PMSF certified and equipped with RFID, enabling connected tyre management. The Fuelmax Endurance is also fully compatible with Goodyear's Retreading programme, and the company intends to offer the drive tyre as a TreadMax mould cure retread.