OEM tyres: Continental raises the bar by lowering rolling resistance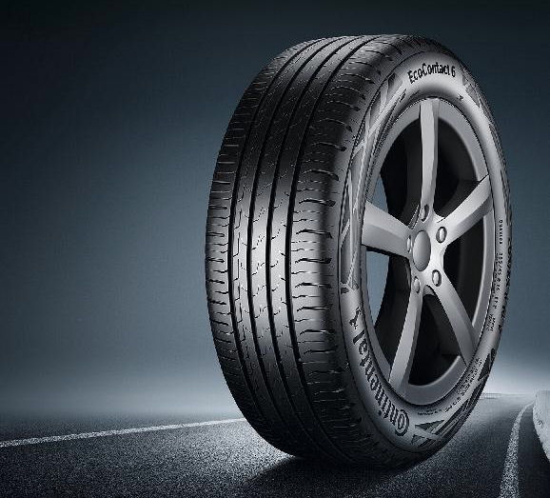 Continental shares that it has further improved the rolling resistance properties of a specific OEM EcoContact 6 tyre, and by doing so has set a "new rolling-resistance benchmark for the entire industry." This rolling resistance properties of this tyre, which Continental supplies to Ford as original equipment, now surpass the EU tyre label's 'A' category by more than 15 per cent.
Exceeding the 'A' category requirements is the equivalent of increasing an electric car's maximum range by as much as three to four per cent, explains Continental. For an ICE-powered vehicle, this improvement can lower fuel consumption by around 0.1 litre per 100 kilometres, a reduction of about 2 grammes of CO2 per each kilometre.
The tyre maker says it was able to achieve this "substantial reduction in rolling resistance" with the Continental EcoContact6 by applying "a variety of design measures," including reducing the materials used. It also implemented technologies such as an optimised rubber compound that's designed to lower abrasion and heat build-up, a major cause of rolling resistance.
"In connection with an original equipment order placed by Ford, we have succeeded in improving rolling resistance properties to an extraordinary degree," remarks Dr Holger Lange, head of Passenger Tire Development for Continental's original equipment business. "This is all the more remarkable because we managed to achieve this without compromising on tyre safety or comfort."
A holistic approach to conflicts
The development team faced not only the challenge of significantly lowering rolling resistance, but also meeting the customer's requirements for mileage and braking distances. These criteria can result in conflicts: While the aim of reducing rolling resistance is to keep energy loss as low as possible, the opposite is true for braking, but tyres need to dissipate as much energy as possible if braking distance is to be minimised. This is rarely a problem on dry roads, but it's a different story in the wet. Water on the road acts like a lubricant, lowering traction and resulting in longer braking distances. The tyre development engineers thus needed to take a holistic approach throughout, paying close attention to the interplay of each and every performance factor so as to ultimately achieve across-the-board improvements.
"Thanks to their special properties, the tyres we developed are helping Ford to sustainably reduce vehicle energy consumption across all drive types and models," remarks Lange. "In so doing, our EcoContact 6 tyres for Ford are setting a new rolling-resistance benchmark for the entire industry. In this way, we are making an important contribution to helping our OE customers achieve their WLTP (Worldwide Harmonized Light-Duty Vehicles Test Procedure, the global standard test procedure for passenger car tyres) fleet targets."
Ford has so far approved Continental to supply original equipment tyres based upon the EcoContact 6 to five of its models. Two of these are partially electric, the Puma Mild Hybrid and the Kuga Plugin Hybrid, while the others, the Fiesta, Focus and Focus Active, are ICE powered.
A decade of optimising for EVs
"Continental has been working on tyres to increase the efficiency of electric vehicles for over ten years now," continues Lange. "As early as 2012, we presented the Conti.eContact – a tyre specifically designed to meet the needs of solely electrically powered vehicles. In the meantime, almost our entire portfolio meets e-vehicle requirements, while at the same time also being capable of sustainably reducing emissions for combustion-engine vehicles."
The manufacturer's share of the market for tyres that meet the requirements of full-electric vehicles continues to grow. Six out of the world's ten highest-volume electric vehicle manufacturers fitted Continental tyres as original equipment last year.