Six 'Top 10' EV car makers fitting Continental tyres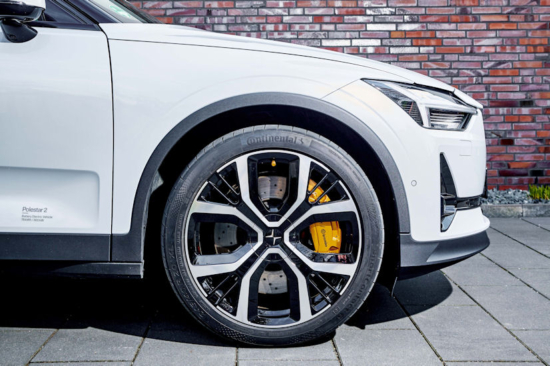 Continental reports that its share of the tyre market for fully electric vehicles is growing, with six of the ten global highest-volume manufacturers of electric vehicles selecting the brand as original equipment in 2020. This includes fitment on key electric models like the Tesla Model 3 and Model S, and Volkswagen's ID.3, as well as with manufacturers aiming to gain a foothold in the European electric vehicle market, such as BYD, one of China's largest car producers.
According to the tyre maker, Continental tyres are now standard on more than 40 per cent of all e-models produced in Europe. Some cars come equipped with specific rolling resistance-optimised original equipment tyres, but this isn't always the case.
"Fully electric models are now available from almost all car segments, from cabin scooters, small and mid-size cars to SUVs and high-performance sports cars. Individual tire configurations are required for each vehicle type," says Andreas Schlenke, tyre developer at Continental. "This means there isn't just one tyre for all fully electric vehicles. In fact, we have already been working for over a decade on developing our existing portfolio so that they meet the requirements of all electric vehicles and, at the same time, are able to sustainably reduce emissions from combustion vehicles as well.
"Meanwhile, almost our entire range of tyres is optimised for all drive types and the majority of our products can be found on electric vehicles today," adds Schlenke. Conti adds that its portfolio now incorporates summer, winter and all-season tyres for almost every electric vehicle model that doesn't already come factory-fitted with Continental tyres.
Chili con neumático
Noting that tyres account for up to 20 per cent of the total resistance a vehicle faces, Continental points customers who wish to minimise rolling resistance in the direction of its EcoContact 6. It boasts that this is a tyre that "many manufacturers" have turned to.
Continental's tyre developers were able to reduce the rolling resistance of the EcoContact 6 by up to 15 per cent compared with its predecessor through the use of Green Chili 2.0. This compound of natural rubber and other components shows "significantly improved behaviour" during mechanical deformation, says Continental. The result is lower rolling resistance and therefore lower energy consumption.
Getting – and keeping – a grip
When selecting tyres, manufacturers of medium-priced and upmarket vehicles typically prioritise other criteria, such as handling, steering precision and safety at high speeds. Continental's go-to ranges here are PremiumContact and SportContact.
With the PremiumContact 6, Continental offers a balance between efficiency, sportiness and comfort. It aims the SportContact 6 at the top-performance segment with a focus on handling and steering precision.
"The development of tyres is always a technical conflict of objectives," comments Schlenke. "For example, a high rolling resistance can result in greater safety, but also higher energy consumption. Therein lies the skill of our engineers to improve both dimensions at the same time."