Tyres & more: Continental technologies in Volkswagen's ID.3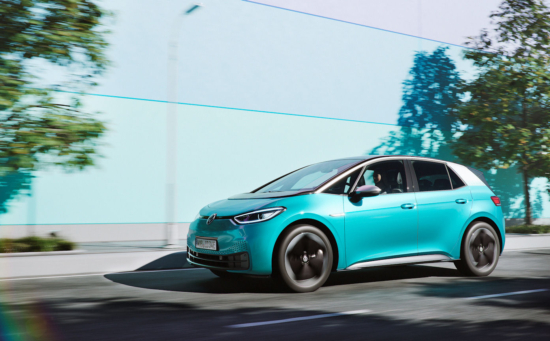 About a year ago Continental announced its selection as a tyre supplier to the ID.3, and under this arrangement is providing original equipment EcoContact 6 summer tyres, WinterContact TS 850P winter tyres and AllSeasonContact all-season tyres. But tyres are only one of a host of Continental products and technologies going into the new all-electric range. The company is also supplying computer equipment, brake technology, hose lines, heat pumps and driver assistance systems.
The ID.3 comes with summer tyres as standard; depending on specified model and equipment, the electric VW will roll on 215/55 R18, 215/50 R19 or 215/45 R20 tyres. Purchasers can additionally order winter tyres as an optional extra in sizes 215/55 R18 and 215/50 R19. The solitary all-season size offered at launch is 215/50 R19. Continental says it will deliver summer tyres for 18- to 20-inch rims, winter tyres for 18-inch rims as well as all-season tyres, with products featuring ContiSeal puncture protection included in the supply agreement. Volkswagen promotes this technology, which Continental claims can prevent around 90 per cent of tyre damage, under the 'AirStop' brand name.
Continental says the tyres it supplies to Volkswagen are "tailored to the specific requirements of the ID.3." In particular, they offer low roll-resistance to save energy and enable the widest possible range between charge cycles. In addition, Continental has minimised rolling noise in order to enhance driving comfort. The tyre maker's design team also developed an aerodynamic sidewall in order to lower air resistance.
Thinking, stopping, staying cool
Moving beyond tyres, Continental also provides the ID.3 with its brains, the HPC (High Performance Computer) server, along with corresponding software. This computer controls and safeguards the wireless exchange of data and in future will also support secure, over-the-air software updates. The HPC serves as an integrated ICAS1, and as such is a central element for the transition to a service-oriented electronics architecture. The server constitutes the central data hub and the connection point between the vehicle and the wider digital world.
Bringing the ID.3 to a stop is also Continental's remit, and for this, the company is supplying EPB-Si drum brakes that are capable of operating for up to 150,000 kilometres between servicing. The brakes' closed and sealed system reduces the risk of corrosion, and they require little maintenance.
To help the ID.3 to come to a safe stop, VW has fitted the car with numerous driver assistance systems. Continental wheel speed sensors provide information on each individual wheel's rotational speed and direction of rotation. With its newest generation of sensors, Continental also offers an intelligent solution for the ID.3 that forms the basis for numerous vehicle functions and systems such as the Electronic Stability Control (ESC) and Anti-lock Brake System (ABS), or supports the monitoring of electric drivetrains.
Batteries function most efficiently between 20°C and 40°C, a temperature range that maximises range and increases battery life. This need to retain a specific temperature means that unlike conventional vehicles, electric vehicles require many cooling circuits. In order to maintain these optimal conditions, batteries must either be heated or cooled depending on the ambient temperature, and this requires sophisticated thermal management. Continental is providing provides flexible hose lines for the ID.3's battery temperature control as well as the heat pump for cooling.
ICAS1 gives the HPC a high level of vehicle connectivity, with the server able to integrate both Volkswagen applications and third-party software
The ID.3 comes with summer tyres such as the EcoContact 6 as standard, with all-season or winter tyres available as an option