Hankook adds DriverReviews-powered reviews to UK website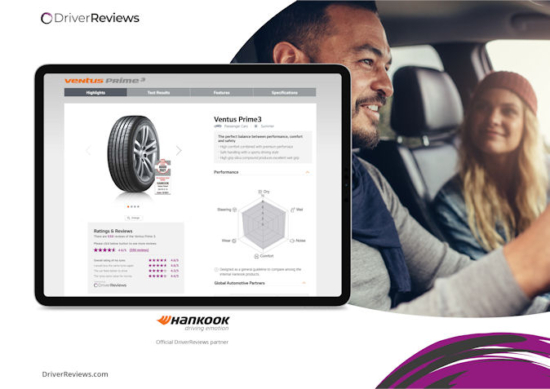 A new partnership with DriverReviews gives Hankook Tyre UK a means of supplementing its consumer-facing website with user reviews. The fruits of integrating the DriverReviews platform can already be seen on Hankook's UK site, and the tyre maker plans to roll out the concept in further markets next year.
DriverReviews is a division of Blackcircles.com, the tyre retail portal that was established by entrepreneur Mike Welch in 2002 and then grew at a rate of knots until achieving annual sales of £40 million by 2015, the year in which tyre maker Michelin acquired a 100 per cent shareholding in the firm. Hankook describes DriverReviews as a "syndication platform" that "holds the largest verified reviews database of current tyre models in the UK and wider Europe," and currently utilises over 5,000 DriverReviews product reviews on its UK website.
"As reviews have become a very important force in online consumer decision making, it seemed a natural progression to provide genuine reviews of our products on our website," comments Zoe Baldwin, marketing manager of Hankook Tyre UK. "This will enable consumers to make an informed choice when selecting their tyre brand."
DriverReviews' reviews are gleaned from ordinary motorists from all walks of life, and Baldwin explains that tyre reviews are requested at three intervals of ownership – after three months, 12 months, and 18 to 24 months – in order to provide opinions that span the product's lifecycle.
Adam Butcher, head of product at Blackcircles.com, states that the portal is "very pleased" to announce its partnership with Hankook. "Thousands of customers have already used DriverReviews to review and voice their opinion on Hankook's wide range of high-quality and high-performance products, and it is exciting that our partnership will enable Hankook to syndicate these reviews into their marketing communications."