Tomket Tyres and Tyre Spot become Gateshead Football Club partner, academy sponsor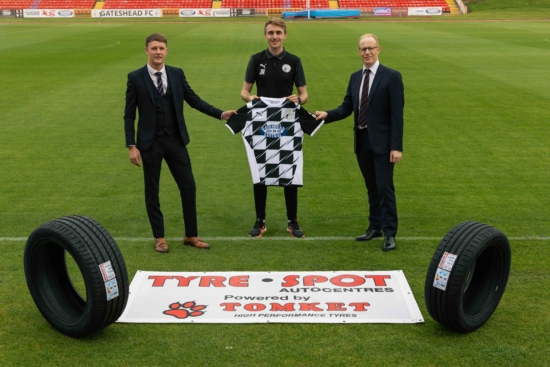 Gateshead Football Club has confirmed Tomket Tyres and Tyre Spot as an official club partner and academy sponsor. The partnership sees Tyre Spot extend their association with Gateshead Football Club having previously supported the club in a number of areas including as the club's shirt sponsor, social media sponsor and official club partner.
The Tomket Tyres and Tyre Spot logo will appear on all Gateshead FC Junior training tops for the 2021/22 season as part of the agreement. Tomket Tyres and Tyre Spot's investment in the club's academy system provides a boost to the local community and assists Gateshead FC Academy in guiding young players to a career within the professional game.
All season ticket holders as well as family and friends of Gateshead FC Academy players will also be eligible for 10 per cent off on Tomket Tyres as part of the partnership, with other exclusive offers available throughout the season.
"We are delighted to welcome Tomket Tyres and Tyre Spot to the club," said Communications & Marketing Development Officer, James Rushmore.
"Tyre Spot have been loyal supporters of the club over the years, and Tomket's investment in the Gateshead FC Academy will allow us to continue the development of young players on the club's doorstep."
Nathan Gould-Martin, managing director at Tomket Tyres UK, added: "Partnering with Gateshead Football Club and Tyre Spot aligns perfectly with our ambition in the UK. Our core objective is to become locally responsive and give back to communities that support us. I am looking forward to working closely with Tyre Spot and supporting the development of young players at Gateshead FC Academy."
"Tyre Spot are delighted to continue their partnership with Gateshead FC. We are especially excited that with the partnership with Tomket Tyres, a key brand for Tyre Spot, we will be supporting the footballing future not only Gateshead but the North East of England. As a North East based company this investment and support in the area is so important to us and it is great to see this backed by one of our global partners too," said Johnathon Shaw, managing director at Tyre Spot.
Tomket Tyres, the Czech Republic tyre company, was established in 1997 and has launched its UK operations over the last 12 months.
Established for over 30 years, Tyre Spot boasts 10 autocentres located throughout the North East of England including in Team Valley.