Cooper Tire joins the Goodyear team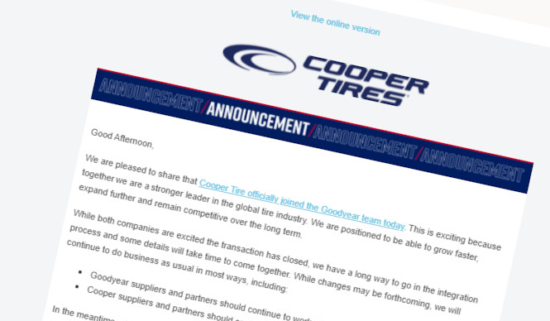 Cooper Tire has "officially joined the Goodyear team". That's how Cooper Tire general manager EMEA, Jaap Van Wessum characterised the takeover of the company by fellow US tyremaker Goodyear, which was completed on 7 June 2021. Van Wessum also offered further details of what Cooper's integration into Goodyear means for Cooper suppliers and partners.
"This is exciting because together we are a stronger leader in the global tyre industry. We are positioned to be able to grow faster, expand further and remain competitive over the long term", Jaap Van Wessum wrote in a letter dated 8 June 2021.
And, although the two companies "have a long way to go in the integration process", the text suggested "changes may be forthcoming" but that the company will "continue to do business as usual in most ways".
Specifically, he noted: "Cooper suppliers and partners should continue to work with your Cooper contact…as you have in the past", adding: "Our relationships with our suppliers and partners are extremely important to us. We are committed to keeping you informed, and we appreciate your patience as the integration unfolds."
For detailed analysis, check out our special Goodyear-Cooper acquisition digital supplement.