Antonio Felix da Costa becomes Goodyear Brand Ambassador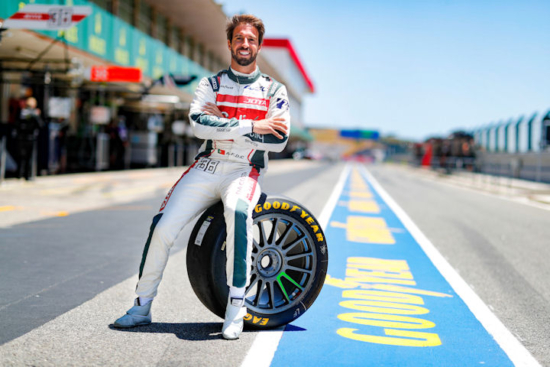 LMP2 driver Antonio Felix da Costa is now a Goodyear Brand Ambassador. The tyre maker announced da Costa's new engagement prior to the weekend's FIA World Endurance Championship (WEC) 8 Hours of Portimao event; the Portuguese driver called the announcement of his ambassadorship on the weekend that WEC arrived in his homeland an "added bonus".
Da Costa races for Jota Sport in WEC, having joined the British team in 2019. Last year, he was part of the line-up that finished second in the 24 Hours of Le Mans on Goodyear's return to the French endurance classic. Da Costa is also the reigning FIA Formula E Champion and has a wealth of experience in single-seaters, touring cars and endurance racing.
The new partnership will allow motorsport fans to better engage and see more content from da Costa on Goodyear's, channels, including a range of exclusive content pieces and giveaways created together with the well-known racer. Fans will be able to follow the activities on the @GoodyearEurope Instagram channel as well as the Goodyear account on Facebook.
A great addition to Goodyear's motorsport portfolio
"We're very excited to welcome Antonio Felix da Costa as a Goodyear Brand Ambassador," comments Ben Crawley, Goodyear motorsport director. "As one of the top drivers in the LMP2 category, he will be a great addition to Goodyear's motorsport portfolio, allowing fans to get closer to the world of endurance racing."
Da Costa adds: "Joining Goodyear as Brand Ambassador allows me to represent a company with real motorsport heritage. It's an exciting moment both for me and my fans, who will be able to follow the Jota Sport team through the brand's channels. To announce this on the weekend that WEC debuts in my home country is an added bonus and I'm looking forward to a good result at Portimao." The #38 Oreca-Gibson 07 car driven by da Costa and co-drivers Anthony Davidson and Roberto Gonzalez won the LMP2 class after taking the lead in the race's final moments.
LMP2 tyre supplier
Goodyear became the official tyre supplier for the LMP2 class at the start of the 2021 season following the brand's return to WEC in the previous season. Da Costa gave Goodyear its first comeback victory in the 2019 Shanghai round alongside Jota Sport co-drivers Davidson and Gonzalez.