Goodyear making 'comeback' at Silverstone with soft, medium WEC tyres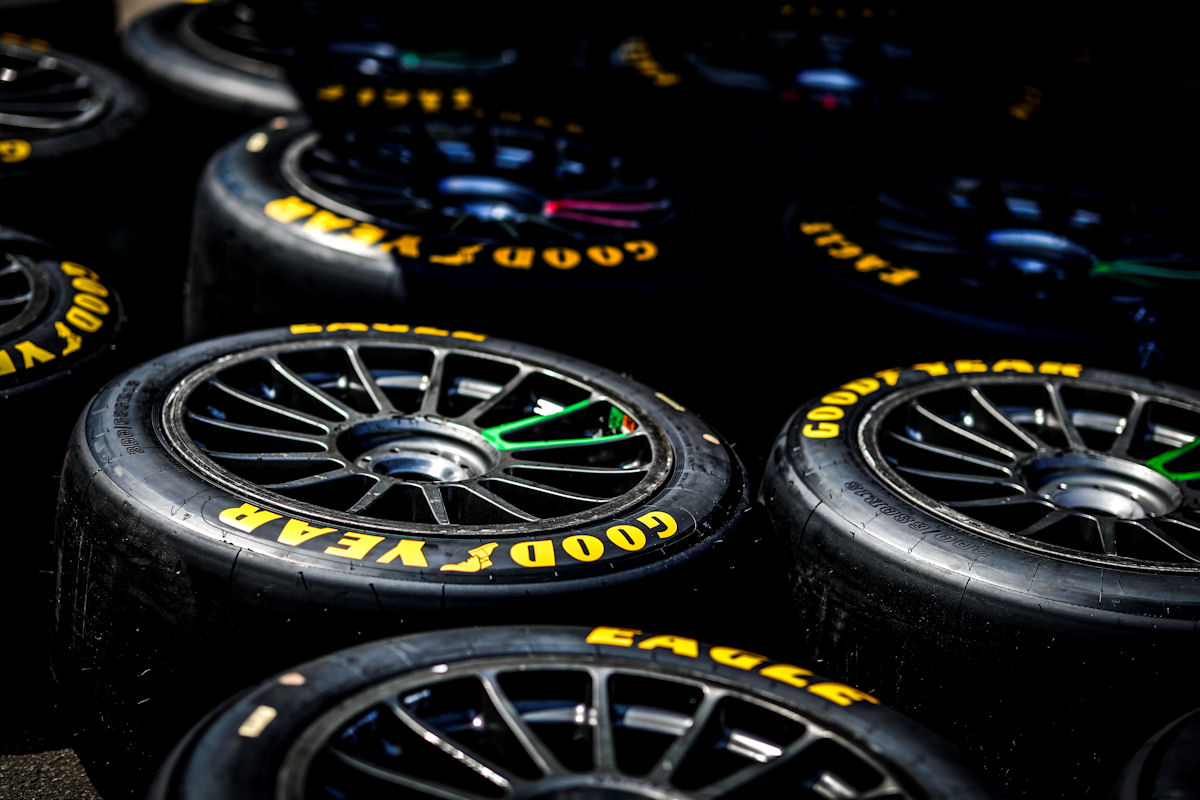 Although active within North America, including as exclusive tyre supplier to NASCAR's top three series, the Goodyear name has long played second fiddle in motorsport to Dunlop in other parts of the world. This will change on Sunday, with the brand's return to global motorsport at Silverstone. Goodyear says that after 12,000 kilometres of testing at seven circuits, it is "well prepared" for its comeback.
The tyre maker has developed four all-new tyre specifications for the eight rounds of the 2019/2020 FIA World Endurance Championship (WEC), and three teams – Jota Sport, Jackie Chan DC Racing and High Class Racing – have chosen to race on Goodyear tyres in the LMP2 class. This will be the only WEC class at Silverstone to feature open tyre competition; Goodyear sees this as the "perfect showcase" to benchmark its latest technology.
WEC regulations allow tyre manufacturers to supply racing teams with up to three dry-weather tyre specifications for the season. Two specifications will see use this weekend. At Silverstone, Goodyear will offer the three teams its A (softest compound) and C (medium compound) specification tyres. Goodyear says both feature completely new constructions designed to offer "driveability and consistency" on the various circuits where WEC rounds will take place this season.
"With races lasting between four and 24 hours, our focus was to develop a range that had the versatility and performance to cope with varying temperatures, stint length between pit-stops and cater for the needs of a wide range of driving styles," comments Mike McGregor, Goodyear's manager Race Sales, Testing & Track Support.
With the first three races – Silverstone, Shanghai and Fuji – taking place in temperate climates, Goodyear will initially focus on working closely with the teams to optimise the A- and C -spec tyres for their cars. It will then consider introducing the third specification at the Bahrain round on 14 December or in São Paulo on 1 February.
As for Silverstone, the new track surface is expected to have a major impact on race strategy: "Testing has shown that recent resurfacing has created a very high grip circuit that puts heavy loads through the tyres. We've also noticed the surface takes longer to 'rubber in' after rainfall which is one of the reasons we've chosen softer compounds to give drivers the confidence to push hard on new tyres after a pit-stop," McGregor adds.
Due to the resurfacing, the FIA has relaxed the regulations to allow teams an additional set of tyres during the event. Goodyear predicts this change will turn the four-hour race into a series of flat-out sprints between pit-stops, which is another reason it has chosen an aggressive tyre selection strategy.
New wet technologies
A summer race in England provides ample opportunity for unpacking the wet weather tyres. Goodyear's LMP2 wet features a new tread pattern with curved grooves in the shoulder to dispel water at high speed and a large continuous centre rib for retaining stability and grip under heavy cornering loads. This design is inspired by Goodyear's latest Eagle F1 SuperSport range for ultra high-performance road cars.
The intermediate tyre features the same construction as the A-spec dry tyre to enhance its grip when going from wet to dry conditions. This versatility allows the teams to optimise stint lengths between pit stops.
Goodyear's testing encompassed seven different circuits in order to experience a wide variety of wet conditions. In addition to testing at Silverstone, Donnington and Rockingham, Goodyear also headed to Northern Ireland to Bishopscourt before testing at Portimão (Portugal), MotorLand (Spain) and Sebring (USA). "We've tested in wet conditions that have varied between 4ºC to 35ºC, giving us a deep understanding of what's needed to win in the wet," says McGregor.
The flying Wingfoot
The High Class, Jackie Chan DC Racing and Jota Sport cars will be the first to display Goodyear logos in Le Mans-style endurance racing since 2006. The Goodyear logo incorporates the 'Wingfoot' symbol inspired by the Roman god Mercury, and this will appear in a "special livery" on the Jota Sport Oreca car (driven by 2014 WEC Champion Anthony Davidson, 2018 LMP2 race winner Roberto González and Formula E and DTM race winner António Félix da Costa) to commemorate Goodyear's comeback.
The Goodyear logo will appear in a "special livery" to commemorate the tyre maker's comeback (Photo: Nick Dungan Photography)
Goodyear tested its WEC tyres at circuits in England, Ireland, Portugal, Spain and the USA (Photo: Clement Marin)