Racing legends kick off Giti's Fun Cup season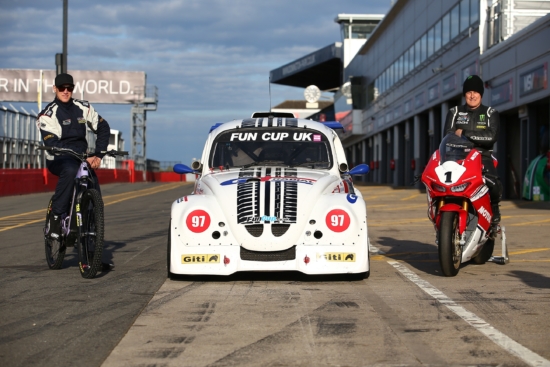 Giti Tire kicked off its 2021 Fun Cup Endurance Championship season with two racing icons in GT Radial car number 97. John McGuiness, part of the Honda TT Legends race team and best known for his 23 Isle of Man victories and 47 podiums, and Steve Peat, renowned multiple World and British Downhill Mountain Bike Champion swapped two wheels for four at the four-hour endurance race at Donington. The company has also added a new Giti branded vehicle to the grid, a joint entry with GT Radial Performance Centre (GTPC) partner MJ Tec from Stratford-upon-Avon.
Giti Tire remains Official Tyre Partner of the Fun Cup Endurance Championship which has nine races scheduled for 2021, visiting Silverstone National, Anglesey Coastal, Oulton Park International and Croft circuits.
All cars in the competition run on GitiCompete GTR2 tyres which form part of a comprehensive range of competition racing tyres which are used in events around the world. The proven technology findings are adapted to further develop its everyday passenger car portfolios.
Giti entries competitive in opening race
Racing with Ellis Hadley, senior test engineer at Giti Tire, the GT Radial team finished a respectable 12th. The trio only had the opportunity to drive the car in dry conditions on the Friday prior to terrible weather conditions on the Saturday. By race end both drivers were setting lap times quicker than seasoned Fun Cup entrants.
The MJ Tec Giti car is driven by the owner's son, NASCAR Whelan Euro Series driver and former Mini Challenge UK Cooper S Class champion, Scott Jeffs and Martin Gibson, manager EU Testing Centre & Motorsport UK for Giti Tire. Liveried in the manufacturer's Giti Tire Motorsport yellow and black corporate colours, which are used across all European racing events, the team finished in third place to secure a place on the podium.
Brian McDermott, country manager – UK for Giti Tire, said: "We all know the importance of social media, so we are taking the opportunity to invite racing legends and celebrities into GT Radial car 97 so they can enjoy the series' unique challenges, race on our tyres and share their experiences with their followers."
Gibson added: "Scott raced with us last year in the Thruxton meet which started a conversation on the 2021 season, and it was decided we would enter a team this year to race for the Championship. With two seasoned drivers and a dedicated team, we are looking to be in the mix come the final race in November."
Graham Mitchell, wholesale sales director for Micheldever Tyre Services, exclusive distributor of GT Radial in the UK, added: "The utilisation of the Fun Cup Endurance Championship alliance gets bigger and better every year and we are seeing extra TV, print and online coverage.
"This can only be fantastic news for the GT Radial Performance Centres (GTPC) as we continue to raise consumer awareness of the brand and support our growing network of independent tyre and garage businesses."
The Fun Cup Endurance Championship, originally known as the VW Fun Cup, was launched in the UK in 2002 with the clearly defined objective of providing cost-effective, close, exciting racing.
With a grid regularly topping 30, the cars are identical, race designed, single-seaters with a super-strong space frame chassis based on the Volkswagen Beetle. They are powered by an 1800cc, 130 bhp VW/Audi petrol engine with a Sadev sequential gearbox as well as race brakes and fully adjustable suspension.