Hankook goes global with Smart Touring AL22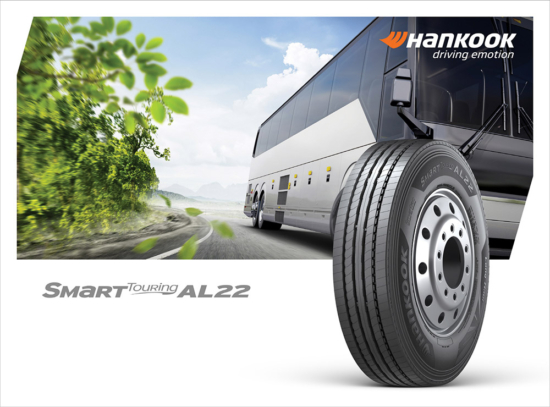 The Hankook Smart Touring AL22 is specifically designed for bus and coach applications, and Hankook Tire & Technology is selling the tyre in all major global markets. After its launch in Europe, North America and the Middle East, Hankook is now introducing the Smart Touring AL22 in Asia.
According to Hankook, the Smart Touring AL22 "provides exceptional comfort and maximum mileage" that makes it a "perfect choice for long-haul travel." The tyre features a combination of zig-zag and straight-groove tread patterns; Hankook says this ensures "excellent straight-line driving performance at all times." Its tread also features an optimised central rib for low rolling resistance and handling stability to ensure maximum mileage and handling performance.
Moreover, the pattern is structurally arranged in a way that significantly reduces rolling noise. The Smart Touring AL22 has even acquired the highest grade in the PBN (pass-by noise) level based on the European regulations.
The tyre maker reports that fuel savings has been achieved by the tread compound, a black carbon compound in a polymeric structure that offers enhanced abrasion resistance. Furthermore, a special Multi-3D Kerf guarantees both good traction and an outstanding braking response at high speeds.
"The characteristics of the Smart Touring AL22 not only allow maximum travel comfort for passengers, they also maximise driving and handling comfort for the driver," says Sooil Lee, president and chief executive officer of Hankook Tire & Technology. "We aim to target the global bus tyre market with our AL22 for regional and long-distance travel, AU04 for short distance and downtown drive, and AU06 for electric bus market."