Continental at 150: Decades of off-highway activity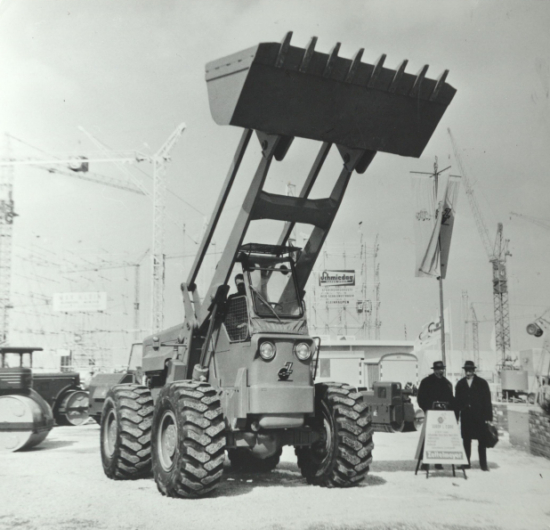 With 150 years in the business, Continental may well just be the oldest firm in existence still making tyres today. The company has been offering solutions since the days when horsepower was indeed horsepower, but Continental's off-highway tyres are a much more recent addition – it's only a little under a century since the first products came to market. As its celebrates its sesquicentennial jubilee, Continental looks back over its activities in this sector from the very earliest days.
Agricultural mechanisation gained a significant boost in 1917 when Henry Ford introduced what is arguably the first modern tractor, the Fordson. Farmers throughout Europe adopted this type of machine enthusiastically in the following decade and local manufacturers were quick to bring their own tractors to market.
The need to safely drive in both the field and on the road wasn't a pressing requirement for tractor operators in the USA but became a major challenge in Europe. Continental responded by launching the T2 tractor tyre in 1928. This was Europe's first pneumatic agricultural tyre, and it eliminated the chore of switching between metal and rubber tyres when moving from the field to the road.
Growth in specialised applications
As the 20th century progressed, demand for tyres that met special requirements also increased. The first elastic solid rubber tyre came to market in 1920, but it wasn't until after the Second World War that material handling developed into a particularly important business area for Continental. Matthias Müller, who is Continental's product line manager for Material Handling, notes that "there were more and more special machines and transport vehicles, and the need for customised tyre solutions increased."
The introduction of the standardised Euro pallet in 1961 led to a renewed boom in the industry. Five years later, Continental introduced its first ContiSuperElastic (CSE) tyre.
Post-war farming boom
Agriculture experienced a boom in Western countries during the postwar years, and Continental views 1955 as a particularly important year for its specialty tyres business. Tractor registrations in Germany approached 100,000 units that year, and Continental also presented its AS Farmer tyre. This featured a tread design that was broader in scope than previous models and featured much improved self-cleaning properties. AS Farmer offered 20 per cent better traction on all types of soil.
Nuremberg Airport also opened in 1955, the first genuine international airport in Germany after the end of the Second World War. Continental recognised a significant business area here: Today, it claims to be the only tyre maker offering a "complete tyre portfolio for the airport industry." It produces application-specific tyres for all vehicles that travel on the airfield, including aircraft tugs, tankers and fire-fighting vehicles, baggage transporters and passenger buses. One tyre often used on the airfield is the ContiRV20 solid industrial radial tyre, which has a ribbed tread pattern that causes particularly little vibration.
The port industry has also become a similarly important business segment for Continental Commercial Specialty Tires. Here, the portfolio grew in line with the increasing importance of the transport of goods, raw materials and loads transported by sea. Continental says it now offers a comprehensive product portfolio with special solutions for "every conceivable loading and unloading machine in the world's major container ports." It adds that the ContainerMaster+, which is used in ports for container loaders and transporters, among other things, turned out to be a "real all-rounder."
The 90s onwards
The agricultural tyre segment has grown in recent decades. In the 1990s, Continental expanded its presence outside Germany, especially in Europe and North America, and became an original equipment supplier for a large number of agricultural vehicle manufacturers around the world. However it sold its agricultural business in 2004 in order to focus on other areas, and CGS/Mitas obtained the license to produce and market tyres under the Continental brand name. Continental reacquired brand rights in 2016.
The 1990s was also a time of growth for Continental in the material handling sector. The 1.5 millionth CSE tyre rolled off the production line at its Korbach plant in Germany, and Continental had produced 3.5 million CSE tyres by 2000. The range was expanded to include the CSE Robust SC 15 in 1994/5.
Agri comeback
Continental opened a new facility for producing agricultural tyres in Lousado, Portugal, and returned to the agricultural tyre market in 2017 with the Tractor70 and Tractor85 ranges. Its agri portfolio has since grown to include the TractorMaster radial.
Mining and construction are two other particularly demanding and important applications. Continental entered these markets in the late 1990s with its Earthmoving EM3 OTR radial and has expanded its product range ever since. The current range includes earthmover tyres measuring up to 2.20 metres in diameter and weighing up to a tonne.
Equipped for the future with digital solutions
These extreme conditions demand high durability and performance from tyres. To keep a constant eye on tyre condition, Continental increasingly relies on digital tyre monitoring: To complement ContiPressureCheck and ContiConnect Yard, the company has developed ContiConnect Live. With the help of this unit, the data collected on tyre pressure and temperature is sent in real time to the cloud via a central telematics unit. In addition, ContiConnect Live uses GPS to transmit vehicle location and records tyre operating hours. Fleet managers thus have a faster and more convenient overview of the vehicle condition, regardless of their location.
"From the first elastic solid rubber tyres in 1920 to the producer of specialty tires for harbour cranes, agricultural machinery, a wide variety of construction equipment and tunnel drilling machines – Continental's Commercial Specialty Tires have played a key role in writing important chapters of international industrial history over the past 100 years," comments the tyre maker.