Goodyear begins 'new era' as FIA World Endurance Championship partner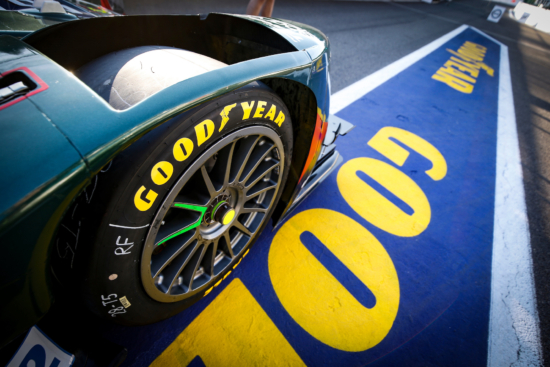 Goodyear's inaugural FIA World Endurance Championship (WEC) campaign in 2020 was the prelude to a new era for the brand in the series. Goodyear is an official championship partner supplying every car in the LMP2 prototype category this season, which begins at Spa-Francorchamps, Belgium, on Saturday 1 May with a six-hour race. In its comeback season to top-level motorsport, its first action at this level in two decades, Goodyear's tyres were victorious in Shanghai and Bahrain, and achieved a memorable double podium at the 24 Hours of Le Mans.
Goodyear was only supplying two of the full-season entrants on the highly competitive LMP2 grid in 2020. This season it has been appointed as the sole tyre supplier to the LMP2 category in WEC, the European Le Mans Series (ELMS) and 24 Hours of Le Mans.
This weekend at Spa-Francorchamps, the 14-strong class will all use a brand-new Goodyear Eagle F1 SuperSport dry weather race tyre specification. The grid is made up of a mix of Ligier and Oreca prototypes, producing around 536 hp from their 4.2-litre V8 engines. The World Championship status is underlined by teams entering from ten countries, and drivers of 19 different nationalities.
Ahead of the Belgian event, Goodyear had its first experience of LMP2 sole supply in the European Le Mans Series at Barcelona earlier this month. In that race, teams were permitted to use Goodyear's softer 'A spec' tyre, but at Spa the stronger 'C spec' will be mandated. This is to ensure that there is an appropriate performance gap between the new Hypercar class and LMP2, two of the four classes that make up the packed WEC grid. Nevertheless, ambitious teams will be aiming for an opportunity of finishing on the overall podium, as well as winning the LMP2 class.
Mike McGregor, Goodyear endurance racing programme manager, says: "The new era marks a change in mindset for our engineering and service team. Last season, we were focused on giving our two partner teams an advantage on strategy, service and development input so they could beat the cars on the rival tyre brand. This year, we move to driving a culture of parity, equality and fairness across all teams to give them all the same high level of service. Goodyear has experience in achieving this through our sole-supply partnerships in touring car and GT competition.
"Spa is a high speed circuit with corners that create high lateral loads. It's aggressive to the tyres but we had success there last year with the fastest race laps being set at the end of stints. The two Goodyear cars were the only cars in their class to set a lap with an average speed of over 200 km/h. We are confident of similar consistency with the new stronger C-spec this year after seeing how wide its operating window was in the Barcelona ELMS race."
Spa's location in the undulating Ardennes countryside means it can be notoriously wet. Goodyear will be supplying teams with full wet tyres and versatile intermediates. The entire tyre range for wet and dry conditions is all-new this year, emphasizing how seriously Goodyear is taking the sole-supplier responsibility.
Goodyear's commitment to WEC has also been reinforced by increasing the trackside branding at all events, improving the visibility of the brand as its comeback extends to a broader range of international championships including WTCR – FIA World Touring Car Cup, PURE ETCR, ELMS and WEC.
Free Practice and Qualifying will take place on Thursday and Friday, with the race taking place from 13:30 until 19:30 CEST on Saturday.