General Tire Grabber AT3 OE on Ford Ranger Raptor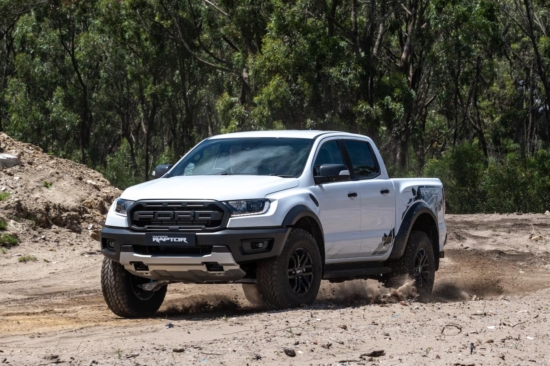 The Ford Ranger Raptor is now exclusively fitted with General Grabber AT3 tyres as standard. The high-performance off-road pickup from Ford features a specially developed motorsport-friendly chassis. And its particular performance qualities come to the fore at high speeds away from paved roads.
Like all vehicle manufacturers, Ford defines a wide range of requirements, which Continental (the manufacturer of the General Tire brand) reports the Grabber AT3 "more than met during intensive testing".
"The development engineers at Ford went to great pains to find the perfect tyre for their benchmark product. Ultimately, the decisive factor for selecting this tyre was its optimal interaction with the outstanding suspension and performance features of the Ranger Raptor, in conjunction with the striking dynamic properties of the General Grabber AT3," says JJ Dowling, General Manager, Manufacturing at Continental Tyre South Africa.
"The original equipment approvals for the Ranger Raptor," Dowling added, continuing: "once again confirm the excellent reputation of the Grabber AT3 as a tyre with exceptional qualities both on and off-road and in all weather conditions."
The main technical features of the General Grabber AT3 include TracGen and DuraGen technology. TracGen is designed to ensure "exceptional traction on loose surfaces and therefore offers the best transmission of drive and braking forces". Meanwhile, DuraGen technology "guarantees an extremely robust rubber compound". According to the tyremaker, the high-strength steel belt construction also offers reliable stability under all permitted load conditions. The balanced tread geometry, with uniform material distribution and low stiffness, as well as the optimised arrangement of the tread blocks reduces vibrations in the tyre for maximum comfort and achieves an impressively low noise level. In addition, the General Grabber AT3 bears the snowflake symbol on its sidewall and is therefore suitable for year-round use, even in wintery weather conditions.
The Ranger Raptor is built for the global market in Silverton, South Africa. The vehicle is equipped ex works with LT 285/70 R17 116/113 S tyres, which are described as "a robust light truck specification with additional reinforcement for special load capacity". This new size was added to the existing Grabber AT3 range during the development process with Ford and is now also available for the aftermarket. The tyres are likewise produced in South Africa at the Continental Tyre South Africa plant in Port Elizabeth.