Cooper Tire Europe partners Brute Jeeps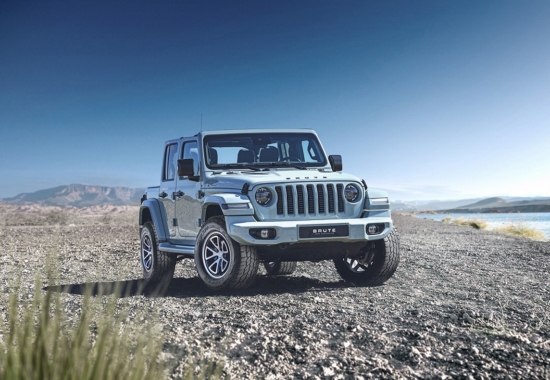 Cooper Tire Europe is supplying tyres to 4×4 tuner Brute Jeeps. Cooper will provide Brute, which focuses on creating exclusive customised editions of the Jeep Wrangler, with "professional off-road tyres".
Brute reports that it will offer Cooper products including the Discoverer A/T3 Sport 2 (an all-terrain, all-season tyre, featuring 3PMSF and M+S ratings). Other products to be offered by Brute include the Cooper Discoverer STT PRO P.O.R., the Cooper Discoverer S/T MAXX P.O.R. and the Cooper Discoverer AT3 4S.
Founded in the Netherlands by car enthusiasts Jochem Mooijman and René Chaudron, Brute offers three Jeep modifications: the Richmond Custom (a luxury urban version); the Lagoon (a luxury summer version); and the Landaulet (a summer version with an electric soft top). A hybrid version is also planned to be available in 2021.
Brute uses 2-door and 4-door Jeep Wrangler (JL) designs as the basis for its customised vehicles. Each vehicle is completely overhauled by Brute and luxuriously finished with a wide range of colours, interior and exterior styles and parts. Brute vehicles are delivered throughout Europe and beyond.
Jaap van Wessum, general manager, Cooper Tire Europe, said: "We are delighted to team up with BRUTE Jeeps and supply them with some of our latest and most advanced tyres. It is impressive to see how Jochem and René have built the BRUTE brand in recent years and we feel there will be plenty of exciting opportunities to collaborate in the future."
Jochem Mooijman, partner, Brute Jeeps, said: "The Jeep Wrangler is a cult car and, in driving one, you can stand out from the crowd. But the regular Jeep is not enough for many, so we have developed the various Brute models for those who want individuality and something special. We are pleased to now offer another finishing touch with Cooper's range of tyres."