Dakar: Goodyear teaming up with Kamaz-Master again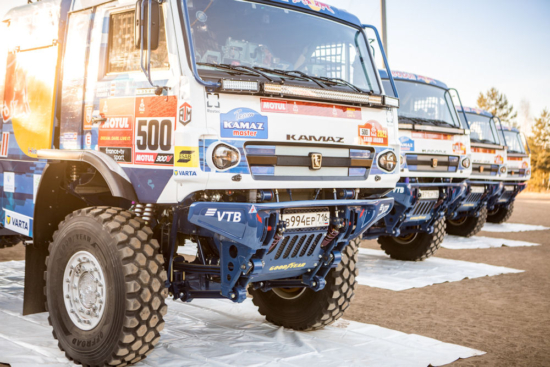 The winning combination of Kamaz-Master and Goodyear will return to the Dakar next month. Goodyear continues in its position as official tyre supplier to the Kamaz-Master team, with Goodyear ORD again the tyre of choice for the 2021 event. Kamaz-Master's trucks are now on their way to Saudi Arabia, where they will arrive in good time for the start of the 43rd edition of this rally-marathon on 3 January.
Four KAMAZ-43509 race trucks will participate in the Dakar. The rules require trucks to drive on standard tyres that are available to any consumer and fleet. Goodyear notes that the Kamaz-Master team was "extremely pleased" with the "extraordinary performance and endurance of the Goodyear ORD Off Road range" in the 2020 event.
Heading a race is like managing a fleet
"The success of the Kamaz-Master team demonstrates the advanced traction capabilities and carcass robustness of our off-road products under very challenging conditions," comments Maciej Szymanski, director marketing Europe for Goodyear's Commercial business unit. "The same benefits can be expected from all Goodyear ranges developed to fit the needs of different on-road and off-road applications and vocations. Managing a fleet or a business is often like heading a race, every aspect is important to deliver the goods in time meeting the highest quality standards and customer expectations while optimising overall fleet efficiency. Like in the Dakar rally it is important to be able to trust in the right equipment and partners."
Vladimir Chagin, head of the Kamaz-master team, adds: "It has been a very difficult year. The pandemic complicated the preparation of the trucks and impacted the crews training programmes. Looking back at the past season and considering the unprecedented situation, it was intense and hectic. We are grateful to our partners as they stayed with us despite the difficulties. We are ready for the race; the truck is very solid and well equipped including the latest technologies. At Dakar, we will once more be eager to show our best in order to not disappoint our partners and fans."
The Dakar starts in Jeddah on 3 January. After a loop through the deserts of the Arabian Peninsula the race caravan will finish on 15 January on the Red Sea Coast. The course will be entirely new to the teams and will traverse magnificent dunes from day one to the last, rocky canyons and hi-speed sections each on its own checking the capabilities of the truck, tyres and the team's excellent driving skills.