Michelin: Drivers ready to pay for greener mobility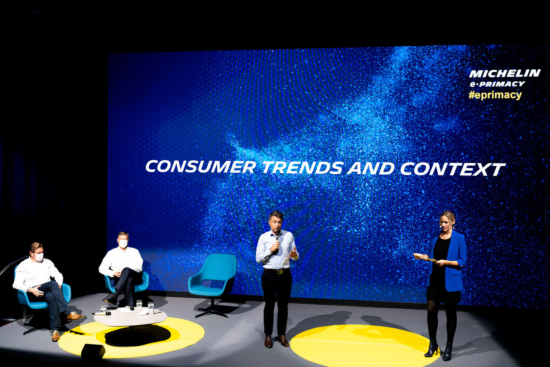 The Michelin Group aims for complete carbon neutrality by 2050, and it seems that every little helps. The tyre maker's efforts even extend to its communications, and so it was that when sharing news of a new product's impending launch, Michelin encouraged invitees to take their 'first eco-action' by spurning e-mail contact in favour of text messages. It explained that this form of communication's carbon footprint was 0.00125g, some 200 times smaller than that of an e-mail. I did not know that.
Having wrung almost 4 grammes of carbon out of our correspondence (participants were further encouraged to reduce their carbon footprints by selecting lower resolution video and switching browsers to dark mode), on 5 November Michelin showed the world its greenest tyre to date. This tyre is the e.Primacy, a product we've anticipated since the announced phaseout of Michelin's Energy Saver lines.
e.Primacy at a glance
First the basics: Michelin will offer the e.Primacy to aftermarket customers from March 2021 in a range that covers most key combustion and electric vehicle sizes outside the sports segment; the tyre maker has announced it will produce 56 dimensions for 15- to 20-inch rim diameters.
Rolling resistance – The e.Primacy comes with an EU tyre label 'A' rating for energy efficiency and 'B' for wet grip. Michelin wants you to know that a 'B' or higher rating for wet braking is, when paired with an 'A' rating for energy efficiency, a result achieved by fewer than one per cent of all summer car tyres sold in Europe.
Safety – As mentioned, the e.Primacy has a 'B' label rating for wet grip, but the tyre isn't just grippy when new. Michelin has revisited its Long Lasting Performance concept, which is also known as 'performance made to last'. Based upon test results, the tyre maker is confident that even after the equivalent of 30,000 kilometres on the road, e.Primacy tyres can pass the European R117 standard wet braking approval test for new tyres.
Longevity – Michelin used its Primacy 4 as the benchmark when looking at mileage and whole-life performance, and reports that the e.Primacy matches this benchmark. It maintains a "high level of performance from the first to the last kilometre."
A lifetime of eco-responsibility
An overriding theme during the Michelin e.Primacy launch was the concept of the tyre as an eco-responsible product. Michelin stresses that it considers eco-responsibility much more than just a buzzword. Emmanuel Ladent, senior vice president of Michelin's Automotive Global Brands business line, recalls that Michelin "pioneered this area in 1992 by launching the Energy Saver, the first green tyre, at a time when sustainable mobility was not trendy at all."
Times have changed. According to Ladent, one in every three consumers in Europe are now ready to make the switch to green products. "Drivers are more fond than ever of personal mobility, but they are also increasingly pushing for a solution for greener mobility. And they're ready to pay for it." He shares that in acknowledgement of this growing demand, Michelin proposes a "new eco-responsible tyre category within the summer tyre market."
Shedding light on what this proposed category may cover, Scott Clark, Michelin's EVP Automotive, Motorsport, Experiences, and Americas Region, explains what makes the e.Primacy an eco-responsible tyre: It is the first Michelin tyre "whose life-cycle assessment has been incorporated into its design, to address all of its lifetime environmental impacts."
"The goal of making e.Primacy our most eco-responsible tyre wasn't easy," adds Cyrille Roget, Michelin's Technical and Scientific Communication director. "The life-cycle assessment methodology involves looking at environmental impact across all stages of the tyre's life-cycle. For the first time in the industry we've published the results as an Environmental Product Declaration. This document measures the tyre's impact upon the planet. We'd like this to become a standard." While the e.Primacy development process was a first for Michelin, it intends to integrate life-cycle assessment into the development of other tyre lines in future.
Customers purchasing e.Primacy are purchasing carbon neutral tyres. Michelin has achieved this state by various means, from the extraction of raw materials to drawing upon carbon credits. It will also manufacture e.Primacy within the region where it's sold, thus minimising the transportation from factory to customer. According to Emmanuel Ladent, Michelin plants in Germany, Italy and Spain will produce the new range. Roget adds that e.Primacy tyres will be collected for recycling at the end of their lives.
Lowest rolling resistance
But the on-road use stage of the life-cycle accounts for up to 96 per cent of impact, and is thus the area of greatest interest to drivers. It's also an area where the e.Primacy delivers. Ladent states that Michelin's new tyre has the "lowest rolling resistance of any replacement market premium tyre sold in Europe."
He bases this claim upon the results of rolling resistance testing Applus Idiada performed on behalf of Michelin. The engineering, testing and homologation specialist evaluated the Michelin e.Primacy in size 205/55 R16 91V against the Michelin Primacy 4, Bridgestone Turanza T005, Continental EcoContact 6, Continental PremiumContact 6, Dunlop Bluresponse, Goodyear EfficientGrip 2, Pirelli Cinturato P7 Blue and Cinturato P7.
What it found was that the e.Primacy gave the lowest rolling resistance both when tested in new condition and when buffed to 2mm of tread. When new, this represents an average saving of around 0.21 litres of fuel per 100 kilometres. Electric car drivers can reckon with up to seven per cent extra range. "The saving over the whole life equals buying four tyres and getting money back for one," comments Ladent. Cyrille Roget adds that one tyre pays for itself every 35,000 kilometres, or 21,750 miles.
Testing performed by DEKRA in real-world conditions confirmed IDIADA's results.. DEKRA fitted e.Primacy tyres and three other premium brands to VW Golfs and hit the road. After driving 14,460 kilometres (8,985 miles) the car fitted with e.Primacy had consumed 21 fewer litres of fuel than the average consumption of the three other cars.
Lowering energy loss with compound & construction
According to IDIADA, the Michelin e.Primacy's rolling resistance is 27 per cent lower than the average of its tested rivals. Michelin primarily credits this low rolling resistance to the use of an 'Energy Passive' compound, which is based upon a high elasticity elastomer. Inside the compound, improved elastomer-filler coupling reduces energy loss, which lowers rolling resistance.
The tyre's structure also plays its part; Michelin used thinner top belts that deliver the same resistance while requiring less raw material. These belts generate less rolling resistance compared to traditional designs. A highly airtight belt, the Energy AirShield, also helps reduce rolling resistance by lowering energy loss. CoolRunning Sidewalls, whose compound absorbs less energy when flexing, provide a similar benefit.
Fuel savings compensate for extra cost
Michelin will price e.Primacy above Primacy 4. But Emmanuel Ladent emphasises that this extra cost will be "more than compensated for" by fuel savings.
"Saving money is a critical subject for most consumers," he adds. "With such a consideration, and considering that in Europe fuel prices are currently five to ten per cent of the household cost, anything that can help us reduce fuel cost has a bright chance of being welcomed by the market."