World record car pusher praises Nokian tyres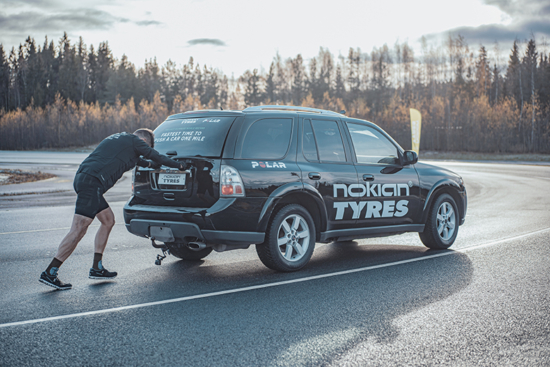 47 year old Finn Jussi Kallioniemi has been officially confirmed as the new Guinness World Record holder for the fastest time to push a car one mile.
The new World Record was set on October 24 at the tyre manufacturer's test track at Nokia in Finland, and Kallioniemi's time of 13 minutes and 26 seconds beat the previous record by almost two minutes.
The car in question was Kallioniemi's own – a 2006 Saab – weighing 2,100 kg and shod with Nokian Hakkapeliitta R3 SUV winter tyres, size 255/55 R18. These tyres are designed for extremely low rolling resistance and it is this, rather than just brute strength, which is the key to successful car pushing, says Jussi Kallioniemi.
Nokian's Technical Customer Service Manager Matti Morri was in the driver's seat for the record attempt and he pointed out that low rolling resistance tyres are both green (lower CO2 emissions) and economical (saving 0.5 litres of fuel per 100 km). Of course, Jussi Kallioniemi's method is even more eco-friendly; zero emissions and zero fuel consumption.