Hankook debuts UUHP tyre on Mini John Cooper Works GP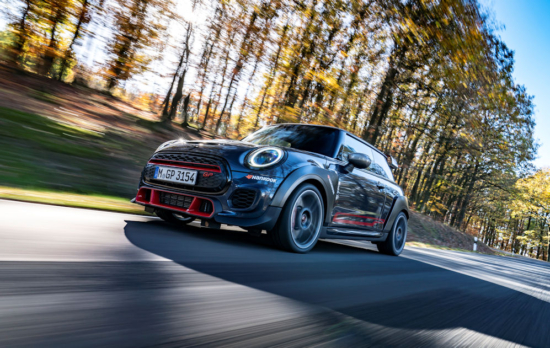 Hankook Tire says its new Ventus S1 Evo Z gives us a foretaste of the generation of ultra-ultra-high-performance tyres it will offer in future. We've gained a first glimpse of Hankook's new UUHP rubber on the Mini John Cooper Works GP, where it sees duty as the exclusive original equipment tyre. The fastest roadgoing Mini ever to see light of day wears the Hankook Ventus S1 Evo Z in size 225/35R18 87Y XL.
Drivers looking to test the performance of the Mini John Cooper Works GP on a racetrack can also choose the road-legal Hankook Ventus TD (Track Day). This sports tyre is also approved for the John Cooper Works GP in the above dimension. Furthermore, to ensure the Mini's roadholding in the colder months, the I*cept evo 2 winter UHP tyre is also available in size 195/45R18 87H XL.
Ventus S1 Evo Z
A new silica enriched compound mixture has gone into the Ventus S1 Evo Z. This compound has been subjected to a slower than usual curing process, with vulcanisation taking place at a lower temperature. Hankook explains that this results in a tread compound suited to top of the range sports cars.
Hankook says the tyre's asymmetric pattern maximises cornering performance. It paid particular attention to the outer edge of the tread as this area faces the greatest stress when cornering.
Hankook gave the tyre three centre grooves rather than four. The design rationale behind this was a desire to increase the contact area and, in turn, optimise handling performance while still allowing effective water evacuation from the contact patch. The tyre maker tasked the tread's pattern void volume and block stiffness with achieving this result, and says the tread blocks "work at their best in various driving conditions."
Aramid replaces conventional nylon cord in the tyre's casing. Hankook explains that it selected this material for stability as well as its ability to cope with strong acceleration and braking forces. It also minimises belt deflection in the contact patch during cornering. The tyre maker adds that even though it is a UUHP tyre, the Ventus S1 Evo Z "offers a reasonable amount of comfort."
A big responsibility
"To be the sole supplier to this rarity with racing genes was not only a big honour and a big responsibility – it also met with a lot of passion in our developers' team," comments Klaus Krause, head of Hankook's European research and development centre.
At present, Hankook solely produces the Ventus S1 evo Z for the Mini John Cooper Works GP. Further sizes, which will mainly serve as original equipment tyres for high-end sports cars, will follow.
Ventus TD
Although Hankook promotes its Ventus TD as an option for racetrack use, cars fitted with the tyre can legally drive on public roads. In addition to approval for use on European roads, the tyre has DOT and UTQG certification in the USA as well as approval for the Gulf States, Brazil and Taiwan.
Hankook says the main challenge its engineers faced was to develop the Ventus TD's full potential on the racing circuit while still ending up with a reliable road tyre. The tyre maker says it achieved this, producing a tyre that "offers excellent stability even under limited driving conditions." It reports evenly-balanced braking capabilities.
While standard racing tyres serve as inspiration for the design and tread pattern of the Ventus TD, when developing its OE tyre for Mini Hankook selected a compound and structure that combines race and road tyre technologies. Its contour employs a wide tread area to provide the grip required for competitive lap times. Although Hankook prioritised performance on dry surfaces, the tread pattern also ensures readiness for performing in the wet.
Winter i*cept evo 2
A car like the Mini John Cooper Works GP should not be condemned to the garage in winter. This is where the Hankook Winter i*cept evo 2 comes into its own. Hankook developed the tyre with winter road conditions in Central and Western Europe in mind. It ensures good handling abilities on wet and dry roads, as well as good traction and braking performance, even on snowy surfaces.