Building on foundations of growth – GRI MD talks with T&A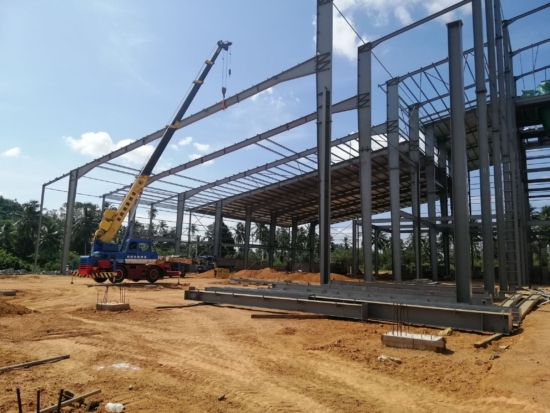 Global Rubber Industries (Pvt.) Ltd. (GRI) has spent the last 18 years since its foundation cultivating its niche in the industrial, agricultural and construction tyre sectors. With ambitious capacity and expansion plans underway, Tyres & Accessories interviewed managing director Prabhash Subasinghe and learnt more about the company's plans to build on its growth foundations.
Beginning with the company's history, Subasinghe gave an overview of what has transpired between then and now. So, how did GRI start out in the tyre industry? "I am a serial entrepreneur. I grew up in the family business and have always looked into different opportunities. Several years ago when I was looking at the rubber industry and the tyre industry – and this goes back almost 20 years – …it was a new business for us (our traditional family business was in agriculture)…and we started by setting up the first plant in 2002 in the material handling industry.
"Five years ago, we decided to expand into pneumatics by doing agricultural and construction tyres. So, today GRI is a full-fledged supplier of material handling, agri and construction tyres. And GRI has the only facility in Sri-Lanka that is able to produce radial agricultural tyres."
"Sri-Lanka has historically been known for very good quality rubber and also there was quite a few material handling suppliers already. For those that don't know, Sri Lanka is the largest production base for material handling solid tyres. Knowing all that and the know-how that's available in Sri Lanka…it was a great business opportunity. Of course, it was interesting too. For me, being an entrepreneur I like to look at new things and figure out new businesses and understanding how to explore within those businesses. Certainly an exciting time!"
Rapid and continuing manufacturing expansion
During the last 18 years, the business has expanded significantly and across the material handling, agricultural and construction segments, GRI now produces a total of 100 tonnes of tyres a day. Most recently the company added new mixing capacity in a bid to expand the company's overall production output. So how does this particular action fit into the wider strategy?
"That's a very good question. Mixing is always very important for any tyre manufacturer. We've always had our own mixing plants close by to our existing plants, but as we've grown – especially with the new expansion that we did in 2018 – as we have scaled the business, we've struggled to keep up with the requirement of mixed compound. So we decided that, rather than just adding machines to the existing mixing plant that we had, we would invest in a brand new mixing plant thinking of the future. So, the new mixing plant is located 30 minutes away from our current facility where all our tyre manufacturing facilities are located. We've build the plant that so – over a period of time – it will be able to output 200 tonnes a day."
In other words, it is a very future growth-orientated plant. And, according to Subasinghe, it is also a very futuristic plant in terms of the technology installed there: "It's always interesting in the tyre business that as soon as you invest new money and expand your businesses you are able to access the latest technology. And as long as you have good compound and new technology, it just makes your tyres much better."
This in-depth interview, complete with video content appears in full in the November edition of Tyres & Accessories magazine.