GRI expands capacity, continues building distribution networks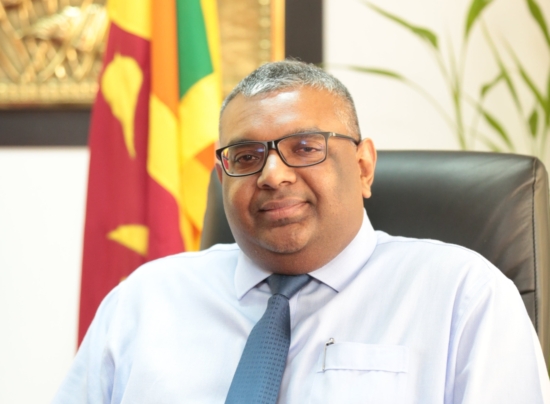 During the last 18 years GRI has expanded significantly. Across the material handling, agricultural and construction segments, GRI now produces a total of 100 tonnes of tyres a day. Most recently the company added new mixing capacity in a bid to expand the company's overall production output. So how does this particular action fit into the wider strategy? Tyres & Accessories interviewed GRI managing director Prabhash Subasinghe in order to find out.
"That's a very good question. Mixing is always very important for any tyre manufacturer. We've always had our own mixing plants close by to our existing plants, but as we've grown – especially with the new expansion that we did in 2018 – as we have scaled the business, we've struggled to keep up with the requirement of mixed compound. So we decided that, rather than just adding machines to the existing mixing plant that we had, we would invest in a brand new mixing plant thinking of the future. So, the new mixing plant is located 30 minutes away from our current facility where all our tyre manufacturing facilities are located. We've build the plant that so – over a period of time – it will be able to output 200 tonnes a day."
In other words, it is a very future growth-orientated plant. And, according to Subasinghe, it is also a very futuristic plant in terms of the technology installed there: "It's always interesting in the tyre business that as soon as you invest new money and expand your businesses you are able to access the latest technology. And as long as you have good compound and new technology, it just makes your tyres much better."
But while the new mixing plant is described as "futuristic", fulfilment of the plans is not that far away: "So we actually upgraded from where we are today to the new plant, which will be ready in the first quarter of next year [2021]. And then that has the potential to meet our future demand as we increase capacity in all our plants in Sri Lanka."
When Subasinghe says "latest technology", this specifically means: "The latest machinery in terms of the banbury for the mixing plant", which is described as "completely automated". This replaces the proportion of manual work that was previous part of operations at the conventional site: "So we are basically looking at shutting down our existing mixing plant as soon as the new plant is ready." The result is a smaller personnel headcount, increased automation and a manufacturing process that is "much more environmentally friendly". Even more importantly, as far as new tyre manufacturing is concerned, the quality of the compound produced by the new mixing plant will be "much higher", according to Subasinghe.
While these expansion moves already represent a significant uptick in terms of capacity, they are by no means the end: "GRI is built on the foundation of growth. For us, the only way we can see evolving is by growth. So, when you look at the three segments we are involved in – material handling, agri and construction – we see huge potential."
But it's as much about the how of doing business as it is the scale of manufacturing: "I think most of the customers would like to work with professional suppliers, companies that are established, companies that build that brand and look at important factors like sustainability and corporate and social responsibility. Business credibility."
Would GRI consider a new manufacturing facility outside Sri Lanka?
However, as strong as GRI's recent growth has been and as favourable as Sri Lanka may be as a location, recent years have seen the rapid increase in adoption of import tariffs against nations that have been perceived to be too competitive. So, would GRI consider a new tyre manufacturing facility outside Sri Lanka?
"Tariffs are not a problem for us in Sri Lanka…in fact I think we have an advantage over most of the players in the Asian region, but I would say – down the road – GRI will need to look at having a plant outside Sri Lanka just in terms of managing risk", Subasinghe explained. However, he developed his "down the road" qualification by adding: "Once we've added sufficient capacity…the new plant we built in 2018 was built on the principle that we grow four-fold in a few years, so we need to execute that first."
And therefore, the answer is a qualified yes once current plans have been executed. Nevertheless, it seems GRI's MD is indeed in favour of investing in a tyre production facility "somewhere outside Sri Lanka" in the future.
Europe, the US and Australia
But it is not all about manufacturing, as an export-focused business establishing the right distribution strategy is also critical: "Our go-to-market strategy has been very clear. We want to be closer to the customer. We want to be with the customer so we understand their needs and give them incredible service. So, we work with our B2B partners getting closer to the customers…that's number one. And number two, GRI has its own distribution in nine different countries around the world. That's the strategy that we have been deploying for quite some time now."
GRI has focused on the US and Europe as export destinations in recent years. However, one key target outside these markets has been Australia. "We've had our own distribution in Australia for some time, but we bought an additional distribution company in last year (2019)…And we've been able to increase the size of our business there…We've got a fantastic team in Australia with multiple locations in multiple cities". This specifically means distribution centres in Sydney, Melbourne, Adelaide and Brisbane.
However, GRI is also expanding where it has existing footholds in the European and North American markets. In the US this means via GRI's distribution centres in Kentucky, Indiana and Louisiana. In addition, the acquisition of Nortire last year gives GRI a comparable opportunity in Eastern Europe and Russia. In addition, historically, GRI has had companies in France, Germany and the Netherlands. Moving forward, the idea is to "utilise all these distribution companies on the one side and on the other side" to continue to invest in the high-quality and long-term relationships the company already has with key distributors.
Overall, irrespective of what has happened this year in terms of the Covid-19 pandemic, GRI has been investing heavily in executing its ambitious expansion plans. These revolve around two key points: strong technology upgrades and manufacturing capacity growth; and the enthusiastic development of the company's international distribution plans. Such is the scale of the company's ambition, that – after its four-fold capacity-increase goals are achieved – there is talk of a new manufacturing base outside Sri Lanka. But that would be worthless without parallel investment in international distribution and so the company is strongly investing in this area too.
This in-depth interview appears in full in the November edition of Tyres & Accessories magazine.