Axing for the sake of axing: Unions denounce closure of profitable Continental tyre plant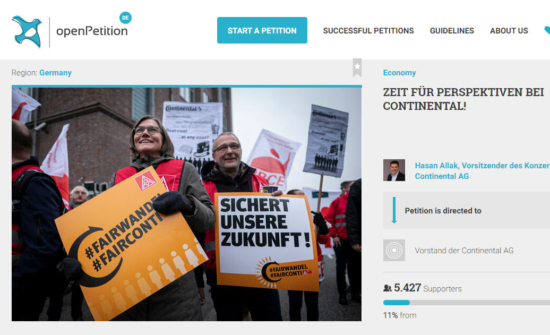 The union representing employees at a closure-threatened Continental factory has responded angrily to the decision, accusing Continental of "sacrificing" a "profitable tyre plant" as part of its savings programme. The IG BCE union particularly doesn't understand the logic behind this step as it claims the tyre business in Aachen has achieved "double-digit" profit margins over the years and even operated in the black during the corona lockdown.
"This eradication within the rubber business can neither be justified by automotive industry transformation nor by the corona crisis. It is simply axing for the sake of axing," states Francesco Grioli, member of both the IG BCE Central Board of Executive Directors and the Continental AG Supervisory Board. Grioli questions why employees in a thriving part of the business must pay for mistakes made by management within Continental's automotive parts business. "We will resist this at all levels," he declares, adding that the priority needs to be retaining as many skilled workers as possible rather than "headcount management" from the previous century.
Stagnant wages & record profits
Fellow Supervisory Board member Christiane Benner, who is also second chairwoman of the IG Metall union, refers to the announced closure as a "short-sighted response to economic problems." She adds: "Conti management must finally come up with a future-oriented business strategy. We won't allow a tradition-steeped company to be skimped into ruin."
Hasan Allak, chairman of Continental AG's Corporate Works Council and chairman of the Works Council at Continental Reifen Deutschland's Stöcken site, and his deputy Lorenz Pfau note that employees in all parts of Continental's German business have long gone without pay rises. "By this means they wanted to secure their jobs. At the same time, Continental has posted profits of unprecedented proportions and always paid its shareholders new record dividends. Now in the Corona crisis, the Board wants to terminate this solidarity."
Production in Aachen includes high-margin items such as SUV tyres and tyres featuring Continental's SSR run-flat technology. Some of this production will apparently be relocated to lower-cost sites. Bruno Hickert, deputy chairman of the plant's works council, sums up Continental's decision bitterly: "For years, our colleagues have worked 40 hours a week without wage adjustment, and the profits from Aachen have helped finance the expansion of the tyre division worldwide. And that should now be the thanks?"