All-season with a summer focus: New Nokian Seasonproof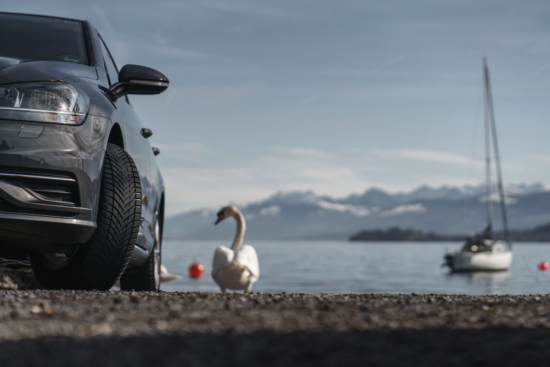 Nokian Tyres' mission statement is to provide motorists with "peace of mind in all conditions," and Bahri Kurter says Nokian is taking the "all conditions" aspect literally. Interest in products beyond its established winter business has grown in recent years and driven the launch of new summer tyres such as the Powerproof and Wetproof. These lines, he shares, have helped the company achieve high single-digit growth within Europe's summer tyre segment between January and July 2020 – a remarkable achievement, given the overall state of the market. Now Nokian Tyres is turning its attention to the growing all-season segment.
Kurter, senior vice president of Nokian's Central Europe business, was present at this morning's corona-proof virtual launch of the Nokian Seasonproof range and provided an overview of Nokian Tyres' expectations for the all-season segment: The company is confident of all-season tyre sales remaining in rude health. It anticipates a continuation of the average 20 to 25 per cent growth seen in Europe over the past three to five years, an increase that has more than doubled market size. It forecasts the same level of growth over the coming five years and the all-season market again doubling in size to occupy a 20 per cent share of the total car tyre market.
Development from scratch
Explaining the new range's nuts and bolts was the remit of product trainer Sven Dittmann. He began by pointing out that the Seasonproof and Seasonproof SUV represent a shift in how Nokian Tyres approaches all-season tyres. "After five years of development, we're presenting a completely new product…we did not take a winter tyre and develop it into an all-season tyre, but we started from scratch, completely new, with a tyre that specially focuses on summer performance."
Nokian Tyres' previous all-season product is the 2015-launched Weatherproof, and Dittmann shares that the Nokian Seasonproof matches or outclasses its older sibling in key safety and performance disciplines. He describes the Weatherproof as fundamentally a winter tyre that's usable throughout the entire year. The Seasonproof has other priorities. In addition to providing driving safety in winter, Dittmann speaks of an expectation for the new tyre to "work perfectly" in spring and summer, be it in heavy rain or temperatures up to 40 degrees Celsius.
Differences between the two tyres are easy to see in the tread pattern. The Seasonproof features fewer sipes. Nokian has tweaked the sipe shape for wet conditions, with the sipes not cut as deeply as the tread grooves. The tread, particularly in the shoulder area, is designed to evacuate water and slush. The centre area contains ribs for stability at high speeds.
As you'd expect, the Seasonproof features a generous serving of silica in its compound. Dittmann comments that Nokian has put more silica in the Seasonproof than in any other product of its type in order to reduce rolling resistance and give the best possible wet grip. Nokian reports that the tyre can achieve up to 25 per cent better mileage than the Weatherproof.
Nokian utilises a different construction in its Seasonproof SUV version in order to accommodate the greater weight and power of these vehicles. A significant point of difference is the shoulder area, where the tread blocks are reinforced with block supports. The SUV casing also features a 2-ply construction and aramid reinforced sidewalls to protect against impacts and cuts.
90% vehicle parc coverage
All Nokian Seasonproof tyres are marked with the 3PMSF snowflake to indicate official approval for winter use. Starting early 2021, Nokian will release 46 mostly XL dimensions of the Seasonproof car version in 14- to 19-inch rim diameters and speed ratings up to W. The Seasonproof SUV range covers 18 dimensions for 16- to 19-inch rim diameters and speed ratings up to W. "We have a tyre for almost 90 per cent of drivers," comments Dittmann.