Kumho launches Solus 4S HA32 all-season tyre for cars, SUVs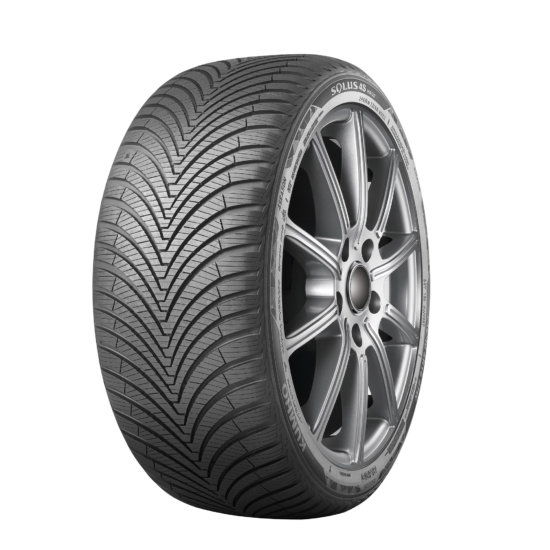 New patterns and sizes in Kumho all-season, winter range
Kumho has introduced two new patterns in 2020, the all-season Solus 4S HA32 and WinterCraft WP72. It said the range updates are a response to increasing demand for such products. The Kumho Solus 4S HA32 joins the HA31 this autumn, bringing the total size range to 70. The manufacturer will add an HA32 SUV range in 2021.
The Red Dot Design Award-winning HA32's new cutting-edge compound and zigzag V-shaped tread pattern bring notable improvements in wet weather performance, earning the tyre a grade B label for wet grip. Other features such as its three-dimensional interlocking sipes ensure impressive handling in all conditions. The Solus HA32 imporves wet grip by 15 per cent and handling and braking in the wet and dry by 10 per cent over its predecessor, the manufacturer states.
The HA32's sidewall features a distinctive all-season icon, an eye-catching hologram that changes appearance according to the angle of the prevailing light. It also wears the M+S and 3 Peak Mountain Snowflake symbols confirming the product's winter weather credentials.
Kumho winter tyres
The WinterCraft WP72 joins the WP71 as a winter medium and large-sized family and executive cars, in a range of 19 and 20 inch fitments. The new UHP winter tyre won a Good Design Award, having joined the Kumho range this year. The existing WP71 features zig-zag main grooves, V-shaped lateral grooves, a multi-layer tread for optimum block stiffness, and 3D snow sipes. It offers superior dry, wet and snow performance to its predecessor and is being offered in an extensive range of sizes from 205/55R16 to 275/35R19, and in V and W speed ratings. There is also a choice of four different run-flat sizes including 225/55R17 and 245/45R18.
Finally the WinterCraft WP51 – designed for performance in the coldest temperatures and featuring 3D snow sipes, a rounder mould profile for improved resistance to aquaplaning, and curved lateral grooves for better wet weather performance – is now also available in a 195/55R16 run flat fitment.