Pirelli's Stella Bianca tyre returns to Silverstone track after 70 years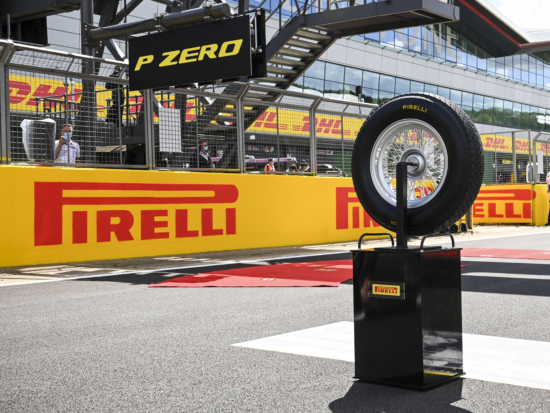 Pirelli's Stella Bianca – which translate's as "White Star" – is synonymous with the golden age of motor racing. In 1950, Giuseppe Farina won the first race of the first Formula 1 Championship in his Alfa Romeo fitted with the tyre. The replica tyre returned to Silverstone this year to mark the 70th Anniversary Grand Prix, complete with a little white star on the sidewall: a motif shared with the road-going tyres that carried the same name. The Pirelli Stella Bianca will now enjoy a permanent place in Silverstone history, as the F1 tyre supplier donated the tyre to the new Silverstone Experience museum.
Like Alfa Romeo itself in those early years, Pirelli tyres were dominant throughout the first seasons of Formula 1: also winning with Ferrari and Maserati to infuse a deeply Italian flavour into the beginnings of the world's premier motorsport category. To this day, Alfa Romeo and Pirelli is the only combination to have been around from the very beginning.
Pirelli Collezione
Stella Bianca is also present on the road. Two years ago, a road-going version of the Stella Bianca tyre was relaunched: part of the Pirelli Collezione family of vintage tyres. The Collezione range combines classic looks with modern technology to equip a wide variety of classic cars, from post-war legends to modern classics of the 1990s.
These tyres are designed to help drivers of classic cars enjoy their vehicles in exactly the same way that the original owners once did, back when they were new. All the Collezione tyres are produced in limited quantities, just as is the case for Pirelli's motorsport tyres – and in fact, the latest Stella Bianca tyres are made in the same specialised factory as many of the tyres destined for competition use. What makes the Stella Bianca stand out is that it's currently the only tyre Pirelli makes using a traditional cross-ply construction, after years of making radial tyres. And some new sizes will be launched later in the year, opening up the Stella Bianca to even more motoring enthusiasts.