Pirelli resumes cross-ply car tyre production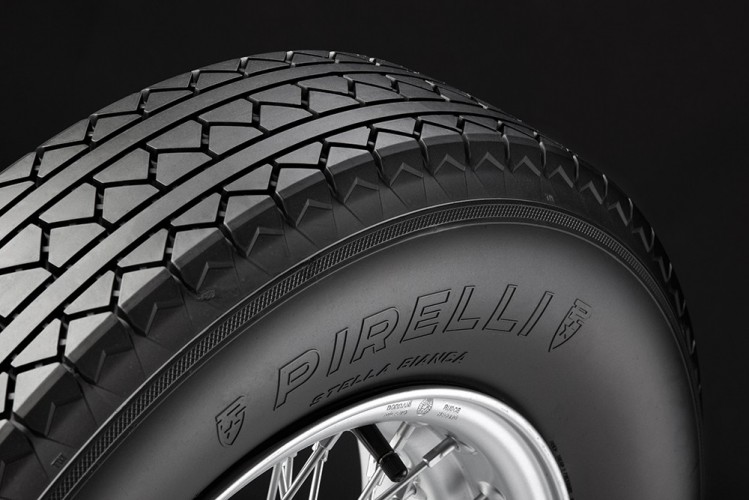 No, this isn't fake news or a misprint: More than half a century after producing its last cross-ply car tyre and electing to exclusively focus upon radial construction in this segment, Pirelli is once again making cross-ply tyres for classic cars. The Pirelli Stella Bianca is back.
The tyre maker says it was "urged on by manufacturers such as Ferrari and its renowned Classiche department" to produce a cross-ply tyre that offered "an original look and feel" but was "still capable of offering some advantages from the modern world." As such, the Pirelli Stella Bianca looks identical to its namesake from the past and features a construction not used in Pirelli car tyre production since the 1960s, yet utilises modern compounds that "reflect the best of Pirelli's technology to guarantee efficiency, safety even in wet conditions, and respect for the environment."
Pirelli turned to cross-ply rather than radial construction as this method would "guarantee the dynamic originality of the cars for which the latest Stella Bianca tyre has been recreated." This decision posed a particular challenge for the Izmit factory in Turkey, where Pirelli's motorsport and Collezione tyres are made, as the workforce effectively had to re-learn the techniques of the past.
The Stella Bianca was launched in 1927 and the design remained part of the Pirelli range until the early 1950s, at which time it made way for the Pirelli Stelvio. The tread pattern of the new Pirelli Stella Bianca is identical to that of the original, having been redesigned with the help of the Pirelli Fondazione archive, which keeps all the company's historic documents; Pirelli chose to use the 'Corsa' version of the Stella Bianca tread, as this was better suited for competitive use. Sidewall markings and the logo used are also in keeping with the those recorded in the Fondazione archive. The size chosen for the Pirelli Collezione Stella Bianca is 6.00-16, the most common size for classic sports cars.