Tyre labelling legislation: New and old labels will co-exist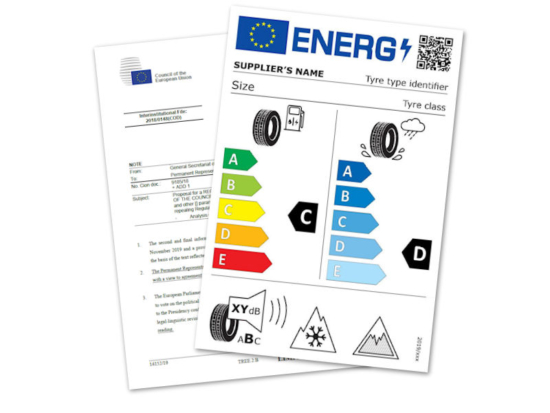 Following reports at the end of June that the UK government is consulting on current and forthcoming tyre legislation, it is worth taking a closer look and clarifying exactly what rules are passing through the labyrinths of legislative bureaucracy. In short, there are three strands of UK tyre legislation on the table at the moment: minimum standards legislation; current tyre labelling legislation; and forthcoming tyre labelling legislation. Taken together they will likely bring with them the largely unannounced consequence of having both old and new tyre labels in the market at the same time, for a while at least.
Minimum standards legislation – consultation and new tyre selling offences
What we are referring to as minimum standards legislation comes as part of a long-term and ongoing pan-European effort to raise the standards of all tyres via type approval process. (In fact, it's wider than Europe because the underlying technical regulation comes from the UN and so applies to a large part of the world). And it is this piece of legislation that the current Department for Transport (DfT) consultation, which was slated to close on 26 June 2020, is concerned with. The consultation relates to reg 661/2009, commonly referred to as the General Safety Regulation which, amongst other non-tyre provisions, introduced revised minimum performance standards for rolling resistance, wet grip and rolling noise.
These requirements are being introduced in stages over a 10-year period. At each stage there is a 30-month grace period beyond the implementation deadline to allow the market to clear stocks of no-longer compliant product. The programme is still rolling out. The final implementation deadline for car and van tyres was 1 November 2018. Therefore, if we count the 30-month grace period as well, that brings us to 1 May 2021 – less than a year from now. Therefore, after 1 May 2021, the last wave of low-performing car and van tyres can no longer be legally supplied.
Things are a little different in the commercial vehicle sector. Here, the final implementation deadline for truck tyres is 1 November 2020. Add 30 months and we get to 1 May 2023 as the final end point. Furthermore, since the regulations were adopted pre-Brexit, Tyres & Accessories understands they will apply in their entirety even though some of the roll-out extends beyond the end of the transition period.
The latest news for the UK tyre industry is basically that the VCA and DVSA are being/have been appointed as enforcement bodies over the tyre type approval regulatory field. The particular body within the DVSA that will be handling these rules is the Market Surveillance Unit, which also has responsibility for post-dieselgate emissions compliance and things like catalytic converters.
Once the current and other relevant consultation processes are concluded, and assuming that DVSA is appointed as enforcement body – both of which are very likely, new tyre labelling-related tyre selling offences will be brought in.
Indeed, under paragraph 11 of article 13 of Regulation (EU) 661/2009, deadlines are set for "the sell-off of tyres which do not meet the requirements on wet grip, rolling resistance and rolling noise. These deadlines are 30 months after the dates specified for the last fitment of such tyres to new vehicles and last manufacture of such tyres" as we saw earlier. However, paragraph 11 of article 13 also states that "the sale of such a [non-compliant] tyre was not previously an offence in the UK, but will now be an offence subject to the penalties set out in the regulations."
Two points in this paragraph are particularly important: the 30-month transition period and the new offences.
In other words, as each new wave of minimum standards requirement is brought in, there will be a 30-month sell-out period to clear old tyre stocks.
You can find further background and ongoing implementation coverage at tyrepress.com. In addition, Tyres & Accessories understands that representatives of the DVSA Market Surveillance Unit will be speaking at November NTDA Tyre Industry Conference in Birmingham in 5 November 2020.
Current tyre labelling, its enforcement and the new tyre label
So far we've only considered efforts to ensure that all tyres comply with minimum performance standards under the auspices of the General Safety Regulation. All these efforts focus on ensuring that manufacturers deliver better performing tyres via type approval rules. However, the powers that be have long since wanted to improve consumer awareness of performance in a bid to raise standards on the demand side of things. And that's where tyre labelling comes in. If you zoom out far enough, the different legislation can be characterised as two sides of the same coin. However, they are in fact mandated by two different legislative streams.
So, having looked at the manufacturer-facings side of things, we turn attention to the consumer-facing side of things which are implemented in practice via tyre distributors based on the work done by the tyre industry.
As we all know by now, European tyre labelling came into place in 2012 and is recognisable by the familiar A to G scales. The next step, according to the UK Department for Transport (DfT) is for another government consultation, similar in purpose to the aforementioned consultation relating to Reg 661. The purpose of this second consultation will be to finally establish enforcement powers for the current labelling regulation. The workings of the Northern Ireland Protocol means that these must be in place before the end of the UK's EU withdrawal Transition period.
In addition, the EU recently published a revised tyre labelling regulation that comes into force 1 May 2021, which is after the end of the Transition Period. In this case, the UK will have to decide whether it wants to adopt the latest EU tyre label regulation in Great Britain. Again, the Northern Ireland Protocol obliges the UK to adopt new EU regulations in Northern Ireland. However, while very likely based on the above rationale, the final call on this remains a ministerial decision.
Overlapping labels?
One final and very important consideration is that the new tyre labelling regulation has re-jigged the label letter-rating bands. In short, the new bands are of the same width in performance terms as the current ones but have been renamed. At the moment, the label system doesn't use "D" on car tyres – they are either C and above or E and below. But the new one does. As a result, lower-performing tyres will move up a band. Furthermore, as a result of the impact of Reg 661 above, the lowest performing bands are no longer present on the new label. As a result, there are only five bands on the new label. Whereas, the current label has seven bands
Put all this together and it becomes apparent that, if and when the UK adopts the new EU tyre labelling regulation, tyre labelling 1.0 and tyre labelling 2.0 labels will co-exist in the market simultaneously for a period of time. Yes that's right. Both old and new tyre labels will be present in the market for a limited period of time. One further consequence of these circumstances is that old and new labels will – in some cases – show different letter grading results for the same tyre.
In conclusion, the history of tyre labelling and other legislative changes – let alone the current specific details – suggest implementation and enforcement is both a complex and relatively slow-moving process. What's different this time is that the cumulative effects of minimum standards, tyre labelling 1.0 enforcement and tyre labelling 2.0 introduction bring with them some challenging and unforeseen consequences. What's clear is that this is an ongoing story and much can and most likely will happen between now and 1 May 2021. Look out for further coverage in Tyres & Accessories and – as it happens at tyrepress.com.