Mobile tyre fitting: the new normal for tyre retailers?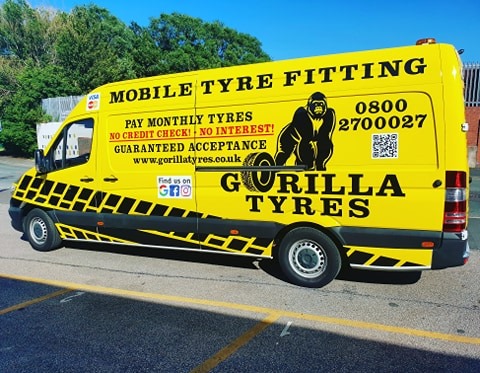 We've all had to adapt during the corona-crisis and lockdown. For many tyre retailers it has meant agonising decisions relating to either staying opening or shutting down. But some have found a middle way – mobile tyre fitting.
During our recent "Kick-starting your tyre business" Tyrepress webinar, Craig Sprigmore, retail director of HiQ; Graham Mitchell, wholesale director of Micheldever Tyre Services; Noel Pope, managing director of Merityre; and John Stone, founder and managing director of Stone Tyres discussed the role of mobile fitting in helping tyre businesses adapt to the new normal.
Mobile positive: Reassess the needs of the customers and change your business to suit
For some it is not only a ray of light at the end of the lockdown tunnel, but a positive development for the future. Indeed, mobile tyre fitting has proved to be a particularly strategic solution for John Stone and his St Helen's-based Stone Tyres business, which trade as Gorilla Tyres when it comes to the mobile tyre fitting.
As we reported back in September 2019, John Stone bought seven mobile tyre-fitting vans from the former Event/AA Tyres business. These present have always presented the potential for a neat Northwest-based mobile tyre-fitting operation to complement Stone Tyres, but the particular requirements that came as a result of coronavirus, lockdown and its inherent social distancing requirements appear to have kick-started the business.
On 23 June, as lockdown began easing, John Stone announced that Gorilla Tyres is so busy with its mobile tyre fitting work that it required an additional van, which is why the company purchased a Mercedes Sprinter for the job. Since then, the new van has been liveried in the company's distinctive black and yellow and has been fitted out with new tyre changing equipment.
"We don't do things by halves! Like our other vans this is fitted with top of the range Hoffman tyre changing equipment. The machine has assist arms to help with low profile and run-flat tyres…", John Stone commented.
As a result of the purchase of the latest van, Gorilla Tyres now has a fleet of eight vehicles and can reportedly cover a significant part of the North West including: Liverpool, Warrington, St Helens, Widnes, Wigan, Runcorn and Wirral.
Stone explained what appeals to consumers about mobile fitting: "We got them [the vans] fitted out and offered people the chance to book appointments online for tyre fitting. There is no extra charge and payment is contactless. It's been a huge success." His advice? "You have to reassess the needs of the customers and change your business to suit."
Mobile questions: 'out of this we've all had to change'
But not everyone agrees. Merityre managing director Noel Pope questions the business case for mobile tyre fitting, saying: "I'm afraid we've never been lovers of mobile. We think it is a great service for the customer, but not a profit-earner for the distributor. We've tried it, but haven't been terribly successful." And therefore, it is far from a major area of focus for this particular top 20 UK tyre retailer.
Is it a growth area for national chains like HiQ? Craig Sprigmore, retail director of HiQ is more cautiously positive: "Out of this [crisis] we've all had to change. And some of that change is going to stick. Mobile [tyre fitting] might just be one of those things…We know from the research we've done, it is very, very difficult to make money from a pure mobile operation. But that said, if the drive for consumer convenience continues then maybe its an opportunity and certainly its something we'll be looking at".
Just for lockdown?
So, in light of such questions, was the mobile tyre fitting spike simply kick-started by lockdown but won't last? Is it just a short-term trend that will normalise as we emerge from restricted movements?
John Stone doesn't think so: "I'll be keeping the at-home business going as we come out of lockdown and I'm expecting to recruit more staff," explained adding during our webinar: "If I didn't think the mobile business would be going up and up and up, I wouldn't be investing as we are. I've got really aggressive plans for it because everyone who's using it is saying 'how easy is this?'"
Furthermore, something we can all learn is that mobile service – whoever it is provided by – didn't discriminate between key workers and non-keyworkers during lockdown because social distancing practices meant anyone could do one of those jobs they had been putting off while at home or on furlough. Moving forward, these same customers now have an experience of having their tyres change while they wait at home and may well choose the same service again.
That perspective, however, doesn't overcome the inherent challenges associated with the mobile tyre fitting business model, especially questions of pricing and margin. And until such particularly strategic questions are addressed there will always be those that opt for a more bricks and mortar-based approach. The answer could be something like what Craig Sprigmore hinted at: an integrated bricks and mobile model that offers service in person at home or in-branch.