Kwik Fit offering 'Mobile7' mobile tyre fitting nationwide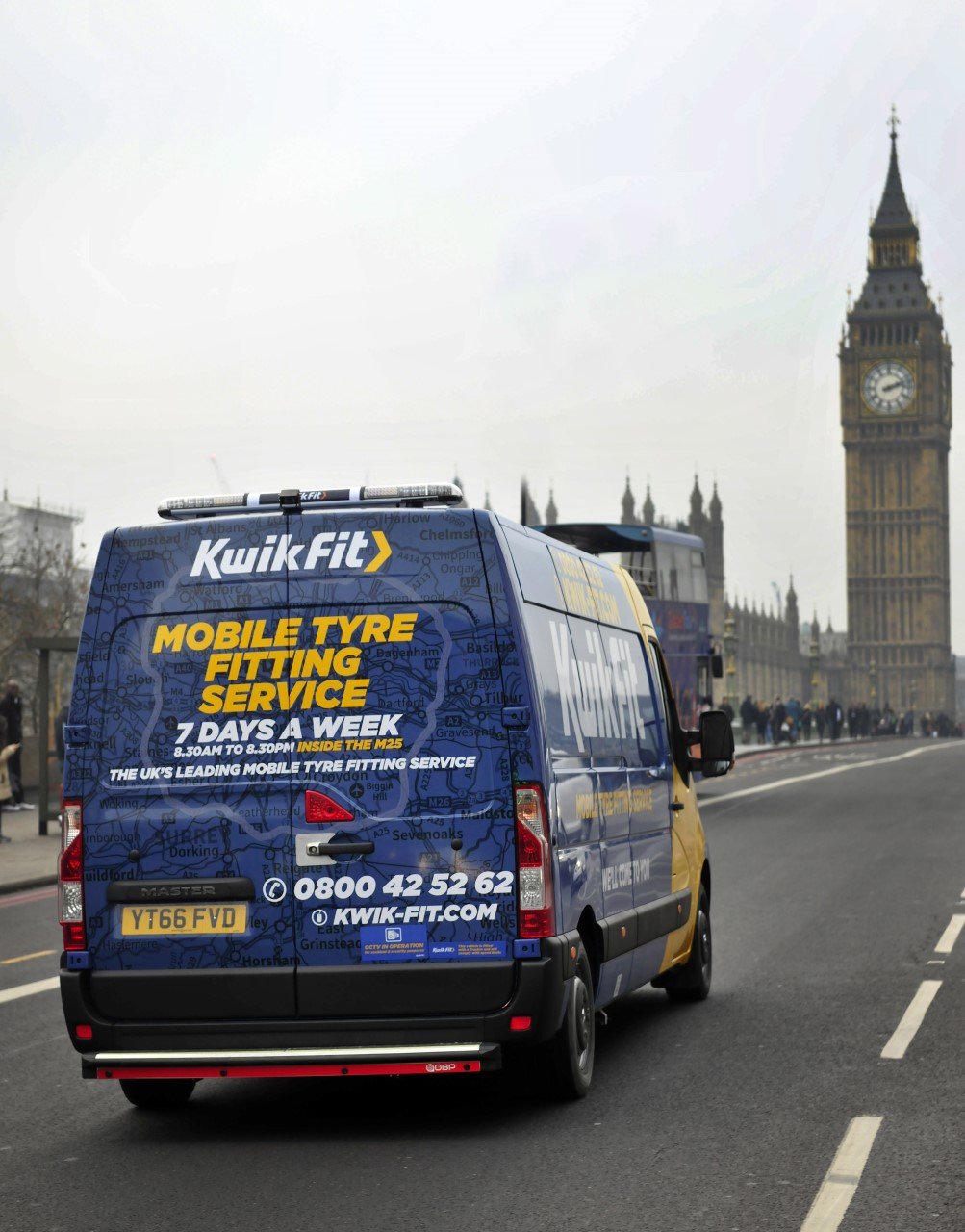 Tyre plans to develop 200-strong mobile fitting fleet
Kwik Fit has "significantly expanded" its 'Mobile7' mobile tyre fitting operation and is executing plans for "further development in 2019 and beyond".
Kwik Fit launched 'Mobile7' inside the M25 in 2016 and has subsequently expanded the service into other regions across the UK. According to the company, 'Mobile7' is Kwik Fit's response to delivering both increased tyre replacement capacity and flexibility. Kwik Fit 'Mobile7' runs in addition to the company's 600-odd bricks and mortar retail units.
As a result of a substantial roll-out programme over the last 12 months 'Mobile7' is now operational in eight further areas outside of its initial London focus. The additional regions comprise the conurbations around: Southampton/Portsmouth/Winchester; Bristol/Bath/Swindon; Birmingham and the West Midlands; Milton Keynes/Bedford; Manchester/Liverpool and the North West; Leeds/Huddersfield/Sheffield and south towards Derby and Nottingham; Edinburgh; and Glasgow. During the second half of 2019 and into 2020 'Mobile7' will be rolled out into a number of other major conurbations across the UK.
Andy Fern, fleet sales director, Kwik Fit, said: "More and more of our business clients are meeting the demands of their customers by providing a seven-day a week service. In turn, Kwik Fit has reacted with 'Mobile7' as our customers then also require the same level of support.
"Kwik Fit recognises the increasing demands on drivers' time and 'Mobile7' is our response to delivering increased flexibility wherever tyres are required to be fitted and we are receiving very positive feedback from customers about the expansion of the service.
"Kwik Fit's strength is that the company offers a tyre fitting service solution to meet all customer needs: centre arrive and drive; pre-booked appointments; mobile and out-of-hours 'Mobile7'. Kwik Fit's focus is on delivering what drivers want and that means a multi-offering approach, which is different from some competitors."
Simon Lucas, Kwik Fit's customer support director, who has overseen the launch and expansion of 'Mobile7', said: "Our mobile solution has always been a vital service to both fleet and retail customers and the advent and roll-out of 'Mobile7' makes it more attractive than ever.
"Currently 'Mobile7' designated vans serve an average of 10 customers per day. Whether company car and van drivers require our mobile fitting service during the day, evenings or weekends, Kwik Fit is able to offer greater convenience through 'Mobile7'. We have seen significant take-up, particularly for tyres to be fitted during evenings and on Sundays with approximately 35 per cent of bookings for those time slots."
In order to serve mobile customers, Kwik Fit operates a 200-strong fleet nationwide, with some of the vehicles carrying distinctive 'Mobile7' livery. 'Mobile7' operates 8.30am to 8.30pm seven days a week. Outside the 'Mobile7' areas, hours of operation are currently 8.30am to 5.30pm Monday to Friday and 8.30am to 1pm on a Saturday.
In addition, Kwik Fit reports that it is developing "a sophisticated new IT platform infrastructure that will deliver a range of enhancements to 'Mobile7' in the coming months, resulting in an even faster and more efficient service to customers."