Goodyear Vector 4Seasons Gen-3 launched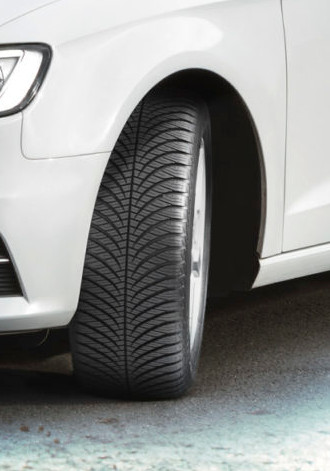 Having hinted at its impending introduction in February, Goodyear has launched the Vector 4Seasons Gen-3. The most recent instalment in its award-winning range of all-season tyres, Goodyear's latest generation tyre is designed to provide "improved snow, wet and dry performance".
A key claim the range makes is that Goodyear has achieved an industry first, having developed an all-season tyre with both the Three-Peak Mountain Snowflake (3PMSF) sidewall marking and A-rated fuel efficiency on the EU tyre label.
"Our designers and engineers faced the formidable task of improving the Vector 4Seasons Gen-2, an all-season tyre that has more awards than any other brand," said Mike Rytokoski, Vice-President and Chief Marketing Officer, Goodyear Europe. "We are proud to have made the best even better with the Vector 4Seasons Gen-3."
The all-season segment is one of the fastest growing in the tyre industry. Consumers who shop for all-season tyres are looking for three primary characteristics – safety in all weather conditions, excellent braking and grip in wet conditions and excellent braking in dry conditions.
Thanks to Goodyear's Snow Grip technology, the Vector 4Seasons Gen-3 provides improved grip for better handling on snow. The large amount of sipes at the centre of the tyre's tread provide for better snow biting, improving handling on snow by 5 per cent in comparison to the previous generation of the tyre.
Goodyear's Dry Handling technology provides strong crown and shoulder blocks that reduce the deformation of the tyre during heavy manoeuvres. This helps deliver 5 per cent better dry braking versus the tyre's previous generation.
The Vector 4Seasons Gen-3 also maintains its predecessor's level of aquaplaning resistance thanks to Goodyear's Aqua Control technology, which uses deep and wide grooves to improve water dispersion.
The new Vector 4Seasons Gen-3 has just been introduced in April 2020, with 65 new SKUs to be progressively introduced in 2020 and further SKUs to follow in 2021 and 2022. The tyre has also received a number of OE approvals, with fitments planned for later this year on vehicles such as the Peugeot 2008/3008/5008, DS3 Crossback and DS7 Crossback. Several additional Goodyear fitments for other original equipment manufacturers are set to follow later this year.