Test World opens newly expanded indoor proving ground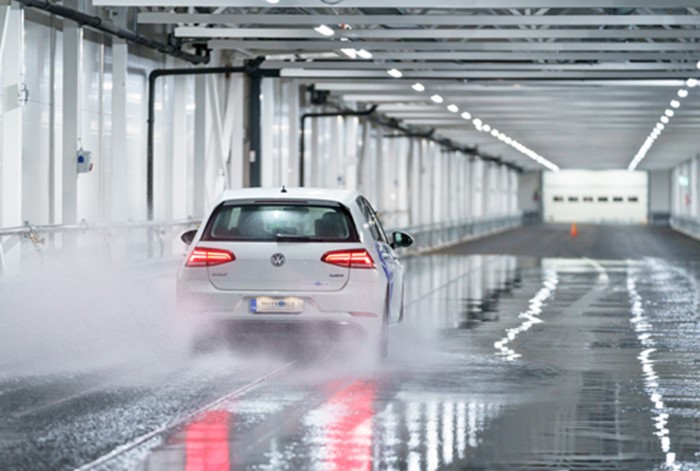 Test World officially opened additional new indoor test facilities at its Ivalo, Finland operation on 27 March 2019, signalling the culminating of that latest part of a multi-million-euro series of investments in Test World. The recently constructed indoor facilities increase Test World's capacity for year-round cold weather testing, allowing for simultaneous testing on snow, ice, and wet and dry asphalt, 365 days a year.
Alex Burns, president of Millbrook (of which Test World is a part) and Janne Seurujärvi, managing director of Test World both gave speeches during the launch event. The Millbrook group was itself acquired by Spectris in 2016. Since then, 100 million euros has been invested in the group – a figure which includes the tens of millions of euros that have been invested at Test World in Ivalo.
Test World's latest indoor facility features an asphalt track, totalling 410 metres in length, with wet and dry braking and longitudinal aquaplaning areas. Altogether this brings the total length of Test World's indoor test tracks to 1.6 kilometres. However, both of the company's two 410m indoor testing facilities (known as Indoor 1 & 3 and Indoor 4 & 5 respectively) can be split into a total of four 205 metre lengths, which allows for different tests on different surfaces (including wet and dry asphalt, ice and snow) to be conducted simultaneously.
The indoor test spaces allow for speeds in excess of 100km/h and, in addition to surface and ambient environment control, there is the option of a series of cold boxes with direct access onto the test tracks, which can be used to cool vehicles to -40°C prior to testing.
Not quite F1 tyre changes, but fast
Test World's customers include a range of OEMs as well as parts suppliers, however the Ivalo, Finland location has developed a particularly positive reputation in the tyre sector. Of course the natural Northern Finnish weather helps when it comes to winter testing and now – thanks to the addition of more and better indoor testing facilities – this can be done all year round.
However, the proximity of on-site garage bays literally at the end of the indoor testing spaces means tyre change times have been greatly reduced from as much as 45 minutes at some other test centres, right down to as lows as 10 minutes at Test World. Not quite as fast as Formula One, Test World executives quipped, but still pretty rapid.
Test World increasingly offering services as well as facilities
While the most obvious part of the recent investments at Test World is the result of physical construction work, staff headcount at the Ivalo operation has also increased eight-fold since 2013. And this is largely because Test World increasingly offering test services as well as facilities.
To this end, Test World points out that the company has its own test team that carries out evaluations for customers. The team also travels the world to support customers with summer tyre testing at various locations.
Indoor testing facilities gain R117 tyre label test compliance
At the same time as officially opening the latest indoor test facilities in Ivalo, Test World also announced that its indoor facilities, and specifically the newly-added wet grip surface, conform to the requirements of the R117 standard and therefore they are available to be used simultaneously, 365 days a year, in one location, for development, certification and labelling. In addition, Test World offers tyre noise testing at its sister facility, Millbrook Proving Ground, in the UK. The pass-by noise test track and surface at Millbrook is ISO 10844:2014 certified.
As far as tyres are concerned, Test World's facilities can be used for full development programmes, type approval to R117 or as wet grip index measurement in accordance with the EU Tyre Labelling Regulation 1222/2009.
Alex Burns, president of Millbrook, said: "We are delighted to be opening this outstanding new facility. It demonstrates our commitment to find new ways to reduce the cost of testing for our customers and to help them to get their products to market more quickly. The indoor R117-certified wet braking area is a particularly significant step forward."
"The opening of our brand-new indoor test facilities has added a whole new dimension to the testing that we are able to offer," said Janne Seurujärvi, managing director at Test World. "By maintaining a full range of winter environments throughout the year, we ensure that customers can avoid any seasonal restrictions that they may encounter elsewhere. As all test surfaces are in one place, they can save time and money on unnecessary travel and complex logistics to other parts of the world. Ultimately, this allows customers to benefit from shorter development cycles and to launch their products to market sooner."
Jukka Antila, Technical Director at Test World, commented: "We are very proud to be the game-changers of the winter tyre testing industry, time after time. We built the World's first indoor tyre test facility here in Finland and now we are the first to offer snow, ice and wet and dry asphalt to customers, in one place, 365 days a year. If it makes the test process quicker, more efficient and more reliable – we will make it happen."
Test World recently won 'Tire Industry Supplier of the Year' category at the Tire Technology International Awards for Innovation and Excellence 2019.