ATG gets high in South America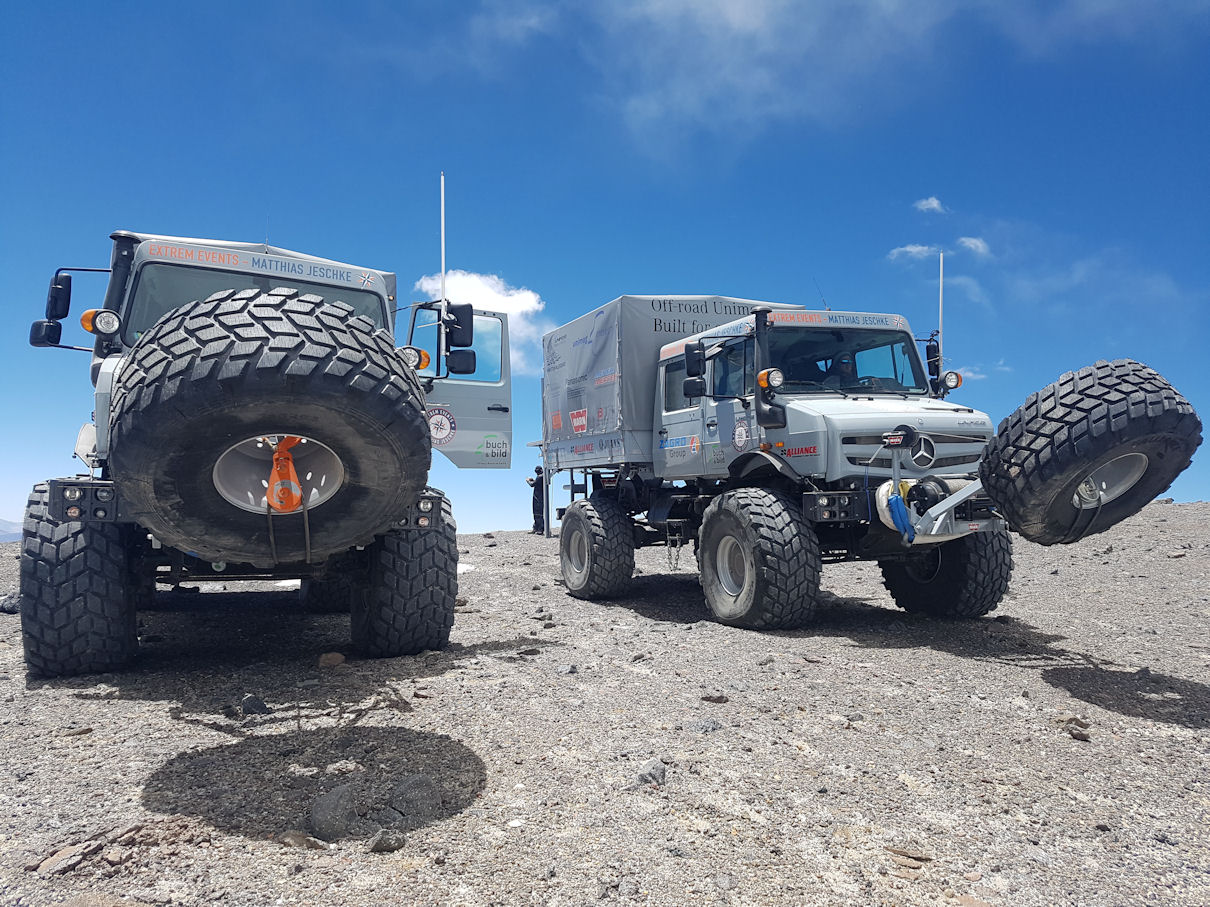 Alliance tyres – you'll find them where even mountain goats don't dare to tread. Together with German distributor Bohnenkamp, ATG has helped its tyres reach new heights by sponsoring an expedition upon the highest active volcano in the world, Ojos del Salado. The expedition team, driving Mercedes-Benz Unimog U5023 trucks fitted with Alliance tyres, reached an altitude of 6,694 metres during their quest to install life-saving solar-powered emergency radio communication systems in high mountain shelters. This feat broke the previous truck and car altitude records.
"We are very happy that both our trucks were able to negotiate the extremely steep and rocky passage, thanks to very best technology, well-balanced centre of gravity and ingenious tire technology, and that they were able to transport the necessary materials and our equipment in such enormous altitudes," comments Matthias Jeschke, head of the expedition.
ATG sponsored the expedition with its heavy-duty Alliance 392 flotation tyres. The Alliance A392 HD is an all-steel radial tyre for demanding applications that is suited to both drive and non-drive axles. The Unimogs were fitted with size 24R20.5 176F TL tyres capable of coping with the adverse conditions encountered during the expedition: temperatures between -30°C and +35°C, sharp-edged lava rock, volcanic sand as well as snow and ice and steep slopes.
Having lifted the existing truck altitude world record by approximately ten metres to 6,685 metres with both Unimog 5023s in the first stage of the journey, setting a new double world record in the process, one of the Unimogs continued up to 6,694 metres and thus also surpassed the 4×4 altitude record set in 2007.
"After checking and transferring the provided GPS data, photos, videos and navigation scripts and entering this data in height maps of the Ojos del Salado, there is no doubt that with the Unimog and Alliance tyres, the car high altitude record was surpassed. The new ultimate high-altitude record mark can be given as 6,694 metres," reports Jeschke. He adds: "The current sets of tyres are the very best. It is the unbelievably most perfect tyre technology for this mission, as neither stones nor ice were able to damage these tyres. Perfect!"
Even though the Alliance A392 HD delivered top performance on the steep mountain slopes, this agricultural tyre is primarily intended for use on trailers, balers, spreader trucks, tankers and similar vehicles. The tyre has an F speed rating, and its on-road performance is complemented by off-road characteristics such as high flotation, high load carrying capacity, low soil compaction, high stability at all speeds and a lower rate of wear.