Tyre production on the rise at ATG's third factory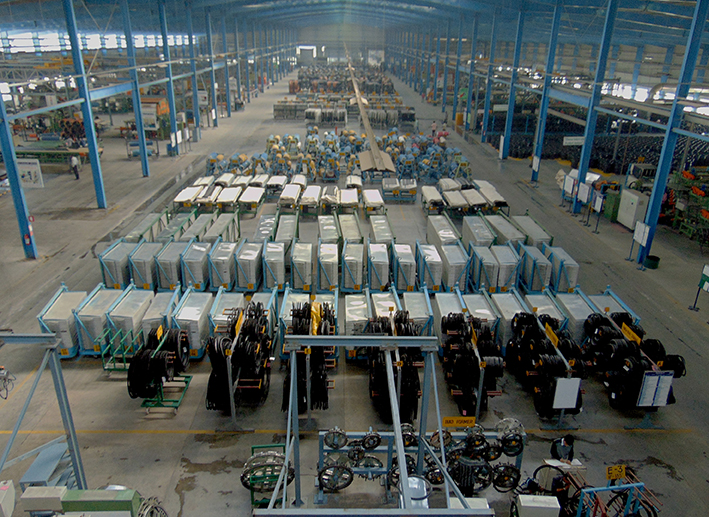 Alliance Tire Group, or ATG, calls itself the industry's fastest-growing manufacturer of off-highway tyres. To support this expansion the company recently opened a new factory in Dahej, India. The tyre maker says the state-of-the-art 122,000 square metre plant utilises the latest manufacturing technologies and is currently able to produce 90 tonnes per day or 33,000 tonnes of tyres per annum, with capacity expected to rise to 57,000 tonnes a year by the end of 2016.
Speaking about the equipment found in the Dahej plant, ATG founder and chief executive Yogesh Mahansaria states that the latest-generation machinery used in the facility includes "several highly automated steps and control systems which ensure uniform top quality all along the manufacturing process." The chief executive adds that ATG made high environmental standards and corporate social engagement two key priorities when planning and setting up the site: "With our own effluent and sewage treatment plants and an Electrostatic Precipitator (ESP) in the plant's boiler, we decided to go for zero discharge. At the same time, we strongly support a local school to assist the next generation on their way towards a good future."
The 57,000 tonne per annum capacity planned for the end of 2016 represents a daily output of 160 tonnes and is being realised with an investment of circa US$150 million. Initial plant production focused on tyres for tractors, harvesters, implements, sprayers and balers. These agricultural products have now been joined by by tyres for skid steer and backhoe loaders, telescopic handlers, soil compactors and excavators, while tyres for forestry equipment such as loggers, skidders and harvesters, along with tyres for port and mining vehicles, are to follow in the next expansion phase. In addition, the production of all steel radials will commence in the new plant this year; ATG's aim is to deliver some 50,000 OTR all steel radials per year from the end of 2016 onwards.
The Dahej plant occupies a 433,000 square metre site and includes its own test facility. "If you want to deliver top quality products, testing must commence at the level of incoming raw materials," Mahansaria points out. "That's why we have a very rigid 'incoming raw material testing and approval system' as well as a subsequent in-process material testing and approval scheme. Once the tyres are manufactured, we intensively test and validate our products. This includes endurance, plunger and burst features, for example."
ATG's decision to build its third factory close to the port of Dahej means considerably shorter shipping times when delivering products to Europe; ATG says vessels leaving Dahej can reach European ports within 18 to 22 days. All certification relevant for Europe – ATG's most important market – was obtained in September 2015. These certifications include ISO 9001:2008 QMS, ISO 14001:2004 EMS, and OHSAS 18001:2007, all three by TÜV Rheinland, as well as the Product "E" marking by VCA in the UK.
"Producing innovative and reliable high performance OTR tyres of maximum quality is one of our claims – and taking responsibility for society and environment is another. Both elements are key characteristics of ATG's business approach," concludes Mahansaria.