Year-round all-rounders: Auto Bild tests its all-season tyre finalists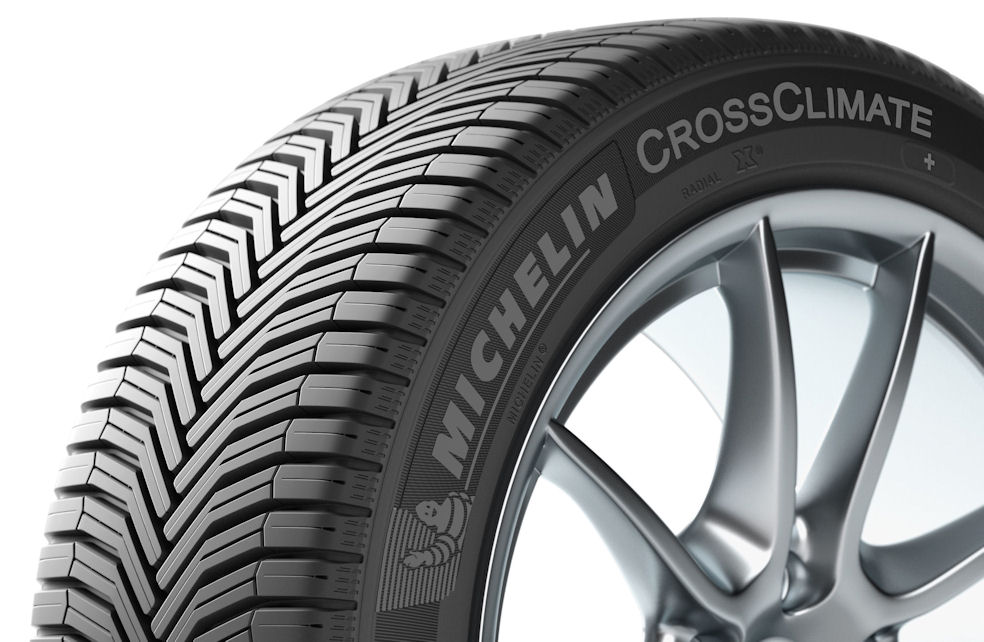 If you are like most UK motorists and want to drive year-round on the same set of tyres, then all-season tyres may well be the right choice for you. But is there such thing as a tyre that offers safe driving in every type of weather? After testing 31 all-season tyre models, Auto Bild believes there is.
After eliminating all but ten of the size 225/45 R17 candidates in a preliminary round of wet/dry braking tests, Auto Bild testers Henning Klipp and Dierk Möller extensively evaluated the remaining tyres in dry, wet and wintry conditions. They also examined cost-related factors, such as mileage and rolling resistance. Two of the tyres gained the top Auto Bild rating of 'exemplary', but there could only be one winner.
Two 'exemplary' tyres
Michelin CrossClimate +: That one winner was the CrossClimate +. This "convincing all-round talent" impressed the Auto Bild testers with dynamic driving characteristics in every weather condition. They reported precise steering behaviour, short stopping distances in the wet and dry, high mileage potential and good ride comfort. Klipp and Möller reported no shortcomings. The Michelin tyre also gained Auto Bild's 'eco meister', or eco champion, award for delivering the best performance in the cost section of the test.
Vredestein Quatrac Pro: The testers described the Quatrac Pro, which was launched earlier this year, as an "exemplary all-season tyre with impressive qualities on ice and snow" as well as "dynamic driving characteristics" in wet and dry conditions. They report precise steering with good response and short stopping distances in the wet. The only fly in the ointment was a no better than average mileage potential.
Five 'good' tyres
Goodyear Vector 4Seasons Gen-2: The third-placed tyre from Goodyear was credited with "convincing winter qualities" as well as safe driving characteristics with stable lateral control on wet surfaces. The testers also commented on the tyre's good ride comfort, good mileage potential and value for money. However, they detected a steering delay on dry surfaces.
Continental AllSeasonContact: This "balanced" premium tyre was praised for its sporty-dynamic handling in the wet as well as very good mileage potential, short stopping distances and stable lateral control on ice and snow and low rolling resistance. The testers considered the Continental tyre good value for money. The sole criticism was that the AllSeasonContact gave a slightly extended stopping distance in the wet.
Hankook Kinergy 4S2: The Hankook tyre delivered strong performance in wintry conditions. Traction was good and handling dynamic on packed snow. The Kinergy 4S2 also offered good aquaplaning safety reserves as well as good wet and dry handling. The testers rated the tyre good value for money. But like the Continental tyre, the Hankook candidate's stopping distance in the wet was slightly extended.
Nexen N'Blue 4Season: "An affordable all-season tyre with safe driving characteristics in all weather conditions". The Auto Bild testers commended the Nexen tyre's stable lateral control and short braking distances on snow, low noise, high mileage potential and its good value for money. Braking distances in the wet were slightly longer than hoped for, however, and rolling resistance was on the high side.
Maxxis Premitra All Season AP3: Auto Bild says this latest all-season tyre from Maxxis offers safe driving on snowy and dry surfaces, good aquaplaning safety reserves and short braking distances in the dry. The testers weren't so impressed with the All Season AP3's wet grip or wet braking distances. In addition, mileage potential was no better than average.
Two 'satisfactory' tyres
Kumho Solus 4S HA31: Auto Bild's tyre testers found the Solus 4S to have good aquaplaning characteristics and short stopping distances on snow. Mileage potential was also good and drive-by noise low. Issues they noted include "just satisfactory" lateral control on snow, a slightly lengthened stopping distance in wet and dry conditions, spongey dry handling and mediocre comfort.
Bridgestone Weather Control A005: At first glance, the Bridgestone tyre has a lot going for it. The testers reported short braking distances and crispy, balanced handling characteristics on wet and dry road surfaces as well as good aquaplaning safety reserves and low rolling resistance. However, they described the Weather Control A005's driving performance on ice and snow as "only satisfactory" and they commented that the tyre's mileage potential was "limited".
Not recommended
Cooper Discoverer All Season: While the Auto Bild testers liked the Discoverer All Season's aquaplaning safety reserves, short stopping distances on snowy and dry surfaces and its affordable purchase price, they criticised the tyre in several key areas of performance: Lateral control was weak and braking distances were lengthy in the wet, steering response was slow and driving behaviour on dry surfaces was unbalanced.
A tyre for all seasons
Summing up their experiences, Klipp and Möller wrote that with all-season tyres it really is possible to find a single tyre that's safe in all weather conditions: "We recommend the exemplary-labelled all-rounders from Michelin and Vredestein".